Professor Mona Siddiqui will be in Cambridge from 10 to 13 March to give a series of public talks that go to the heart of the debate that surrounds Islam and rights for women. At a concluding symposium she will be joined by a panel of distinguished speakers.
As a Muslim who has lived most of her life in the west, I have learnt that faith speaks to faith in a process of learning and accepting, of questioning and appreciating, of self-doubt and humility.

Mona Siddiqui
Public debate about women and their rights in Islam is often clouded by controversy and over-simplified. From 10 to 13 March, leading academic and media commentator Mona Siddiqui will be at Cambridge University to give a series of public lectures on Islamic thought, and its reflections on women in law, and wider religious questions.
As the Humanitas Visiting Professor of Women's Rights 2014, Siddiqui will be joined in a final symposium by a distinguished panel of novelists, journalists and academics.
Siddiqui's lecture on 10 March will address the question, 'Can You Text A Divorce?' as a starting point for an exploration of women's rights in Islamic law and society. On 11 March, she will examine the significance of the fact that Mary is mentioned with greater frequency in the Qu'ran than in the New Testament, and ask whether, in light of this inter-faith commonality, Mary has a role to play in Muslim-Christian relations.
On 12 March, Siddiqui will address the diverse ways that women are represented in Islamic thought and literature, and ask whether the reality of women's lives lies somewhere between the feminine and the feminist. All three lectures start at 5pm in the Mill Lane Lecture theatre. They are free and open to all, with no booking required.
In a concluding symposium on 13 March, Siddiqui will be joined by: Haifa Zangana, Kurdish-Iraqi novelist and former prisoner of Saddam Hussein's regime; Elif Shafak, best-selling Turkish author, columnist, speaker and academic; Razia Iqbal, BBC arts correspondent; and Cambridge academic Professor Ash Amin. This event too is open to the public and free of charge although, unlike the lectures, it requires advance registration at www.crassh.cam.ac.uk.
The first Muslim holder of the Professorship of Islamic and Interreligious Studies at the University of Edinburgh, Siddiqui has long combined academic life with her role as a media commentator.  Talking to Kirsty Young on BBC Radio 4's Desert Island Discs in 2012, she said: "I've never shied away from talking about issues I've thought were important, even if they were controversial."
She went on to explain that, as an academic benefiting from the intellectual freedom of working at a university, she felt it was her duty to share her scholarly insights with the public. For Siddiqi, being a good citizen involves a sense of belonging where "one should feel the desire to contribute to society with words and actions".
Siddiqui's remarkable intellectual independence stems from her childhood which was, in some ways, removed from both the community from whence her parents came and that which they entered when left Pakistan to settle in the UK.  She was only five when they left Karachi. After a year in Cambridge, the family moved to Huddersfield where her father worked as a psychiatrist. It was a household full of books where the discussion of ideas was encouraged.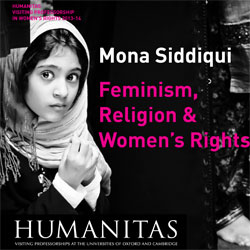 A love of languages, which was shared by her father, led Siddiqui to take a first degree in Arabic and French. She went on study for a PhD in Classical Islamic Law and, while her primary interest remains Islamic jurisprudence and ethics, she also became deeply interested in Christian-Islamic relations.
Siddiqui is first and foremost a scholar and inspiring teacher. However, she has also boldly stepped into the public arena where she has found a niche as a calm and reasoned voice. She feels that many of the debates about religion, in general, and Islam, in particular, are too superficial. Focus on the veil as the most visible symbol of a kind of religiosity has eclipsed discussions about more important ethical and legal matters. In her radio broadcasts she is keen to address a wide range of issues and argues that too many of our debates are polarised by simplistic divisions between religion and secularism.
She is also outspoken against what she has described as the worst excesses of religious teaching which "hovers like a spectre over society in many Islamic countries" where dissenting voices are silenced and human rights – including those of women – are quashed. Last month, Siddiqui devoted her slot on the BBC's Thought for the Day to drawing public attention to a bill in Afghanistan which, if passed, could make it harder to prosecute men who have abused female members of their families. 
She said: "Scriptural verses which talk of mercy and love between husband and wife are easily eclipsed by those which speak of authority and force. Some Muslim philosophers argued that you could never have true justice in this world however much you struggled for it. But it seems to me that it is precisely the struggle for justice, whether it's between men and women or state and society which brings out the best in us as human beings. Silence here is not an option."
Siddiqui's talks in Cambridge will draw on the scholarship that informs her published work. Her most recent book – Christians, Muslims, and Jesus (Yale University Press, 2013) – has received international acclaim both for its scholarship and its creation of a frame work for positive dialogue between the two faith communities which, despite their doctrines, have much in common.  Her current research examines the legal and theological debates around hospitality in Islam. A book charting her personal theological journey, Between Faith and Freedom, will be published in 2014.
Writing in the Guardian in 2010, she wrote: "As a Muslim who has lived most of her life in the west, I have learnt that faith speaks to faith in a process of learning and accepting, of questioning and appreciating, of self-doubt and humility. Most importantly, it has been to understand that talking about a common humanity demands much generosity in the face of practical difference. Engaging in dialogue is an extension of ihsan for me, "To act knowing that even if you cannot see him (God), he can see you."
Siddiqui is lecturing at Cambridge University as the Humanitas Visiting Professor in Women's Rights for 2014. This is a position hosted by CRASSH (Centre for the Research in the Arts, Social Sciences and Humanities) in line with its remit to bring scholars and practitioners together from across disciplinary and institutional boundaries, to shed new light on the major questions of the day.
Humanitas is a series of Visiting Professorships at Oxford and Cambridge intended to bring leading practitioners and scholars to both universities to address major themes in the arts, social sciences and humanities. Created by Lord Weidenfeld, the programme is managed and funded by the Institute for Strategic Dialogue with the support of a series of generous benefactors, and managed in Cambridge by CRASSH. The Humanitas Visiting Professorship in Women's Rights 2014 has been made possible by the generous support of Mrs Carol Saper.
For more information about this story contact Alexandra Buxton, Office of Communications, University of Cambridge, amb206@admin.cam.ac.uk 01223 761673
Inset image: photo by Senna Ahmad
 
---
This work is licensed under a Creative Commons Licence. If you use this content on your site please link back to this page.
---