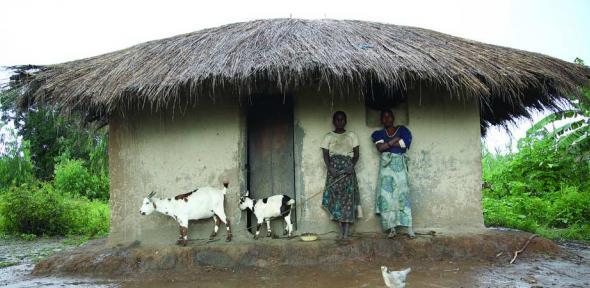 Dr Zoltán Tiba's research on why famines happen is posing questions about the root causes and possible long-term interventions.
Today, famines happen not just because there is a decline in the availability or in the access to food, but because of factors such as the political economy and the toll of HIV-AIDS on the working population.

Dr Zoltán Tiba
'The nature of famine has changed,' said Dr Zoltán Tiba, a British-Academy-funded Postdoctoral Fellow in the Centre of African Studies. 'Today, famines happen not just because there is a decline in the availability or in the access to food, but because of factors such as the political economy and the toll of HIV-AIDS on the working population.'
Dr Tiba's research has set out to develop fresh analytical tools to understand famines. He takes Malawi in sub-Saharan Africa as his primary focus. 'Malawi is an interesting case since in many ways it challenges commonly accepted views about the causes of famine. The famine in 2002 demonstrated that democracy does not always 'end famine'. Contemporary famines have multiple and complex causes, and traditional interventions such as food aid distributions are not necessarily the best solution to 'new' famines.'
For the past seven years, Dr Tiba has been conducting research in a Malawian village, where he has been interviewing villagers and carrying out household surveys, as well as speaking to government officials and aid agencies. His findings are building a unique picture of village life and the Malawians' experiences of food insecurity. 'The area is a Garden of Eden, with lush vegetation and plenty of water and, yet, chronic food insecurity is a serious problem and the threat of famines is still evident.
'Increasingly my research is emphasising the role of local attitudes to diversification of diet and production,' explained Dr Tiba. 'One possibility for long-term change at the macro level is to focus on the micro level – something as simple as individuals growing fruits and raising small livestock in addition to growing cereals would add to the safety net to subvert chronic food insecurity and famines in a country like Malawi.'
For more information, please contact Dr Zoltán Tiba (zt214@cam.ac.uk) at the Centre of African Studies (www.african.cam.ac.uk/).
---
The UK's national academy for the humanities and social sciences seeks to recognise and support leading-edge research within these fields, championing their importance and the vital role they play in raising and answering fundamental questions facing society today.
The British Academy receives £22 million in Government grant to support UK-based research and international collaboration in the humanities and social sciences. From this, over 1,000 awards are made each year, benefiting individuals based in more than 120 universities and research institutions across the UK.
Supporting research
One of the most popular British Academy funding programmes is the Postdoctoral Fellowship. These provide three-year career development opportunities to scholars such as Dr Matilda Mroz and Dr Zoltán Tiba (see above) to develop research, teaching and publications at an early career stage. Around 45 new awards are made annually under this exceptionally competitive flagship scheme, including seven to Cambridge this year.
British Academy Research Development Awards (BARDAs) support established scholars wishing to develop a significant collaborative or individual research project. About 35 awards are made each year under this comparatively new scheme, which replaces large research fellowships and research leave. In Cambridge, BARDA-funded scholars include Dr Mandeep Dhami, who is evaluating apology in the context of restorative justice, Dr Claire Preston, who is studying 17th-century English literature and scientific investigation, and Dr Anna Williams, who is researching the architecture of theology.
The Academy also offers Small Research Grants (up to £7,500) to stimulate interdisciplinary work, collaborations or pilot studies, and several schemes focus on encouraging international collaboration, promoting capacity development and engagement. For instance, the three-year UK-Africa Academic Partnership award encourages institutional links and promotes new understandings and interchange between participating countries. In Cambridge, Dr Devon Curtis is using this award to collaborate with scholars in Uganda and Botswana on a study of rebel movements and post-conflict peace building in Africa.
The British Academy is the counterpart to the Royal Society, which supports the natural sciences. The Academy partners with the Royal Society and the Royal Academy of Engineering for the esteemed Newton International Fellowships scheme, which aims to build a global pool of research leaders and encourage long-term international collaboration.
Championing humanities and social sciences
Each year, the Academy elects 38 outstanding UK-based scholars to be Fellows of the British Academy in recognition of their research achievements. Today, there are over 900 Fellows who take a lead in representing the humanities and social sciences, and who contribute to public policy and debate. Seven Cambridge academics were among the recently elected Fellows: Professor Simon Baron-Cohen, Professor Philip Ford, Professor Jonathan Haslam, Professor Mary Jacobus, Dr John Marenbon, Professor Susan Rankin and Professor John Duncan.
Through investing in ideas, individuals and intellectual resources, the Academy aims to enhance the scholarly and cultural resources of the UK, contributing to quality of life, economic prosperity, public policy, understanding of other societies and cultural enrichment.
For more information about the British Academy, please visit www.britac.ac.uk/
---
This work is licensed under a Creative Commons Licence. If you use this content on your site please link back to this page.
---