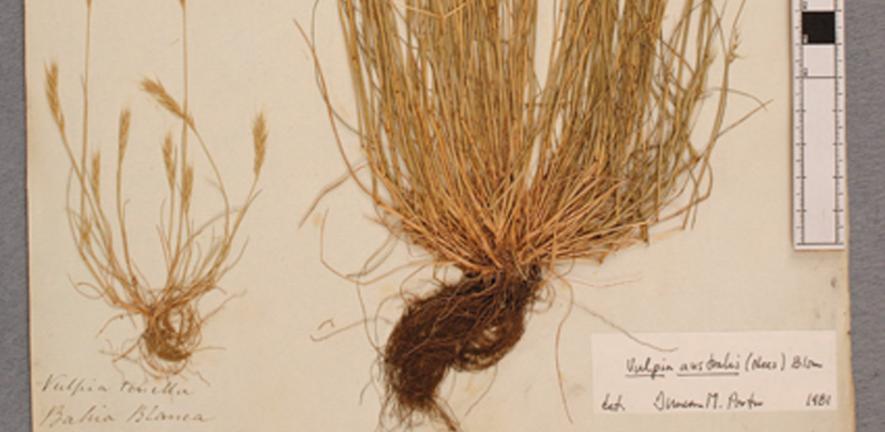 Collaboration between the University Herbarium and Microsoft Research Ltd has made a unique botanical collection available to a world-wide audience.
Darwin's plants give a fascinating glimpse into the origins of Darwin's thoughts.
The Department of Plant Sciences at Cambridge houses over a million pressed, mounted and named plant specimens. Amassed over three centuries, the collection includes about 2700 plants collected by Charles Darwin on his HMS Beagle trip and the most comprehensive and up-to-date collection of British plants.
In offering a rare and unparalleled insight to the diversity of plants, the Herbarium has become increasingly precious given today's growing urgency to catalogue biodiversity. But, like many museum collections of this scale and fragility, its holdings are only available, in a controlled manner, to academic visitors to Cambridge. To increase its accessibility to a global audience, while preserving the integrity of this historical treasure, a project began three years ago to put specimens from the Herbarium on the web. With funding and technological support from Microsoft Research Ltd, Professor John Parker, Curator, and Gina Murrell, Assistant Curator, have been developing a coherent, logical and imaginative web portal to be made available for academic research and teaching, and for the enjoyment of everyone.
Henslow's vision and Darwin's gift
The Herbarium was the creation of John Stevens Henslow, Professor of Botany and founder of the Botanic Garden at Cambridge. Henslow's research on the nature of species was at its peak in the 1820s when Darwin attended his lectures and field trips, and it was Henslow who recommended Darwin for the Beagle voyage. When Darwin visited the Galapagos, he collected and dried all plants in flower, sending them back to Henslow to be mounted. Henslow had informed him that oceanic islands such as the Galapagos were rich in endemic species, a fact that helped crystallise Darwin's theory of the origin of species.
Henslow's Herbarium has increased in size enormously over the 200 years since then, particularly in 1866 when 55,000 specimens of the Lindley Herbarium were added; the Lindley collection provides a remarkable history of 19th-century plant-hunting explorations of North America and Australia. The plants of the whole world, and particularly of Great Britain and mainland Europe, have enriched the collection through gifts, exchanges, benefactions and purchases.
Promoting research
The major research project in the Herbarium is the preparation of the most definitive account of the British and Irish flora ever undertaken, based around this superb collection. Peter Sell has worked in the Herbarium for over 60 years and, in collaboration with Gina Murrell, has for 20 years been compiling the taxonomy, ecology and distribution of every species to create a botanical snapshot of the millennium. Volume 3 of this five-volume set has just been published by Cambridge University Press.
As well as a fundamental botanical research purpose, there is also an important historical perspective to the Herbarium. Darwin's plants give a fascinating glimpse into the origins of Darwin's thoughts, showing how Henslow gave Darwin concepts of populations, variation and the nature of species. Henslow intentionally organised his Herbarium collections to serve as an experimental tool for an inquiry into species and their limits. But whereas Henslow held a creationist's viewpoint, Darwin's own views changed as his theories of evolution by natural selection gradually took shape.
An auspicious date
The aim of the five-year digitisation project is to place about 50,000 specimens on the web by 2011. On 24 November 2009, the 150th anniversary of the publication of Darwin's On the Origin of Species, images and information about 2,700 plants were made available for the first time. Each Herbarium sheet is being digitally photographed, an appropriate database has been developed and data have been input, and a robust infrastructure to deliver fast, interactive responses in real-time to search queries has been built.
For more information, please contact the author Professor John Parker (jsp25@cam.ac.uk) at the University Herbarium, Department of Plant Sciences.
---
This work is licensed under a Creative Commons Licence. If you use this content on your site please link back to this page.
---