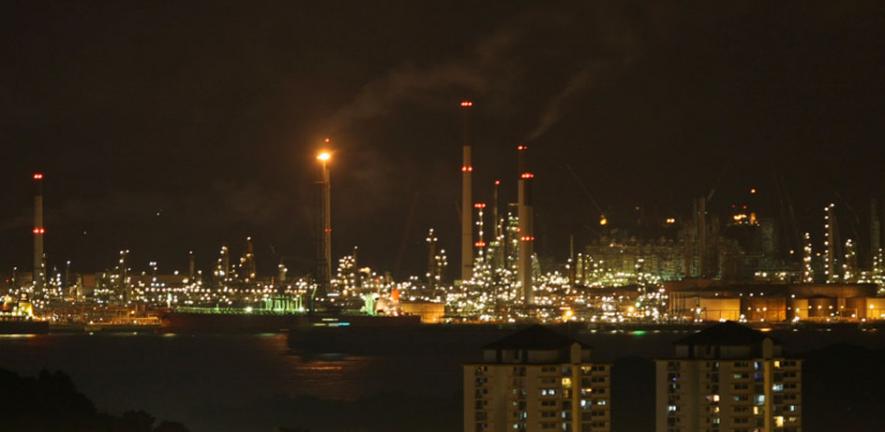 The University of Cambridge and National Research Foundation, Singapore, have today announced plans for a collaborative research centre, specialising in energy efficient, low-carbon chemical process technology.
The Centre for Carbon Reduction in Chemical Technology is an opportunity to bring our own cutting-edge research into a world-class partnership aimed at helping to secure a low-carbon future.

Leszek Borysiewicz.
The Centre for Carbon Reduction in Chemical Technology will be based in Singapore, as part of its international Campus for Research Excellence and Technological Enterprise (CREATE). The campus brings together top universities to develop world-leading research projects on issues of global importance.
The new Centre will aim to become an "innovation hub", involving researchers from both the University of Cambridge and two partner institutions, the Nanyang Technological University (NTU) and National University of Singapore (NUS).
Its research focus will be on minimising the carbon footprint of industrial-scale chemical processes. In particular, the team will examine ways of improving the energy efficiency, and explore strategies for carbon capture and use in the petrochemical and refining technologies.  In a wider context, the assessment and abatement of the carbon footprint of the integrated petro-chemical plants and electrical network on Jurong Island in Singapore will be addressed.
Finding more energy-efficient ways to produce chemicals will be a critical area of global concern in the decades to come, as world energy demand rises, but the need to cut carbon emissions also becomes more pressing.
Professor Sir Leszek Borysiewicz, Vice-Chancellor of the University of Cambridge, said: "We are very pleased to be announcing this new research collaboration with our partner institutions in Singapore. Given the magnitude of the challenge and the need for urgent action to address climate change, it is timely that a world-leading, enduring collaboration has been established to undertake fundamental and applied research aimed at reducing the carbon footprint of Singapore's refining, chemicals and power generation sectors."
"Energy is a research theme of strategic importance at the University of Cambridge, where we have more than 200 academics working on energy-related projects and strong links with a range of industry partners. The Centre for Carbon Reduction in Chemical Technology is an opportunity to bring our own cutting-edge research into a world-class partnership aimed at helping to secure a low-carbon future."
CREATE is an initiative funded by the Singapore Government through the National Research Foundation – the organisation which co-ordinates the research of different agencies within a larger national framework, in order to provide a coherent strategic overview and direction.
The international CREATE campus is a unique research and innovation hub for top universities, corporate labs and start-up companies. Through the co-location of university research groups, corporate labs and technology incubators, the aim is to build a vibrant eco-system for research, innovation and enterprise with an emphasis on commercialising research outcomes. Nine top institutions have already established research programmes at CREATE, dealing with subjects as diverse as regenerative medicine, low carbon technologies and sustainable cities.
The centres are designed to be "talent magnets", with an emphasis on integrated research, capacity building and technology transfer. Each research centre hosts academics, research investigators, and doctoral and postdoctoral researchers, organised into research groups.
NRF Chairman and Deputy Prime Minister Mr Teo Chee Hean said: "We are very pleased that NTU and NUS are entering into this strategic partnership with the University of Cambridge. This project brings together researchers from the United Kingdom and Singapore to do cutting-edge research in low carbon chemical technology. This research can be applied to help address the complex problem of reducing carbon emissions in Singapore's petrochemical industry, thereby reducing our overall carbon emissions.  Given the growing global interest in climate change and low-carbon technology, we see this as an important area of work which may also benefit other industries and countries in time to come."
Professor Bertil Andersson, President of NTU, said: "Sustainability is a major area of research at NTU, so this CREATE centre fits in well with NTU's plans. Addressing the energy efficiency of chemical processes is an area that has yet to be addressed broadly by the research community in Singapore. It is especially relevant in Singapore as the petrochemical sector is an important part of the industrialised economy."
"This partnership with the University of Cambridge will greatly impact both the economics and emissions of the petrochemical sector of Singapore through strong public-private partnerships with participating companies such as IBM, Memsys, Johnson Matthey and ExxonMobil."
Professor Tan Chorh Chuan, President of NUS, said: "NUS has made a significant effort over the last few years to develop ideas for reducing the carbon footprint of the chemicals industry sector which is vitally important to Singapore's economy."
"NUS is excited to be working with NTU as well as the University of Cambridge, with whom we have had many productive collaborations over the years, and who, with NUS, is a fellow member of the International Alliance of Research Universities (IARU). NUS has committed its top experts in the relevant fields to this C4T programme and looks forward to contributing with Cambridge and NTU to the reduction of the CO2 emissions in Singapore and a more sustainable chemicals industry for the future."
---
This work is licensed under a Creative Commons Licence. If you use this content on your site please link back to this page.
---