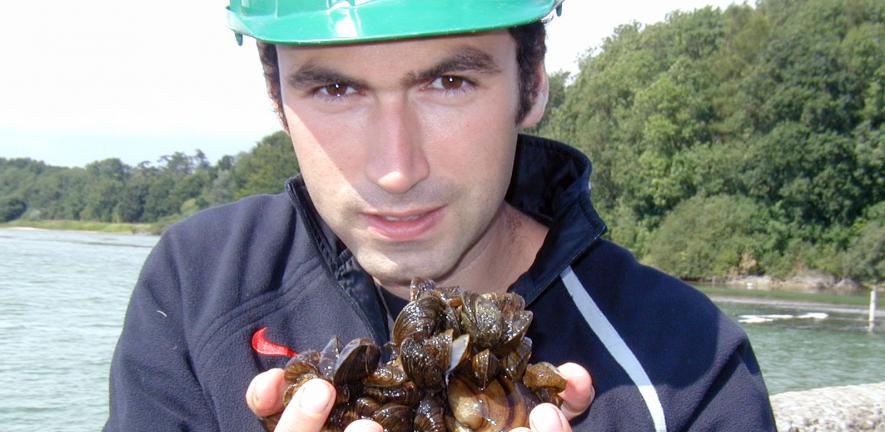 Pipes blocked by an invasion of freshwater mussels pose a severe problem to the water industry. A tiny, fat-coated capsule could provide the answer.
A combination of aquatic ecology and chemical engineering has resulted in a novel means of combating an invasion of zebra mussels into underground water mains. This non-native species originates from central Asia and has become one of the world's most significant environmental pests. In the UK, zebra mussels growing at high density cause problems when they occlude raw water mains that feed water-treatment works, water-cooling systems in power plants and water supplies for drinking.
Dr David Aldridge, from the Department of Zoology, and Dr Geoff Moggridge, from the Department of Chemical Engineering and Biotechnology, have invented an environmentally sound control method called the BioBullet, now being manufactured by their spin-out company BioBullets Ltd.
The fat-coated BioBullet capsule, which is released into the clogged pipe, contains salt-based toxins that are lethal to zebra mussels. The mussels are then flushed out of the water pipe; any BioBullets not taken up by mussels dissolve into harmless components. The technology provides a practical solution that does not affect the treatment process or water quality.
The research has been of great interest to the UK water industry, with four companies funding the research to date. Now, following approval by the Drinking Water Inspectorate, trials have begun with Anglian Water Services Ltd to use the pellets in the UK for potable water systems. A new manufacturing site is under way for BioBullets following an award of £500k by the Technology Strategy Board (TSB), which is being match-funded by Anglian, Thames Water and Tastetech.
Barrie Holden, Water Innovation Manager at Anglian Water, said: 'We are very encouraged that this technology will have a significant impact on the ability of our water treatment works to receive the required volume of raw water by limiting the infestation. The technology potentially provides an economic and environmentally sound solution to a persistent problem.' Dr Aldridge added: 'Working closely with Anglian Water and other water industries is giving us new insight into how best to formulate and deliver the BioBullets solutions.'
---
This work is licensed under a Creative Commons Licence. If you use this content on your site please link back to this page.
---