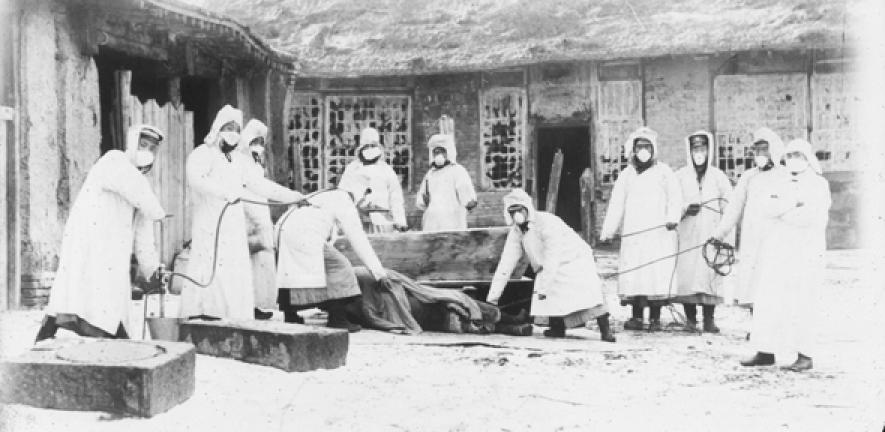 A new research project is compiling the largest database of plague imagery ever amassed, focusing on a pandemic that peaked in the early 20th century and continues to this day.
By taking the aesthetic regime from a hundred years ago and replicating it today you are inadvertently replicating a long surpassed medical model

Christos Lynteris
We are in the midst of the worst Ebola outbreak known in human history. Our screens are filled with nightmarish yet strangely familiar imagery. Men in space-age protective suits, lugging wrapped-up bodies over to hastily dug pits. Clinical tents in poor yet exotic locations, gleaming incongruously. Bodies in the streets.
As Ebola continues its trail of death and terror, many will be unaware that we also continue to live with another killer – plague. The most recent pandemic (the third) started in rural China in 1855 but exploded when it reached Hong Kong in 1894, sweeping the world and killing over 12 million people. Although not considered an active threat since 1959, recent cases of plague have occurred in Bolivia, China, Madagascar and the USA.
Dr Christos Lynteris is a social anthropologist based at the Centre for Research in the Arts, Social Sciences and Humanities (CRASSH). During work on plague among marmots on the Chinese–Russian border, Lynteris started to consider how plague is represented, how knowledge about plague is captured and how we interact with what we see when we see the traits of plague.    
"The third pandemic was born around the same time as modern photographic techniques, and the ability to capture and transmit images of the third plague pandemic transformed public consciousness. It opened up an era where the meaning of health emergencies is publicly negotiated, rather than predetermined by any single scientific or governmental authority."
     
Last year, he was awarded a European Research Council grant to find, collate and analyse the largest database of plague imagery in history; as the only exhaustive visual record of any infectious disease epidemic and its impact on social life and thought in the modern era, it will be an invaluable resource to historians, anthropologists and epidemiologists alike.
Tracking the images down takes painstaking investigative work for Lynteris and his team (Lukas Engelmann, Nick Evans and Branwyn Poleykett), sifting through photographic remnants of the old colonial powers to pick out the diseased, the dying, the depictions of human Yersinia pestis infection. "Many of the images are not held in the places where outbreaks occurred. An archive in Alabama might hold a hundred images of the plague in North China because that's where the missionaries were from. Foreign doctors, missionaries, reporters from across the world go to other corners of the planet to work with plague epidemics; it can be a tricky web to untangle."
He describes the imagery as a "strange combination of journalistic war reporting, crime scene photography and medical imagery." Some of it is so graphic and distressing that part of the grant stipulates the digital archive must be kept in a locked room at all times, the 'plague room' as Lynteris cheerfully refers to it. Entering anywhere with such a moniker is slightly unnerving.

"OK, this next one really isn't very pretty," said Lynteris, showing one of the thousands of images they have already collected. Lynteris probably says this a lot these days. The photo, taken in Madagascar in 1899, feels familiar. The tents. The pits. The suited spacemen. If not for the sepia, this could be West Africa in 2014.
"There is a clear visual paradigm of plague inherited from imperial and colonial history that is emerging as we gather more and more images, an expression of diseased environments we still live with," explained Lynteris.
"The visual paradigm in the Madagascar photo is replicated throughout the third pandemic and in other outbreaks since, even over a century later, despite the fact that the medical paradigm has completely shifted – we know far more about infectious diseases now than in 1899, so why are we seeing the same imagery? By taking the aesthetic regime from a hundred years ago and replicating it today you are inadvertently replicating a long surpassed medical model."
Asked whether governments and media are propagating these portrayals because this is what people expect, even need to see, Lynteris said: "I'm not sure, but something is not right here. It's the components and rationale behind these visual paradigms that we will explore."
Not all the imagery is gruesome. Some resemble forensic architectural photos. "When the plague hit the USA, investigators would meticulously photograph every house in the infected area – cellars, floors, beams – looking for clues as to the conditions that facilitate plague."
 
In another set of images from an outbreak in Manchuria in 1911 that killed 60,000, Lynteris highlights an imperialist propaganda war being fought out in the plague depictions. Russia and China were trying to claim providence of the area, with both determined to prove that it was they who were the most scientific and could tame the plague.
"The Chinese were trying to present an image of high science and hygienic modernity, full of medical teams with microscopes and charts. They depicted plague as an urban planning problem that can be scoured by fire." There are many pictures of burning houses, but not a single human body.
The Russians went a different way ("it's a horror show"). The images are entirely militaristic, as if an army invaded a land where everyone was already dead. The aim was to show that the Chinese had no control, that death was rife and unstoppable without Russian force: "it was intended to scare, show oriental barbarity with dogs eating corpses and exposed plague pits." Images like these are why the 'plague room' is kept locked.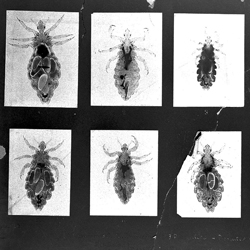 The team has had to create a language of plague to make sure the database is fully searchable, and aim to have it live and open access by the time the project finishes in 2018. They are working not just with other anthropologists and medical historians but with epidemiologists. There are fundamental assumptions about plague that life scientists are starting to question, and these archives may hold clues as to what led to mistaken assumptions in the first place.
Most importantly the team is focusing on the relation between the ethics and aesthetics of plague photography. "The implications of this in the age of social media are immense. How do we capture an outbreak like Ebola with our cameras? How does this reflect our responsibility towards the victims, but also in terms of global health?" It's alarming, Lynteris says, that there seems to be no difference between how we depict outbreaks today and how we did 100 years ago. "In the post-colonial world epidemic photography is still stubbornly colonial."
Many of the images mentioned in this article are too gruesome to be displayed here. All inset images credit: Wellcome Trust.
---
The text in this work is licensed under a Creative Commons Licence. If you use this content on your site please link back to this page. For image rights, please see the credits associated with each individual image.
---