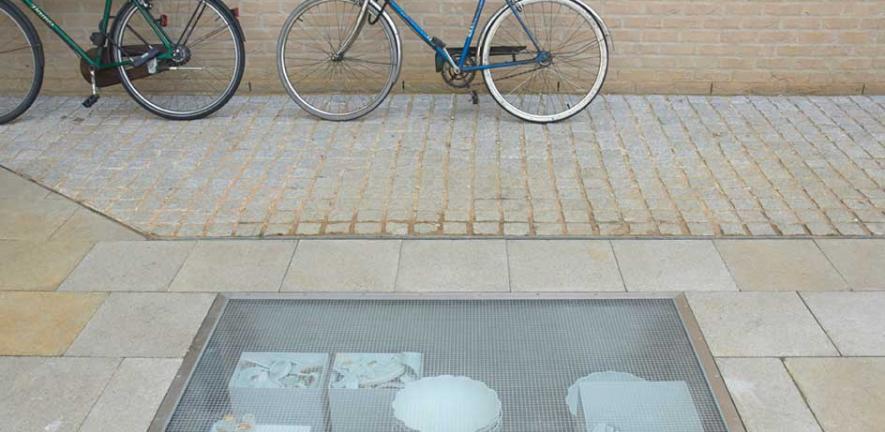 Artist and writer Edmund de Waal – known for his work in porcelain as well as his best-selling memoir 'The Hare with the Amber Eyes' - will be giving a public lecture at Cambridge University on Friday 8 February. The event is fully booked but a waiting list is in operation.
The vitrines are meant to be happened upon as you come and go…. They are there to make you pause momentarily.

Edmund de Waal, artist and writer
In daylight they are barely visible until you are almost upon them, a reminder perhaps of how much of our history lies underground and unseen, waiting to be uncovered; at night they shed a soft glow that invites you to look beneath your feet and marvel at their fragile strength. Potter and author Edmund de Waal's installation – three vitrines of porcelain set into the paving slabs on the threshold of one of Cambridge's newest humanities buildings – is typically understated. Beneath their glass lids, the enclosures contain dishes, pots and fragments, in the pale hues of porcelain with occasional flashes of gold.
De Waal has described the installation, titled 'a local history', as an archive or palimpsest, terms that reflect the way in which his work draws on historic influences, the passing of time, fragility and enduringness, and the ability of the human hand to make the finest objects. By virtue of its subtle references to the human story and our fascination with producing and collecting things, 'a local history' also hints at the multi-disciplinary research taking place in the Alison Richard Building which is home to CRASSH (Centre for Research in the Arts, Social Sciences and Humanities), POLIS (Department of Politics and International Studies) and the major regional studies centres.
Though de Waal has been producing ceramics for decades, the installation is his first commission of public art. If the phrase public art conjures up the image of a grand statement, de Waal's debut is all about chance and discovery, hiding and finding. The vitrines, he has written, are "meant to be happened upon as you come and go…. They are there to make you pause momentarily".
De Waal will be in Cambridge on Friday 8 February to give a public lecture at CRASSH, focusing not just on 'a local history' but also on another installation made for the Alison Richard Building, a piece called 'atlas'. Installed high up in the atrium of the Alison Richard Building, 'atlas' is a set of shelves which holds dishes and lids, organised rather like text on a page. The 120 lids come from pots that have either broken, or been deliberately smashed, over the years because they were not quite right: in this way it is a record of lost pots, a marking of memories.
Both works reflect de Waal's preoccupation with pieces comprised of multiple items which, in combination with the spaces in between them, appear in conversation with each other rather like musical notes or written text. Although they are tactile, they are, he has remarked, to be looked at and felt at a distance, not to be picked up and touched.
It was with his family memoir The Hare with the Amber Eyes, a surprise best-seller in 2010, that de Waal captured the public imagination as an artist whose work is embedded in scholarship as well as craftsmanship, a man who is as happy reading and writing as he is at the potter's wheel. The book charts his relationship with his great uncle Iggie's collection of netsukes, decorative ivory or jade toggles carved in the shape of figures, which he first encountered while he was working as an apprentice potter in Japan. He subsequently inherited the collection and set out to research its history as the result of his fascination for the stories that netsukes hold, and the journeys they have made as they were passed from hand to hand.
In a recent interview with the presenter Kirsty Young for BBC Radio 4's Desert Island Discs, de Waal described vividly how he fell in love with ceramics when, aged five, he was taken by his father to a pottery evening class. The process of transforming a lump of clay into "a lumpy bowl", bringing a volume to life, entranced him. "That was it," he said. "I knew I was always going to be a potter." Interestingly for a potter now closely associated with the purity of white and celadon glazes, he turned down the chance to paint his pot in nice bright colours. While a schoolboy in Canterbury he was apprenticed to the potter Geoffrey Whiting who instilled in him the discipline of making hundreds of pots and then smashing them up and starting again, rather as a musician repeatedly practises a piece of music.
De Waal studied English Literature at Trinity Hall, Cambridge, proving to be a brilliant student. On graduating he set up a studio in rural Wales to make earthenware pottery and produced "terrible pots that no-one wanted". It was only when he moved his studio to Sheffield and began to work in porcelain – which entailed getting to grips with a much more difficult material and learning to throw all over again – that his work began to take shape, partly as a result of the connection between porcelain and the great manufactories in China, France and Britain, which gave him his vital reference points as an artist, and ultimately made his name.
De Waal's work features in the permanent collections of the Victoria & Albert Museum and Chatsworth House. Recent interventions have included Waddesdon Manor, Tate Britain, MIMA and the National Museum of Wales. Future projects include an intervention in the Chinese and porcelain galleries at the Fitzwilliam Museum, due to open in November 2013, a collaborative project with the Rijksmuseum in Amsterdam, and a large scale project with David Chipperfield architects in central London.
Edmund de Waal's talk will take place at 5pm 8 February at the Alison Richard Building, West Road, Cambridge. The event is fully booked but to join the waiting list go to www.crassh.cam.ac.uk/events/2328/.
---
This work is licensed under a Creative Commons Licence. If you use this content on your site please link back to this page.
---