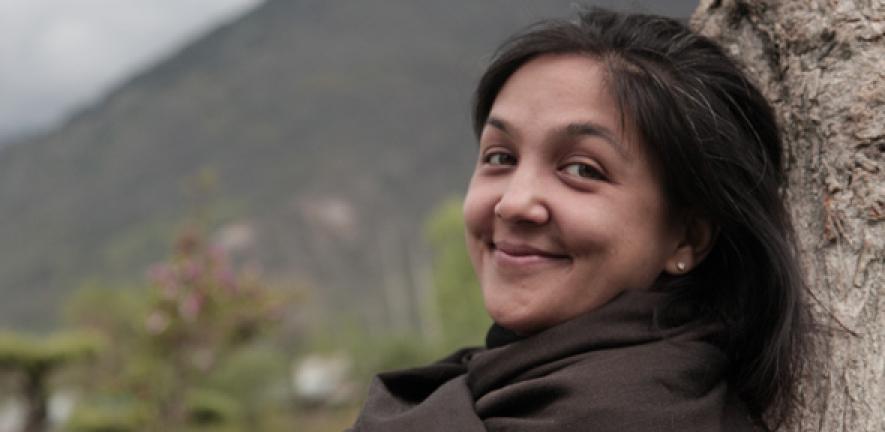 Dr Preti Taneja first read King Lear as a teenager and immediately saw parallels with the Indian culture of her parents' homeland. Almost 20 years later, she spent six months exploring the subcontinent, tracing the themes that make Shakespeare's exploration of humanity so compelling, and researching a novel that re-imagines her favourite play. 
In King Lear I recognised the Indian extended family I was used to visiting in Delhi each summer. Shakespeare somehow recognised the part of my life my English friends had no idea about – the Indian part, in India.

Preti Taneja
It was spring when I went to Kashmir. The winter cold was still in the air but, in the gardens and parks, tulips of all colours stood in straight rows, an audience gaping at the mountains. In Srinagar, the summer capital of one of the most heavily militarised states in the world, there is ample evidence of the conflict between India, Pakistan and the Kashmiri fighters that has blighted the city since the British colonisers left India and Partition took place in 1947. I saw the bullet holes that pock mark the buildings; telecommunications are limited and people remain convinced that they are under Indian state surveillance. The world knows little about the traumas inflicted on the Kashmiri people, or about contemporary life in the state. Theatres and cinemas remain closed, and fiction writing translated into English or dealing with the conflict is scarce.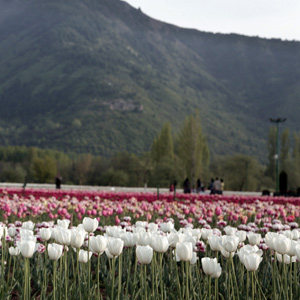 In 2012 I spent six months travelling in India to research my PhD in Creative Writing. My dissertation took the form of a novel, re-imagining Shakespeare's King Lear set in contemporary India. I've called the book We That Are Young, a quotation from the last lines of the play. India is the world's largest and most youthful democracy: the International Labour Organisation reports that 66% of the total population (more than 808 million) are under the age of 35. These young people are coming of age in a time of great economic and social change, causing upheaval to traditional family expectations. This is a key theme of the play, and my book is told from the shifting perspectives of the five young people in King Lear.
My fascination with King Lear began when I read it as an A-level student. My remarkable English teacher introduced this world of autocratic fathers and obedient daughters, the households of servants and strict gender and social hierarchies, and I recognised the Indian extended family I was used to visiting in Delhi each summer. Shakespeare somehow recognised the part of my life my English friends had no idea about – the Indian part, in India.
I've seen King Lear countless times, and have read and researched dozens of adaptations and appropriations of the play from around the world. For me, the parallels between the play and current conditions in my parents' homeland are impossible to ignore. A country partitioned, a resulting war. 'Divide and rule' – the colonial policy of setting factions against each other around a central figure of loyalty is foreshadowed in the love test of Act One, where Lear demands his daughters compete with each other for the security of a dowry and his love.
Shakespeare's play also deals with the themes of familial and political conflict and exile from the land and from one's sense of oneself. King Lear questions our fixed sense of identity and asks what it means to be human towards one another. Shakespeare's plays also have a special history in India as part of the colonising cultural mission, which insisted that the works be taught in schools as a means of creating, 'a class of persons Indian in blood and colour, but English in tastes, in opinions, in morals and in intellect,' according to Macaulay's now infamous Minute on Indian Education of 1835. To appropriate them into Indian settings can therefore make for politically charged research and creative work.
In Srinagar, evidence of British colonial presence remains everywhere: the iconic houseboats that fringe the Dal and Nagin lakes are a colonial circumvention of a law prohibiting those not born in the state from owning immovable property. Reports by Amnesty International and other NGOs bear witness to suffering of the Kashmiri people, who have been subject to countless human rights abuses including arbitrary killings, torture, enforced disappearances and violence against women. This has been at the hands of the Indian security forces, who have been protected by the controversial colonial-era Armed Forces (Special Powers) Act.
That spring, though some demilitarisation was taking place, there were sandbags piled up outside the long-closed cinemas, and in the evenings the streets were empty. The vibrant tradition of folk theatre, Bhand Pather, has been dormant for generations. Searching for Kashmiri folk songs and stories, I found one or two collections in the bookshops, lovingly translated years ago. This cultural silencing and surviving traditions alongside the state's turbulent history inspired some of the writing of my novel.
The feral energy of New Delhi was right for the early chapters of my book: young entrepreneurs making money in the city as the old ways dictate home life. But the denouement of Shakespeare's tragedy takes place on precarious cliffs: the characters stumble towards Dover as if pushed there by insistent, buffeting winds. Dover is where the full impact of a divided Kingdom must be reckoned with: for a contemporary Indian appropriation of the play, those scenes had to take place around the mountains and lakes of Kashmir.
Srinagar felt like a city smothered by shock under which daily life has struggled to carry on. Before my PhD, I spent six years working in human rights. I'd had the same sense of tattered, determined survival when reporting from the slums of Kigali, working with women affected by the Rwandan genocide. Contrasts of old and new abound: at Srinagar airport, armed soldiers and rolls of barbed wire greeted middle class Indian tourists wearing huge Puffa-jackets; their daughters queued at the checkpoints carrying matching pink Barbie backpacks. Around the city, people travelling by car and bus were stopped to have their papers checked, while on Sundays, families picnicked in the serene beauty of the Mughal gardens, and children scrambled over a vast, uprooted tree trunk on which the words Azad Kashmir (Free Kashmir) were carved.
I met people from each community – Sunni, Shi'a and Hindu – and heard their stories of the changing times. In the courtyard of a bridal house, I tasted the efforts of a group of men preparing the wedding feast: a 32-course Wazan of lamb cooked over open fires. A Shi'a friend proudly showed me the family home he was building – all poured concrete and modern brick, while along the banks of the river Jhelum, the wooden houses once occupied by the Kashmiri Pandits, a Hindu minority who fled waves of sectarian violence and targeted attacks, were falling into rubble.
Sitting with a Shi'a shawl embroiderer as he stitched lotus flowers onto the finest pashmina, I heard how his son doesn't want to follow the ancient family artisanal tradition. Instead, he and his young friends spoke about how they want to forge paths beyond Srinagar: conflict and corruption has ensured the city lags far behind the modernisation sweeping many of India's urban centres. The alternative would be to remain in Srinagar, where the increase of Sunni Islam over the decades of conflict has made the Shi'a community feel increasingly marginalised, discriminated against and under threat.
I began to wonder whether contemporary Indian appropriations of Shakespeare's works could even begin to express the complex issues that Kashmiris face. But I'm certainly not the first to draw on Shakespeare as a means of talking about life there.
In 2012, a group of theatre performers from a remote border village revived their Bhand Pather tradition following decades of prohibition on theatre by religious extremists. The troupe was invited to bring their production of King Lear to the National Drama Festival in New Delhi, the Bharat Rang Mahotsav. Their production influenced the work of Samir Bhamra, the British Asian director of the theatre company Phizzical, who travelled to Kashmir in 2013 to research an adaptation of The Winter's Tale, Perdita + Florizel, which also focuses on the play's young people and which he hopes to bring to the UK next year.
If children are copies of their parents, are they destined to repeat their parents' mistakes? This is a central question of The Winter's Tale. With the Bhand Pather company, Bhamra discussed staging, performance techniques and is thinking about a possible collaboration. He realised that setting the play in Kashmir turns Shakespeare's question into a matter of life or death.
He said: "I want to take the British audience on a journey. I want to recreate that sensation of personal space being robbed; of being stripped of dignity by the army and police presence." He experienced similar treatment himself when he was stopped by police after taking photos of the Pandit houses in Srinagar, and at the airport where he was searched.
You need to be brave to speak out about the difficulties of Kashmiri life and the conflict, particularly so in the current climate in India, where the hard-line Hindu nationalist Narendra Modi is the recently elected Prime Minister. Perceived criticism of Hinduism or the state by artists, writers and filmmakers, is often met with allegations of unpatriotic behaviour, and accusations of offending Hindu sensibilities: a criminal offence in India.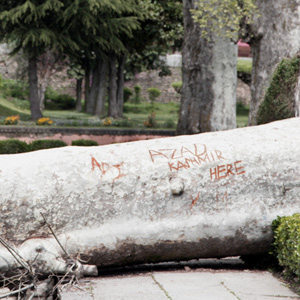 It remains to be seen whether another Indian appropriation of Shakespeare set in Kashmir, Vishal Bhardwaj's film Haider (Hamlet), which is due to be released internationally this autumn, will pass the government censor's eye. Though the film includes the essential Bollywood elements of song and dance, its script is by Basharat Peer, whose book of journalism on Kashmir, Curfewed Night was nominated for the Guardian First Book award and was essential to my own research. Haider is set in the 1990s at the height of conflict between Kashmiri separatists and Indian security forces and shows scenes of torture in Indian army camps.
Media reports have dropped other tantalising details about the film: Haider is a young man, returning to Srinagar from university to search for his 'disappeared' father, who he later finds was killed by paramilitaries recruited by Indian authorities, run by Haider's uncle. Speaking to the Guardian, Bhardwaj said: "What happened in Kashmir is a human tragedy, but no one is talking about it." Haider, which completes Bhardwaj's Bollywood Shakespeare trilogy, (Omkara/ Othello in 2006 and Maqbool/ Macbeth in 2003) could begin that conversation. But can it be had peacefully?
Shakespeare's tragedies often explore how histories of violence can repeat across generations. Kashmir remains the flashpoint between India, Pakistan and those who want independence for the state. Though armed conflict continues to flare, Article 370 of the Indian constitution, which dates from the colonial era, grants a limited autonomy to the Kashmiri people by minimising Indian central government control over the state. The right to buy land also falls in its jurisdiction. But many argue that the Article has fed sectarian violence, contributed to the deprivations and exodus of the Pandits, and is responsible for the lack of economic development in the state.
Now Modi has called for new discussion on 370 and others from the right wing have called for it to be completely scrapped. This would allow Hindu property developers and businesses to move in: it might aid economic development, but it would also alter again the communal balance of India's only Muslim majority state. How would Pakistan and the Kashmiri people respond? On Modi's first official visit to Srinagar in July, there were no cheering crowds: people stayed home in protest at human rights abuses and the streets were lined instead with Indian security. 'This Island's mine,' says the abused, enslaved Caliban in the Tempest; yet he is not the only character to state his claim in the play.
When they were first performed, Shakespeare's works challenged power and questioned authority. In Indian appropriations that engage with contemporary conditions, they can do the same for audiences who have grown up with the after-effects of colonialism, who live against the backdrop of conflicts. And by fusing Shakespeare with Kashmiri art forms, cultural traditions from East and West can be recast, creating fresh ways of reading both the plays and our own turbulent times.
Dr Preti Taneja is a Fellow Commoner at Jesus College, Cambridge, where she works as postdoctoral research associate to Professor Juliet Mitchell on the Leverhulme funded project, Siblings, Shakespeare and Psychoanalysis. She is an AHRC/BBC Radio 3 New Generation Thinker for 2014. We That Are Young, her PhD novel, is currently with a literary agent. In 2007 she co-founded the human rights and advocacy group ERA Films.
Inset images: tulips and mountains in Kashmir; houseboat on Dal Lake; cook preparing Wazwan feast; Free Kashmir slogan in a park in Srinagar; Pashmina embroider at work. All images copyright Ben Crowe.
---
The text in this work is licensed under a Creative Commons Licence. If you use this content on your site please link back to this page. For image rights, please see the credits associated with each individual image.
---