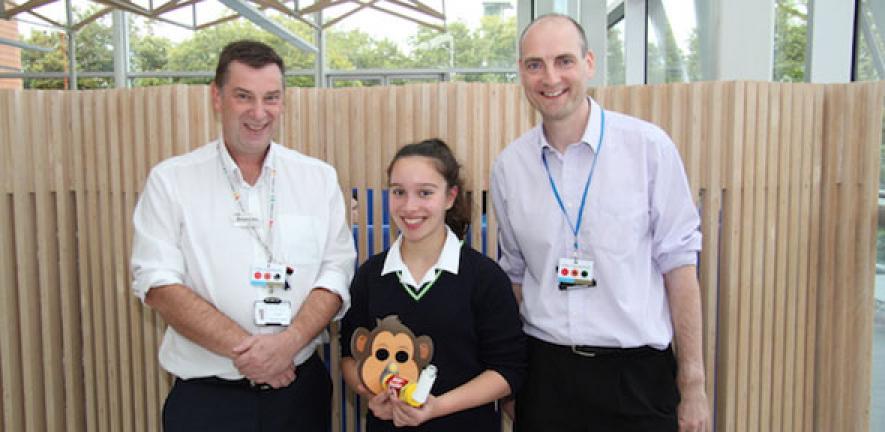 Ian Hosking from Cambridge's Engineering Design Centre is co-founder and co-leader of Designing Our Tomorrow, a collaboration between the Department of Engineering and the Faculty of Education which brings real-world problems into classroom design and technology sessions. Here, he describes the culmination of a year-long project in which secondary school students designed packaging solutions for the treatment of childhood asthma. 
I don't think I will ever forget the moment I sat at the bedside of a six-year-old patient and watched the consultant hand over a 13-year-old student's design to help with the patient's asthma treatment. It has been the culmination of a long journey that started eight years ago with the belief that children can solve real world problems as part of the mainstream Design and Technology curriculum.
Designing Our Tomorrow (DOT) is an initiative that puts authentic challenges like this at the heart of the learning experience. Asthma treatment is the epitome of such a challenge. With 5.4 million people in the UK with the condition, the NHS spends about £1 Billion on treatment, and yet 1,468 people died from asthma in 2015. Tragically, it is believed that 90% of these deaths involve preventable factors and similarly 75% of A&E admission are thought to be avoidable.
We set the challenge in schools for students to design a packaging solution that will help co-ordinate the initial treatment for young asthma patients, to put the patient and their carers on the right path to controlling what is typically a long-term condition. A recent survey highlighted that over 80% of people, of all ages, feel that their asthma is not under control. Crucially we wanted students to address the anxiety that a child feels the first time a spacer mask is placed on their face. Students watched a video of a real instance of this, where the child recoils backwards each time the mask is placed over their mouth.
This is a complex, messy problem requiring solutions that are not only effective but cheap, simple to use and scalable. When I first saw the monkey mask design, where the child becomes a monkey and the inhaler and spacer becomes a banana to feed to it, I knew we had something special. It is so simple, so elegant as a design solution, and gets to the very heart of the child's initial anxiety. Changing that moment from fear to fun for the patient as well as other family members makes it a better experience for all.
Alongside this we have worked with students to develop posters that remind patients to always use their spacer. In addition, we have developed a simple traffic light system explaining the narrowing of airways in the lungs and why and how it can be controlled. The credit card-sized printout can be easily clipped to a healthcare professional's ID badge so it is always to hand.
This is a significant moment in our journey as engineers and educators, and we are so grateful for all the people that have partnered with us on this journey. The list of names would be too long, but I do want to mention the organisations that have walked the journey with us. The Healthy London Partnership, Children and Young People's programme (a collaboration of the health and social care system across London), whose passion and skill around asthma has been an inspiration. On the packaging side the British Printing Industry Federation (BPiF) and The Institute of Materials, Minerals and Mining (IOM3) who have guided us in the realities of packaging design and production; DS Smith who turned around amazing designs in such short timescales; Peter Brett Associates who believed in the project when it was just an idea; and last, but by no means least, the teachers and students who brought it to life in the classroom.
This was perfectly timed to fit with the Healthy London Partnership #AskAbout Asthma campaign and our pledge is to run the 'Unpacking Asthma' challenge in schools again in this academic year. We are confident that students will come up with more ideas that can help with this vital work.
It's hard not to sound corny, but Churchill's words come to mind for the vision we had for DOT eight years ago, "now this is not the end. It is not even the beginning of the end. But it is, perhaps, the end of the beginning". We hope that this work will go on to play a part in transforming asthma care and help us towards our goal of equipping future generations to be creative problem solvers. In other words, for young people to design a better tomorrow.
 
---

The text in this work is licensed under a Creative Commons Attribution 4.0 International License. For image use please see separate credits above.
---