In August 1564 Queen Elizabeth I made her only visit to Cambridge - and found fault with some of the elaborate arrangements.  A pageant on 13 September (part of Open Cambridge) will commemorate the female monarch who asserted her authority among learned men.  PhD candidate Jessica Crown has researched the details of Elizabeth's interactions with the University.
Elizabeth was asserting her authority in a male sphere by speaking to the university in Latin, while appearing feminine and modest in her ostensible reluctance to give a speech in front of 'a gathering of most learned men'.

Jessica Crown
When Queen Elizabeth I visited Cambridge some 450 years ago, the university set out to impress upon her that it was an exemplar of 'religion & civill behaviour'. The Queen's chief advisor, William Cecil, coordinated the planning of a series of events to demonstrate a 'joyfull' welcome. Scholars were instructed on what to wear and how to behave; plays were rehearsed and debates organised. In the college kitchens, feasts were prepared for the Queen and her retinue.
With a packed programme, and so much at stake, there were hitches as well as triumphs. At a disputation held at Great St Mary's Church, Elizabeth complained that she couldn't hear the scholars debating whether 'simple food is preferable to complex' (cibus simplex multiplici est præferendus)  and 'dinner should be more generous than lunch' (cenandum liberalius quam prandendum). "Speak up, I don't understand!" she exhorted the assembled students in Latin. She even moved seats to be closer – but the scholars continued to mumble in their 'smalle' voices.
The 'torne and to much soyled' clothes of some of the university men also left Elizabeth singularly unimpressed. As for Great St Mary's, it too lacked finesse: the churchyard was spread with sand to disguise the filthy ground and the bell tower had yet to be completed. Overall, however, the visit was a decided success. After delivering a lengthy speech in Latin at Great St Mary's that left her audience 'mervelouslye astonied', the Queen 'cherefully departed to her Lodgyng'. She even declared that, that had provisions allowed it, she would have prolonged her stay.
Not all of Elizabeth's progresses are well-documented, but her visits to the universities of Oxford and Cambridge are a happy exception. Detailed records of the Queen's tour of Cambridge have assisted Great St Mary's in mounting a series of activities celebrating her visit. On Saturday, 6 September a concert of Tudor music will take place in the church; on Saturday, 13 September an Elizabethan pageant will re-enact Elizabeth's visit to St John's and King's Colleges, two of the colleges which welcomed her in 1564.
As the University Church, located in the centre of town, Great St Mary's played a significant role in Elizabeth's experiences of Cambridge. It was the venue chosen for the disputations in philosophy, medicine and divinity, and where she gave her well-received Latin speech.
Last year, I researched the contemporary and historical literature relating to her tour, using manuscripts and early printed books held at Cambridge University Library.  I was fascinated to find preserved there the surviving university orders for her arrival, accounts of the visit by eye-witnesses, and some correspondence between university men and William Cecil. The Library even has the gold-tooled manuscript presented to Elizabeth which contains the texts of the Latin, Greek and Hebrew verses composed for her visit.
The research I undertook for Great St Mary's relates to my PhD research, which concerns the development of humanism in England in the late-15th and early-16th century, and my wider interest in Tudor monarchs and their courts. Elizabeth's visits to Oxford and Cambridge (then the only English universities) have much to tell us about political, religious and intellectual attitudes in the Tudor period, as well as giving an insight into the kind of entertainment contemporary scholars felt befitted a monarch. 
It's likely that the purpose of Elizabeth's visit to Cambridge was intended to establish greater conformity from the Protestant scholars of the University. Elizabeth's moderate Religious Settlement aimed to create stability after the strife of the English Reformation. She had retained some features of traditional religion, such as surplices for the clergy, which more fervent sorts of Protestants considered to be superstitious practices.
Cambridge was known for its Protestant leanings, more so than Oxford. As the Victorian politician and historian, Thomas Macaulay put it: "Cambridge had the honour of educating those celebrated Protestant Bishops whom Oxford had the honour of burning." The White Horse Inn, near King's College, had been the home of a theological discussion group who began meeting in the 1520s, and the Lutheran sympathies of its members were so pronounced that it was christened 'Little Germany'.  Another site (possibly Castle Hill), where Thomas Bilney of Trinity Hall and Hugh Latimer of Clare College, took walks together was dubbed 'Heretics' Hill'. 
The historian Mary Hill Cole noted that in 1562 William Cecil was so 'trobled' by the 'factions & contentions' at the majority of Cambridge colleges that he considered resigning his chancellorship. He corresponded at length with various university men, including Edward Hawford, the Master of Christ's College, to make sure that the scholars were appropriately attired.
As the Queen arrived, Cecil was elated to see that his efforts had been rewarded: the scholars were dressed in 'so comely apparel…in longe gowns, brode slewes, and hoodes'. It was Cecil too who advised Hawford to consider which plays and 'plesures in lernyng' should be put on for Elizabeth, given that she had 'knoledge to vnderstande veray well in all comen sciences'. Cecil informed Hawford that he desired above all to see order and learning in the university, in both religion and manners.
In the same manner, Edmund Grindal, the Bishop of London, wrote to Hawford and the heads of the university suggesting that they put on plays and disputations. Lord Robert Dudley (Lord High Steward of the University) wrote to reassure them that their entertainments would be sufficient, as Elizabeth esteemed 'goodwill above any other gifts'.
The surviving university orders for the visit held in the manuscripts department of the University Library demonstrate that Cambridge sensibly took all these comments on board. The orders stated that the speaker welcoming Elizabeth must show how 'joyfull' the university was to see her, both because a monarch had not visited in living memory, and in a repetition of Cecil's advice, it was 'rare and merveleous' that a woman should be so well-educated and able to judge the scholars there.
The programme of events staged for Elizabeth was impressive. It included sermons and disputations at Great St Mary's Church on the subjects of philosophy, medicine, divinity and law; speeches in Latin, Greek and Hebrew when she toured the colleges; plays such as Plautus' Aulularia, Nicholas Udall's Ezechias and Edward Halliwell's Dido, and the bestowal of MA degrees upon Elizabeth's courtiers.
The visit was an ideal opportunity for scholars to display their command of Latin, then the language of intellectual discourse, as well as Greek. Roger Ascham, a notable Greek scholar and Elizabeth's tutor over the years 1548-50, wrote to Robert Dudley to remind him that he should prepare for the visit by improving his Latin. Ascham felt that now Dudley was in Cambridge he would surely recognise Ascham's 'right iudgement' in giving him such advice, and would reflect upon the fact that he had so far not done 'as I would haue had you to doe'.
The atmosphere was politically charged.  In the space of five days, the careers of those who ventured their views in public were enhanced and damaged. William Master, of King's College, gave a remarkably successful speech calculated to appeal to Elizabeth in its praise for her celibate state. He was rewarded by her encouragement to continue speaking in that vein and called into her presence once he had finished.
The theologian Dr Andrew Perne gave a successful sermon about obedience to princes. He squandered this advantage during the divinity disputation in which the questions were 'the authority of scripture is greater than that of the church' and 'the civil magistrate has authority in ecclesiastical matters'.
Debating the former, he acknowledged the flaws of the Catholic Church, but his argument that it was 'an apostolic church and our mother' was unnecessarily complimentary for Elizabeth's tastes. Perne was taken off the list of court preachers and, despite being recommended for a bishopric in 1584 by John Whitgift, the Archbishop of Canterbury, he never received one.
A number of individuals, both those associated with the University and figures at court, benefited immediately from Elizabeth's visit. Several of the nobles in her train were created MA on Thursday 10 August, including the Duke of Norfolk and the Earl of Oxford. In turn, the Duke of Norfolk agreed to give Magdalene College 40 pounds a year until their quadrant was built, and to endow the college with land.
Thomas Preston, a fellow of King's College, so impressed Elizabeth with his skills in the philosophy disputation, and with his acting in Edward Halliwell's Dido, that she gave him eight angels, or 80 shillings. Twenty-one years later, she would intervene to ensure he was elected as Master of Trinity Hall. Preston's epitaph in the chapel commemorates the favour she showed him with its inscription 'you are buried in this grave, Thomas Preston, whom the Prince Elizabeth called her own scholar' (Conderis hoc tumulo Thoma Prestone Scholarem/Quem dixit Princeps Elizabetha suum).
It's possible that Preston had caught the Queen's eye for other reasons. Thomas Fuller, an English clergyman and historian, who wrote a history of Cambridge in addition to his Worthies of England, suggested that she approved of Preston because of his 'comely carriage, gracefull gesture, and pleasing pronunciation', as her habit was to prefer 'propernesse of person' when all other things were equal.
Fuller additionally claimed, though less soundly, that Preston's fellow debater Thomas Cartwright was so vexed at not being similarly commended that he was led into religious controversy against the Queen.
Elizabeth's presence in Cambridge enabled her to craft her image as a prince whose regal authority was bolstered by impressive learning. She had been the beneficiary of an education influenced by the tenets of humanism, an intellectual movement which aimed to revitalise ancient Greek and Roman learning and make it relevant in contemporary contexts, particularly political rule.
Perhaps most significantly, Elizabeth was asserting her authority in a male sphere by speaking to the university in Latin, while appearing feminine and modest in her ostensible reluctance to give a speech in front of 'a gathering of most learned men', especially in her attempts to delegate this role to other men.
The Queen began her speech by referencing the humanist ideal of a ruler taking counsel. She remarked that 'the intercession of my nobles' led her to produce such a 'rude and uncultivated' speech, as well as her own awareness of the importance of learning and 'goodwill toward the university'.There was no hint that the visit was provoked by the need to investigate the university's conformity to her religious settlement, but arose from her wish to encourage the 'propagation of good letters', and her consciousness of the fact that the university expected her to support learning.
In keeping with the civic humanist ideal of the vita activa, or active life led in service to the ruler, Elizabeth told her listeners that 'no path is more direct, either to gain good fortune or to procure my grace, than diligently, in your studies which you have begun, to stick to your work; and that you do this, I pray and beseech you all'.
Elizabeth also expressed the desire to 'do some famous and noteworthy work' and 'leave an exceptional work' after her death, not only as a way of securing her memory for posterity, but so as to inspire her successors, and to make the members of the university 'all more eager for your studies'.
Elizabeth's address appears overwhelmingly supportive of a love of learning for its intrinsic merit, a prominent strain in humanist thought. Yet this was entwined with the opportunity it afforded her to assert her power. A prime example of this is her citation of the Greek democratic thinker Demosthenes as having stated that 'the words of superiors' are 'as the books of their inferiors, and the example of a prince has the force of law.' This was not a faithful translation, and the historian Linda Shenk has argued that Elizabeth's remarks were in fact closer to the Roman legal aphorism 'what has pleased the prince has the force of law' (quod principi placuit, legis habet vigorem).
Her rhetorical question that 'if this [Demosthenes' statement] was true in those city-states, how much more so in a kingdom?' highlights the authoritative message wrapped up in her promise to sustain the university. It seems likely that Elizabeth intended to indicate that just as she could skilfully manipulate the words of classical thinkers to suit her political purposes, so the intellectual activities of Cambridge had to conform to her rule.
Elizabeth evidently enjoyed the intellectual atmosphere of the debates. During the philosophy disputation, in which the motions were 'monarchy is the best state of a republic' (monarchia est optimus status reipublicae) and 'frequent changes in the law are dangerous' (frequens legum mutatio est periculosa), she is recorded as having 'sondere tymes' stopped the university officials from curtailing the speakers. Perne's experience nevertheless demonstrates that the debates were not an opportunity for free speech, and Elizabeth did not reward those who brought up religious controversy.
Had the law debate taken place, there may well have been further contention. The question 'any private person can be compelled so as to submit to commonwealth service' (priuatus quilibet, ut munus publicum subeat, cogi potest) might have reminded listeners of how Elizabeth's father, Henry VIII, had forced his subjects to swear the Oath of Supremacy, and the emphasis placed upon unequivocal obedience to his Church. Instead, as Shenk has remarked, Elizabeth's oration displaced the potentially subversive words of the university men.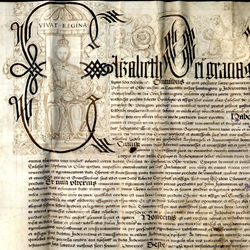 Elizabeth declined to attend the play devised by scholars of King's College, and so it was cancelled. This was a Latin version of Sophocles' tragedy Ajax Flagellifer, upon which 'great preparacions and charges' had been expended. Matthew Stokys, the university registry, gave the reason for its cancellation as Elizabeth being 'tyred with going about to see ye colledges and hearing of disputacions and over watched with ye former playes', given that they were put on late at night and she had further travelling to do.
It may well have been the case, as the historian Margaret Aston has suggested, that Elizabeth was as much tired from the sententious nature of the entertainments as she was from travelling.  Given her wilful personality, Elizabeth may have declined to hear a play dealing with the theme of the value of wisdom, having already heard so much on this theme.
Overall, Elizabeth's visit to Cambridge indicated that she certainly prized learning, but equally she did not prize it above exerting her authority, on her terms.
Jessica Crown is a PhD student in the Faculty of History at Cambridge and the G. R. Elton Scholar at Clare College. Her research concerns the development of humanism in England, c.1480 –c.1530.
Inset Images: portrait of Elizabeth I, by Marcus Gheeraerts, 1562-1635. Trinity College Oil Paintings, P 62 (by permission of the Master and Fellows of Trinity College, Cambridge); Elizabeth I Confirmation Charter (1559) (by permission of the Master and Fellows of Trinity Hall, Cambridge); Robert Dudley, Earl of Leicester (1532 - 1588) (Waddesdon Collection, National Trust); Acrostic Poem presented to Elizabeth I on her visit to Cambridge in August 1564 (Cambridge University Library MS Add. 8915, f.97r); detail of patent letter with an illustrated initial showing Elizabeth I, Clare College Archives (by permission of the Master, Fellows and Scholars of Clare College, Cambridge)
 
---
The text in this work is licensed under a Creative Commons Licence. If you use this content on your site please link back to this page. For image rights, please see the credits associated with each individual image.
---