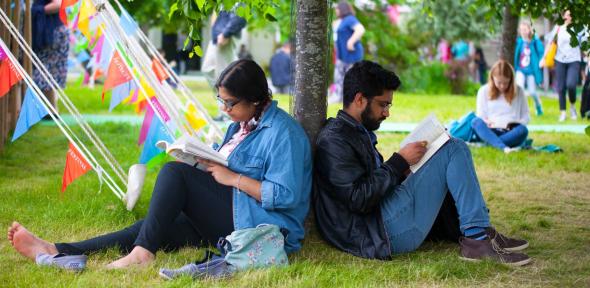 The Hay Festival is one of the most prestigious cultural and literary events in the world.
2018 marks the tenth year that the University of Cambridge has partnered with the Festival to deliver The Cambridge Series which gives a taste of the research being conducted at the University.
The Series is part of the University's public engagement work and draws on the University's two flagship public engagement events, the Cambridge Science Festival and the Cambridge Festival of Ideas. The Hay Festival runs from 24th May to 3rd June 2018.
25th May
5.30pm - Helena Sanson, Professor Bill Byrne and Marcus Tomalin
Lost in translation?
How does automatic translation work and will machines ever be able to replace a 'human' translator. A panel of experts from the University of Cambridge discuss latest developments. Dr Helena Sanson is a Reader in Italian Language, Literature and Culture. Bill Byrne is Professor of Information Engineering and Marcus Tomalin is Research Associate in the Speech Research Group of the University Engineering Department.
 
7pm - Hugo Drochon 
Who believes in conspiracy theories?
Was Diana killed by the Secret Services? Is climate change a hoax? Did  man not walk on the moon? Who shot JFK? Drawing on a nationwide survey  about belief in conspiracy theories, Dr Hugo Drochon will explore what factors - religious, economic, political – make some and not others believe in conspiracy theories and what impact that has had  on contemporary political events, from Brexit to Trump. Dr Drochon is a political theorist and historian of modern political thought.
 
26th May
10am - Jaideep Prabhu
Frugal innovation: how the globe is learning to do more (and better) with less
Over 3 billion people in the developing world live outside the formal economy and face unmet needs in areas such as health, education, energy, food and financial services. Meanwhile in the developed world, consumers are becoming both value and values conscious. Jaideep Prabhu, Jawaharlal Nehru Professor of Business and Enterprise at the Judge Business School, addresses how frugal innovation - the creation of faster, better and cheaper solutions that employ minimal resources - can help solve some of the big problems of poverty, climate change and inequality that stalk the planet.
 
1pm - Ella McPherson
Digital fakery and its consequences
Digital fakery encompasses everything from fake news to fake apps, organisations and videos. Drawing on her research about human rights reporting in the digital age, Ella McPherson, Co-Director of the Centre of Governance and Human Rights at the University of Cambridge argues that the consequences of digital fakery for democracy arise not because we are duped, but because of what we do to not be duped.
 
4pm - Dr Ferdia Gallagher
The future of MRI
Dr Ferdia Gallagher from the Department of Radiology at the University of Cambridge discusses the basis of MRI, how it is currently used to image cancer and what the future of oncological imaging may entail.
27th May
1pm - Sarah Nouwen
Peacemaking: What's law got to do with it?
Peace and justice: who could be against them? But as soon as we begin to unpack these much-invoked notions, tensions emerge. How does international law resolve these tensions? We'll discuss emerging international norms in light of the challenges facing mediators trying to end civil wars. Dr Sarah Nouwen is Co-Deputy Director of the Lauterpacht Centre for International Law.
 
2.30pm - Diane Coyle
How do we know how well off we are?
GDP is up - but whose GDP? (And what is it anyway?) There's endless free stuff online but is it making anyone any happier? Are the cat videos on the internet distracting us from the prospect of jobs being automated away and climate change ravaging food supplies? Behind these lies the challenge of how to measure economic progress. How can we tell if our society is becoming more prosperous - or not? Diane Coyle is Bennett Professor of Public Policy.
 
4pm - Terri Apter
Passing Judgment: praise and blame in everyday life
It is as old as Adam and Eve: Who's to blame?  Who's innocent and praiseworthy? Terri Apter discusses why these questions are not reserved just for big moral questions, but inform daily interactions with our family, our partner, our best friends and our bosses. She also shows that how we praise and blame our children, our colleagues, our friends and our partners may sustain or break our relationships with them. Terri Apter is a psychologist, writer and Fellow of Newnham College.
 
28th May
11.30am - Lucy Delap
Men and Feminism
Can men respond to feminism? In the era of Trump, Weinstein, #metoo and #timesup, feminist anger has reached a crescendo, and it is not for the first time. Lucy Delap looks at past efforts by women to get men to listen, and attempts by men to reshape masculinity in twentieth century Britain. Dr Delap is a lecturer in modern British history.
 
5.30pm - Clive Wilkins in conversation with Professor Nicky Clayton
The Moustachio Quartet - An exploration of memory
This series of novels, written by the Artist-in-Residence in Psychology at Cambridge University, explores the subjective experience of thinking and the fundamental role that storytelling plays in understanding our past and determining our futures.
 
29th May
2.30pm - Helen Castor
Elizabeth I: a study in insecurity
Helen Castor shows how England's iconic queen was shaped by profound and enduring insecurity - an insecurity which was both a matter of practical political reality and personal psychology and how, facing down her enemies with a compellingly inscrutable public persona, the last and greatest of the Tudor monarchs would become a timeless, fearless queen.​ Helen Castor is a lecturer in history.
 
4pm - Cecilia Brassett, Emily Evans and Isla Fay
The Secret Language of Anatomy
Where is the seahorse in our brain? What is a sesame seed doing in our knee?  Come and find out through this illustrated talk on the mysteries of anatomical terminology. Cecilia Brassett is University Clinical Anatomist. Emily Evans is a medical illustrator who is also a senior demonstrator of anatomy. Isla Fay is Human Anatomy Technical Coordinator in the Department of Physiology, Development and Neuroscience.
 
30th May
4pm - Ottoline Leyser
Thinking without a brain - how plants decide what to do
It is easy to assume that plants don't do much, and many expressions for inactivity involve plant metaphors, such as the couch potato. However plants, including potatoes, are as busy of the rest of us assessing their surroundings and changing their activity accordingly. Ottoline Leyser is Professor of Plant Development.
 
31st May
4pm - Dr Sujit Sivasundaram
The history of islands and their contribution to the modern world
The islands of the Pacific and Indian oceans and the people who inhabited these seas are some of the most marginalised places in Western historical memory. Yet they played a crucial role in modern political, intellectual and cultural thought and may be sites to watch for the future of humanity even as environmental change takes its course. Dr Sivasundaram is Reader in World History.
 
1st June
11.30am - Shruti Kapila
India, empire and the invention of terror in the 20th century
Shruti Kapila explores the origins of modern anti-terror legislation in India's struggle for independence and the reverberations today. Dr Kapila is a lecturer in modern Indian history and global political thought.
 
5.30pm - Hatice Gunes
Demystifying the human-like robot
Sensationalist media coverage and sci-fi films often give a skewed impression of human-like and social robots and this has left a major gap between the public perception of what they can do and their actual capabilities.  Dr Hatice Gunes will give a more balanced view and outline how social robots can contribute to the public good. Dr Gunes is Senior Lecturer at University of Cambridge's Computer Laboratory.
 
2nd June
11.30am - Professor Wendy Ayres-Bennett
The menace of monolingualism
Is monolingualism harming us, both as individuals and as a society? We look at the value of languages for health and well-being, social cohesion, diplomacy and conflict resolution, defence and national security. Wendy Ayres-Bennett is Professor of French Philology and Linguistics.
 
1pm - Dacia Viejo Rose
War on culture: the politics of reconstructing cultural heritage
The destruction of cultural heritage has grabbed headlines worldwide.  Does it matter? This talk will explore the dynamics of violence, reconstruction and repair that underlie these dramatic acts of destruction. Dr Viejo is a Lecturer in Heritage and the Politics of the Past.
 
3rd June
11.30am - Lucy van de Wiel
Freezing fertility: How reproductive ageing is changing in the 21st century
Egg freezing is an increasingly popular reproductive technology that offers the potential of staying fertile later in life. Yet while it opens up possibilities of having children at later ages, promise of 'rewinding the biological clock' also encourages younger, presumably fertile, women to undergo infertility treatment. Dr Lucy van de Wiel will discuss how egg freezing profoundly shifts out understanding of what it means to be fertile, and to age. Dr van de Wiel is a Research Associate at the Reproductive Sociology Research Group.
 
In addition: Charlie Gilderdale from NRICH Cambridge and Alison Eves from the Royal Institution will deliver interactive Thinking Maths masterclasses to adults and children on 27th and 28th May.
Other University of Cambridge speakers taking part in the Hay Festival include Rowan Williams, Hannah Critchlow, Diane Reay, Ed Bullmore, Paul Murdin, Bridget Kendall and David Runciman.