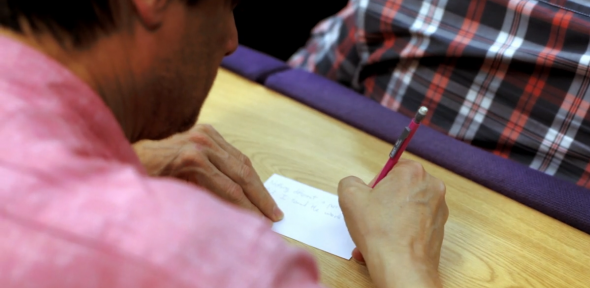 Summary
This course explored how research ideas can be translated and discussed in the public domain. It combined theory with practical group and individual activities as preparation for face-to-face or media communication. Over 20 researchers practiced techniques for developing accessible and interesting research messages. Last run on 30 May 2012.
Highlights
Before the course, delegates were asked to explain their research to a general public audience in 75 words or fewer. This starting draft was retold twice by other researchers, sensationalising the message along the way, to see whether meaning could be retained or if it was lost.
Delegates developed engaging beginnings and endings to their research narrative, concentrating on why their research was interesting – a hook – and who might be interested in it. We used several techniques to help restructure and identify key points of a story, including mind maps, storyboards and abstract diagrams.
Genevieve Maul, University Communications Officer, led a discussion on audience and targeted messages, including news releases to specialist and the national press. Delegates then worked in small groups to develop profiles and stories that might be attractive to families, journalists and policymakers.
Music by Karl Läufer
Title: 'Turquoise Sunset feat Warren Daniels'
soundcloud.com/holgerhimmelblau
Feedback*
All delegates found this session useful for their professional development and would tell their colleagues about it. There was a range of views on course length and some found parts of it hard work and stressful. Comments about the course included: "Fascinating, helps not only to tell your research to others, but also structure and write better"; and "I really enjoyed it. A chance to think about the best ways to explain your research."
This was the first time we have used a storyteller to help people develop their thinking, with one person saying: "Different to what I was expecting. Some interesting ideas on how to communicate a research message. Not all "my cup of tea", but well worth considering."
After listening to and analysing some existing research narratives, delegates became more sensitive to storytelling techniques like use of imagery and picking out and reinforcing the most important elements of a message.
One delegate said: "The highlight, and something I will remember and aim to use, was using [verbal and visual] images to tell a more memorable and engaging story. The [example of the] professor who used the WW2 plane analogy was particularly effective."
Reflecting on the initial task of drafting 75 words to explain their research to a general audience, when asked if it would be easier, one person said: "I think so; clearer on what I should cover in such a "paragraph" and how to structure it" whereas another said: "No, I'd find it harder because there is now more to think about. But the end result would be better."
*This is based on observation, verbal feedback, ad-hoc emails and responses to the online course evaluation.