A campaign by students in Cambridge to raise the profile of feminism has been phenomenally successful. The project revealed just how frustrated many students are by sexist attitudes and how willing they are to work together to combat them.
When we stand together, like in this album, it's clear that all different sorts of people from all different backgrounds need feminism

Susy Langsdale
There is nothing new about feminism. With its roots in the suffragette movement of the turn of the 20th century, feminism experienced a comeback in the 1960s when the focus shifted from votes for women to wider issues of equality. There is nothing new either about handheld slogans used as an online device for getting out a bold message in just a few words. Someone holds up a placard with a slogan and someone else takes a picture. The photograph is sent round the world on the web. There are many such photos and many of them disappear without trace.

When activist groups in the UK and USA started using this template to encourage people to think about feminism, students in Cambridge took up the challenge to complete the sentence 'I need feminism because…"  Over a period of three days in April more than 700 people (many of them students at Cambridge University and Anglia Ruskin University (ARU)) took part in the campaign. Their messages ranged from global and political to funny and personal. Examples ranged from 'rape is used as a weapon of war around the globe' and 'today in the UK there are 4000 girls in forced prostitution' to 'I love baking and my dad does too' and 'some of my friends will laugh at this'.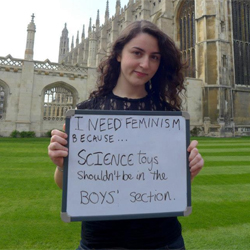 The images were an immediate hit on Facebook and got half a million shares in two weeks. When 60 of the most striking images were edited into a Tumblr social blog site, the post was re-blogged over 230,000 times and re-tweeted around the world. Taken up in the mainstream press, the images led to a surge of interest. The French newspaper Figaro translated a dozen slogans into French. The Huffington Post reported that the campaign had spread to Malawi and Australia. Cosmopolitan magazine gave the campaign a thumbs-up. The Guardian carried an article by a 17-year-old soon-to-be Cambridge student who organised a feminist society at her school in Cheshire.


Appearance, and the pressure to conform to a narrow model of femininity, featured strongly in the 'I need feminism because…' campaign – and tellingly, the photograph picked up most frequently showed a woman holding a sign saying 'I need feminism because this should really not perturb anyone'. An arrow pointed to the hair under her armpit.

All of a sudden feminism was in the air and the discussion point was: what is feminism today and what is its role some 60 years on from its re-emergence in the wake of Simone de Beauvoir's Le Deuxième Sexe? The question of relevance lies at the core of what was, in many ways, a fun thing to do in the lead-up to exams: a plan concocted in Cambridge by Cambridge University Students Union (CUSU) Women's Officer, Susy Langsdale, in response to months of planning with various groups and committees in an attempt to give voice to an upwelling of feeling following high profile cases of violence against women.

Langsdale is, unsurprisingly, thrilled by the success of the campaign she orchestrated with colleagues at Cambridge and the committee members of ARU Feminist Society.  She comments: "Feminism has had some negative stereotypes in the past, but I think that nowadays students are increasingly excited by the potential it offers for change. This campaign helped to give voice to different people and, in doing so, combated some of the lingering ideas that feminism is outdated or elitist."


She says this as an avowed feminist, brought up with strong female role models helping her to believe in herself. "I'm a feminist because I see women dealing with sexism and sexist attitudes on a day-to-day basis and want to help to improve their situations. However, it is clear that people are feminists in all kinds of different ways and for all kinds of reasons, whether because of their principals, their politics or as the result of personal circumstances or experiences. Standing in the street outside ARU on East Road and outside King's College on King's Parade for five hour slots across three days, we encountered a staggeringly wide range of people and opinions, but what they all had in common was a determination to improve the situation for women everywhere."

It took real courage for some people to take part in such a visible campaign, as Langsdale explains: "Some people felt incredibly shy about being photographed but were keen to make a contribution. A few women were unable to show their faces because of possible repercussions. Some older women told us they were pleased to see that feminism was alive and well."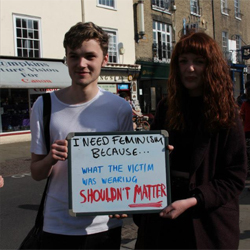 Not all reactions were positive. Langsdale says: "We had abuse, some in the street and a lot more online, some of it pretty hideous, but it simply increased our resolve to stand up and put across our message that feminism is needed. For me and for the other organisers, this abuse was depressingly common but also reinforces the value of getting out into the streets and engaging with individuals and showing that feminism is alive and kicking. When we stand together, like in this album, it's clear that all different sorts of people from all different backgrounds need feminism, it's not irrelevant like the "trolls" try and make out. It's empowering, exciting and potent." 


At the end of this week Langsdale, who graduated last year with a degree in History of Art, steps down from her post and hands over to the incoming CUSU Women's Officer, Lauren Steele, a student on the Education with Drama and English course. Langsdale comments: "It's been an amazing and educational year. The women's campaign is one of the most vibrant and engaged campaigns in Cambridge University and I think this comes from its willingness to interact with anyone who approaches it, as the photos we took clearly demonstrated. I look forward to seeing what Lauren gets up to next year and wish her all the luck with the job!"
For more information about this story contact Alex Buxton, Office of Communications, University of Cambridge, amb206@admin.cam.ac.uk 01223 761673.
---
This work is licensed under a Creative Commons Licence. If you use this content on your site please link back to this page.
---