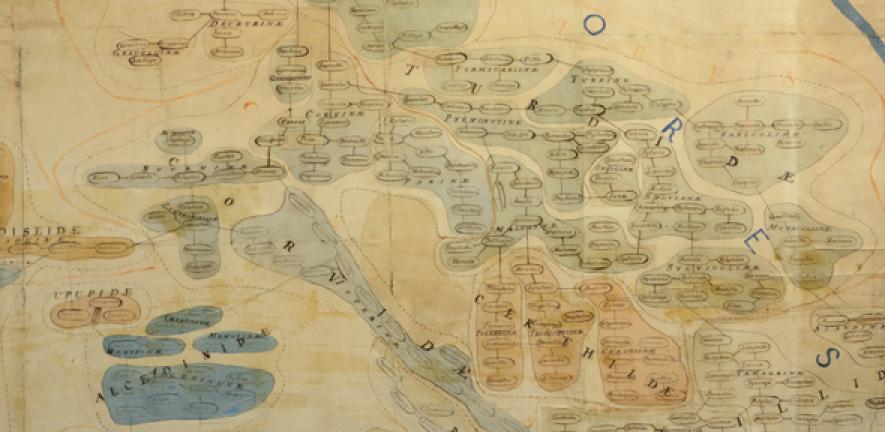 An exhibition exploring human discovery in all its forms – selected from more than five million objects at eight University of Cambridge museums – will open in London on 31 January 2014.
An exhibition of this scope and nature could only come from Cambridge. Our collections are exceptionally rich, but also unusual and even quirky.

Professor Nicholas Thomas
Discoveries: Art, Science and Exploration, held in the beautiful surroundings of Two Temple Place, marks the first time that Cambridge University's unique, world-class collections have been drawn together under one roof. Together, they are more diverse in range and scope than perhaps even the Tate and British Museum combined, covering the span of human endeavour and exploration, from the miniscule to the majestic.
The exhibition features, among many other objects: ancient fossils, contemporary art, modern Inuit sculpture, Darwin's only surviving egg from the Beagle voyage, a rare dodo skeleton and a state-of-the art digital instrument that searches for sub-atomic particles in the frozen depths of Antarctica.  Several exhibits will be leaving Cambridge or going on public display for the first time.
For centuries, the university has been a powerhouse of learning; discovering, collecting and studying objects that have changed our understanding of the world, challenged long-held beliefs and fundamentally altered our view of the planet and the universe.
But it is the role of Cambridge as one of the world's leading research universities, with six of its museums embedded within academic departments, that lends this exhibition its uniqueness. Five of the university museums are also nationally-recognised Designated Outstanding Collections, awarded by Arts Council England.
Professor Nicholas Thomas, co-curator of Discoveries and Director of the Museum of Archaeology and Anthropology, said: "The exhibits on display lead double, if not multiple lives. They are not just museum pieces spanning millennia but living objects used for teaching and research that have changed our understanding of the world – and will continue to do so in ways we cannot yet imagine. Our collections are explored daily, offering new insight and revelations about the world around us.
"This exhibition challenges us to think about the notion and meaning of 'discovery'; not just epoch-making scientific or artistic discoveries, but everyday discoveries – and discoveries that are passed from generation to generation and renewed afresh each time.
"An exhibition of this scope and nature could only come from Cambridge. Our collections are exceptionally rich, but also unusual and even quirky. For over two hundred years our museums have accumulated every imaginable kind of artefact, art work, device and specimen. Discoveries takes us from Darwin to DNA, from Captain Scott to the exploration of space."
The exhibition, which runs from 31 January to 27 April, 2014, also features discoveries gone awry in the form of 19th-century 'Muggletonian' prints. The Muggletonians were a religious sect who rejected the Newtonian system of the universe, instead arguing that biblical statements took precedence over claims of scientific fact, intending to prove that the sun and moon revolved around the earth.
And the 'Tinamou Egg', collected by Darwin himself on the voyage of the Beagle (1831-1836), proves that not even the world's greatest scientists always get things right. The egg, thought to have been lost until its rediscovery in 2009 by a museum volunteer, was cracked by Darwin as he attempted to store it in a box too small for its purpose. One of just 16 eggs collected by Darwin on the five-year voyage, it is the only one known to survive.
Elsewhere, Cambridge's position at the forefront of scientific discovery, is highlighted in the Museum of Zoology's exhibits at Discoveries including the actual butterflies used by Reginald Punnett in one of the colour plates of his book Mimicry in Butterflies. His work helped pave the way in modern genetics and his specimens are joined at Two Temple Place by Hugh Edwin Strickland's Chart of Bird Classification, dating some 16 years before the publication of The Origin of Species. The chart had been stored rolled up for many years before its recent conservation and mounting and has never before been on public display.
The exhibition does not just focus on science, however, but also the intersection where science and art can meet. A Henry Moore piece, a Gaudia-Brzeska self-portrait and a modern Inuit sculpture and a spectacular print by Australian artist Brook Andrew will join watercolours by Edward Wilson, the Cambridge-educated scientist and artist who accompanied Captain Scott on his Discovery Antarctic Expedition (1901-04), to look at the nature of discovery in the art world.
Professor Thomas added: "This exhibition is not just about our 'treasures'; we have deliberately selected works of art, artefacts, specimens, documents and images that allow us to reflect on diverse acts of discovery. They vary from sculptures or drawings representing artistic breakthroughs to paintings recording hazardous conditions at the Poles. We have telescopes that enabled the skies to be studied and new stars seen. What might be a scholarly resource to one person may for another be aesthetically arresting. It may be, simply, magical."
Professor Liba Taub, Director of the Whipple Museum of the History of Science, said: "Human imagination itself may be the most powerful instrument of discovery, allowing us to question the ideas of others, no matter how illustrious and famous they may be. The understanding of a known principle, or the seeing of a phenomenon with one's own eyes, offer a special sense of discovery as well."
Discoveries at Two Temple Place runs from 31 January - 27 April, 2014. Press tours are available on 29/30 January. Exhibition opening times are Monday, Thursday, Saturday 10am-4.30pm. Wednesday 10am-9pm and Sunday 11am-4pm. Closed on Tuesdays.
The eight university museums sending exhibits to Two Temple Place are: The Fitzwilliam Museum, Kettle's Yard, Museum of Zoology, Museum of Archaeology and Anthropology, Whipple Museum of the History of Science, Museum of Classical Archaeology, Sedgwick Museum of Earth Sciences and The Polar Museum
---
This work is licensed under a Creative Commons Licence. If you use this content on your site please link back to this page.
---