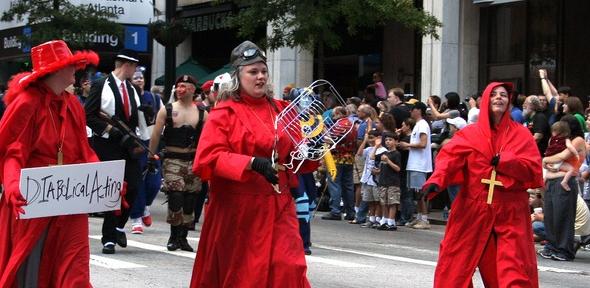 Why did nobody expect the Spanish Inquisition? Were their chief weapons really fear, surprise, ruthless efficiency, an almost fanatical devotion to the Pope, and a cushion? Cambridgeshire schoolchildren are invited to find out at an afternoon workshop, being held on 3rd November as part of Cambridge History for Schools.
We want to show how school pupils can enjoy history and imagine the past

Dr Ulinka Rublack
Each hands-on workshop is led by expert historians from the University of Cambridge and aims to stimulate passion for the past in young historians.
"We want to show how school pupils can enjoy history and imagine the past," explains Dr Ulinka Rublack, the Cambridge academic leading the project.
"Workshop sessions involve different kids of evidence, which we explore through discussion, acting, play and artwork, in order to find out what really shaped cultures and societies."
This is the second year for the Cambridge History for Schools programme. In Michaelmas Term last year young people got the chance to "meet" Nuremberg hangman Franz Schmidt as part of a morning exploring the role of the executioner in history.
"It was action packed and gruesome," one participant commented, while another said the morning had been "Enjoyable – fun to learn something not taught at school."  Other workshops covered the role of women workers in WW II, the life of Oliver Cromwell and the slave trade.
This year's exciting programme includes an exploration of medieval dreams of heaven; the world of the Inquisition; what it was like to live as a Russian peasant; disease and medicine in the 17th century; ice-cream in history; and the anti-war movement in 1960s America.
Morning workshops are for children between 7 and 11 (Key Stage 2).  Afternoon workshops are for children between 11 and 14 (Key Stage 3).  Children may attend the workshops without a parent or carer present during the session, but we ask that they be met promptly at the end of each session.
For more details about how to book, email gen.enq@hist.cam.ac.uk or call 01223 335302.
---
This work is licensed under a Creative Commons Licence. If you use this content on your site please link back to this page.
---