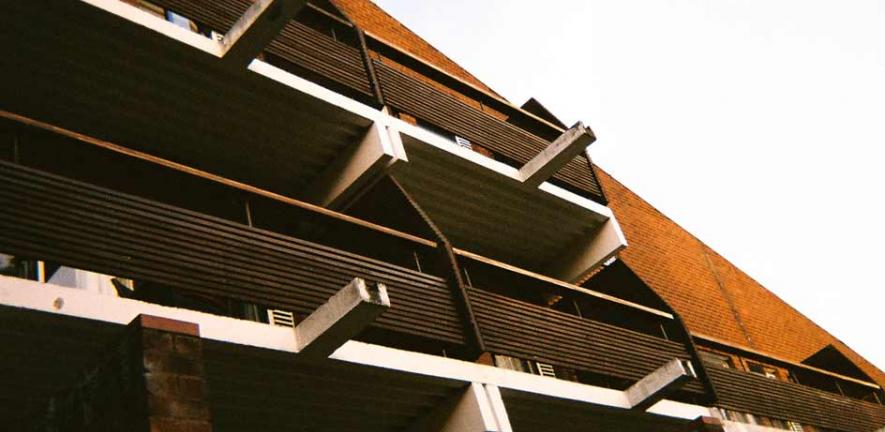 A new exhibition draws architectural parallels between two seemingly different developments – Clare Hall, Cambridge and Byker estate in Newcastle upon Tyne.
At first glance, it might be thought that two building developments of the 1960s, Byker in Newcastle upon Tyne, and Clare Hall, have little in common. Byker is a large housing estate, occupying the site of Victorian terraced houses built for shipworkers. Clare Hall was constructed for Cambridge's newly established institute of advanced study, intended for research and visiting fellows.
In fact, there are very interesting similarities in the buildings, which were designed by one of the most intriguing of Britain's 20th century architects, Ralph Erskine. He was the son of radical, Fabian, Quaker parents, was sent to school in Saffron Walden, studied architecture at Regent Street Polytechnic (now the University of Westminster) and, after graduating, travelled to Sweden to look at the new social housing schemes being developed there. Unfortunately (or perhaps fortunately) the Second World War broke out when he was there, and he was marooned, unable to return to his homeland. He was to base his architectural practice in that country, designing mainly blocks of apartments for working people.
Erskine took great care to consider the wishes and needs of people who would be living in his buildings. For that reason, when Clare Hall was looking for a sympathetic architect to construct a different sort of college, one that would accommodate both men and women, and their children, he was a clear choice. Though several architects were considered, those who offered a then-fashionable, unfaced concrete finish were rejected. Clare Hall would be of warm brick. Byker, too, was to be consumer friendly: the unremitting terraces would be replaced by more randomly sited blocks of housing, and there would be open spaces with trees and foliage in between.
Path-Crossing is a photographic exhibition comparing Clare Hall and Byker, which will open at Clare Hall on 23 September and run until 30 October. It includes many photographs taken by the occupants of both sets of buildings, and there is an interactive element for  visitors. The exhibition, sponsored by BDP and Louis Poulsen, has been conceived and curated by the professional photographer, Andrea Baczynski, wife of one of Clare Hall's fellows. It can be visited from 9am to 6pm, seven days a week.
The exhibition will be shown early in 2012 at BDP, London, and at the Hatton Gallery, Newcastle upon Tyne.
---
This work is licensed under a Creative Commons Licence. If you use this content on your site please link back to this page.
---