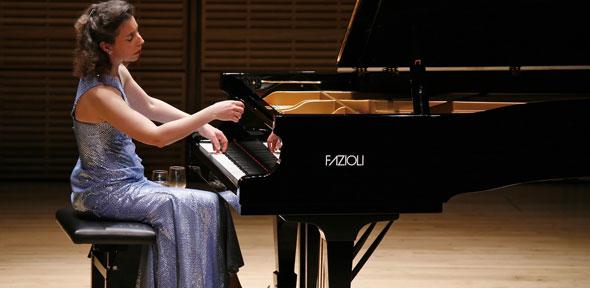 One of the world's leading pianists, Angela Hewitt, is coming to Cambridge later this month to tackle Bach's The Art of Fugue, a composition so challenging that it is rarely performed. She will also give a masterclass for students and take part in a public symposium.
We are all incredibly excited to work with Angela Hewitt, a musician of the highest calibre.

Ghislaine McMullin, student, St John's College
Angela Hewitt has described Bach's music as "universally loved… Something in it speaks to all of humanity". As Humanitas Visiting Professor of Chamber Music 2014, she will give a lecture-recital on 24 April, conduct a masterclass for talented student performers on 25 April, and take part in a public symposium on 28 April.
These three events are free to attend and open to all, subject to seating availability at West Road Concert Hall. They will be followed by a concluding concert on 29 April, at which Ms Hewitt will perform The Art of Fugue. This concert does require booking in advance. Tickets cost £20 (£5 for students), and are available from the Corn Exchange.
'Interpreting Bach on the Piano' is the title of the lecture-recital on 23 April. Professor John Rink of the Faculty of Music, said: "Deciphering the manuscripts left by past composers forces us to take imaginative leaps. Even the most accomplished performers can struggle to fathom the meaning of musical notation, and the fact that instruments have changed so much over time makes the task all the more difficult. In the case of Bach, interpreting the music as well as the historical evidence surrounding it is far from straightforward."
He added: "Angela Hewitt is one of the foremost performers of Bach today, and we are thrilled that she will be sharing her unique artistic insights here at Cambridge."
On 24 April, Ms Hewitt will conduct a masterclass with some of the University's most talented student performers, playing solo and chamber repertoire by Beethoven, Franck and Liszt.
"We are all incredibly excited to work with Angela Hewitt, a musician of the highest calibre," said Ghislaine McMullin, a second-year student of History at St John's College who will playing Beethoven as part of a trio. "We have spent all term learning the Beethoven, and we look forward to her thoughts about, and insights into, our performance." For information about the six participating students and the works they will be playing, see here. 
On 28 April, Angela Hewitt will discuss The Art of Fugue in a symposium with renowned Bach specialist, Professor John Butt of the University of Glasgow. This intense work is regarded by some as too austere for the concert-hall. There is speculation as to whether such a rigorous theoretical exercise in fugal writing was intended for performance and if it was meant to be performed on a keyboard instrument. The final fugue (or 'contrapunctus'), in which Bach embedded the letters of his name within one of the interwoven themes, is unfinished and, in musical terms, unresolved: Bach died while in the process of writing it.
On 29 April, a Cambridge audience will have a rare opportunity to find out why Angela Hewitt wrote in the Guardian in 2012 that she hoped music-lovers around the world would share her 'sense of wonder' at the 'simultaneous intimacy and grandeur' of the work, and why pianist Glenn Gould said, of the final, unfinished contrapunctus: "There's never been anything more beautiful in all of music."
This is the third year of the Humanitas Chamber Music series, which has brought stellar musicians to Cambridge. The first holder of this Visiting Professorship was Alfred Brendel, in 2011. Robert Levin followed in 2013, and a video clip of him improvising Mozart at West Road Concert Hall has had over 105,000 hits on YouTube.
Hosted in Cambridge by the Centre for Research in the Arts, Humanities and Social Sciences (CRASSH), Humanitas is a series of Visiting Professorships at Cambridge and Oxford intended to bring leading practitioners and scholars to both universities to address major themes in the arts, social sciences and humanities. The programme was created by Lord Weidenfeld, and is funded by the Institute for Strategic Dialogue with the support of generous benefactors. The Humanitas Chamber Music series is made possible by the generous support of Mr Lawrence Saper.
---
This work is licensed under a Creative Commons Licence. If you use this content on your site please link back to this page.
---