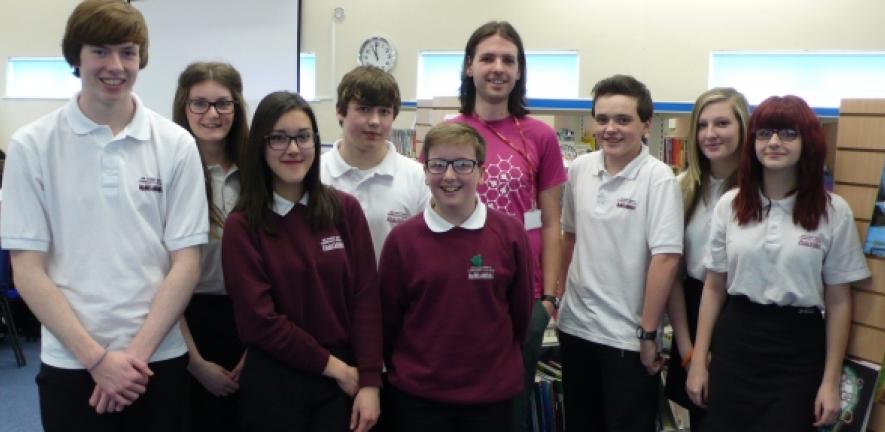 Scott Thomas from the University of Cambridge's Institute of Astronomy visited Sir Harry Smith Community College as part of the Science Festival Schools Roadshow.
One of the greatest challenges for a scientist is to make their work accessible to others. Talks like these are a great opportunity to try this.

Scott Thomas, Institute of Astronomy
His talk - Sun, moon, stars…. What do astronomers do? – introduced his audience of 60 Sir Harry Smith pupils to some of the stars of astronomy, past and present, and the tools of their trade. 
A first, important point was the difference between star-gazing and fortune-telling.
"If you meet an astronomer, don't say 'I'm a Sagittarius, what does that mean," Scott advised. "They might get angry with you."
As well as being an expensive science to pursue, astronomy was quite a dangerous one, according to Scott's presentation.  
One of the very first astronomers to use a telescope, Galileo spent the last years of his life under house arrest after publishing data which supported the then-heretical idea that the earth orbits the sun.  "Conflict is part of science," Scott said.
It wasn't just disputes with the church that proved hazardous.
Scott revealed that Danish astronomer Tycho Brahe wore a metal nose after losing his own duelling to settle a dispute about mathematics, and was rumoured to have been killed by his own pupil, Johannes Kepler.  "But he was an important astronomer," Scott added. "This shouldn't be overshadowed by the crazy stuff he did."
Moving on to more recent role models, Scott introduced the KS4 pupils to Henrietta Leavitt.  She worked at Harvard University examining photographic records of stars to calculate their brightness.  Her observations of Cepheid variable stars were later fundamental to Edwin Hubble's work proving that the universe is expanding.
The talk was part of a week-long programme of Schools Roadshows, which are organised every year in the run-up to the university's Science Festival.  Almost 40 local primary and secondary schools received Schools Roadshow visits this year.
"I take part in the Roadshow because one of the greatest challenges for a scientist is to make their work accessible to others," Scott said. "Talks like these are a great opportunity to try this.
"Astronomy is also an extremely well-received topic at schools and one of the best ways to get people excited about science!"
Sue Long, Festivals and Outreach Officer for the University of Cambridge, said "The Schools Roadshows bring science alive for primary and secondary pupils and the students relish everything from Gurgling Guts, Weird and Wacky Wildlife and Sun, Moon, Stars – not to mention launching their own rockets! 
"For some of the groups these Roadshow sessions are enhancing what the pupils have already studied in class but for many it's the introduction to new and exciting science themes and the opportunity to get involved in some hands-on activities.  
"We try hard to visit as many schools as possible and to offer a wide range of really interesting topics," Sue added.
---
This work is licensed under a Creative Commons Licence. If you use this content on your site please link back to this page.
---