Gifts totalling more than £32 million, together with government funds of over £17 million, have enabled the launch of a highly innovative Centre in Cambridge that is pioneering new approaches to understand and treat neurodegenerative disorders such as Alzheimer's and Parkinson's diseases, motor neurone disease and frontotemporal dementia.
The failure so far of traditional drug discovery programmes for these diseases provides us with a strong indication that new strategies are needed

Prof. Michele Vendruscolo
The Centre for Misfolding Diseases has been established to tackle some of the world's most devastating diseases. Many of the neurodegenerative diseases are currently incurable and represent a huge burden for an ageing society, potentially crippling healthcare systems with costs that already exceed those associated with cancer and heart conditions combined.
The Centre brings together leading researchers from across the full spectrum of scientific disciplines – spanning applied mathematics, engineering, physics, chemistry, biology and medicine – to study the molecular origins of neurodegenerative diseases. A central theme of its activities is the use of principles from the physical and chemical sciences to address these complex biological and medical problems. The understanding created through this distinctive approach enables novel therapeutic strategies to be established that go beyond the traditional approaches that have so far led to systematic failures in clinical trials.
Jointly led by Professors Christopher Dobson, Tuomas Knowles and Michele Vendruscolo, the Centre's significance has been underlined by the philanthropic support it has received. The programme began when a gift of £20 million was made by Elan Corporation plc, led by Kelly Martin and Robert Ingram, to catalyse its creation; earlier this year Cambridge alumnus R. Derek Finlay donated £5 million to fund the completion of the Chemistry of Health Laboratory, within the Department of Chemistry, and establish state-of-the-art laboratories for the Centre within the new building.
The resulting research environment will provide an ideal setting not just for scientists based in Cambridge but also for hosting internationally leading researchers at all stages of their careers, ensuring that cutting-edge research will continue to be carried out in this vital area in the long term.
The overall vision underpinning the Chemistry of Health Laboratory, and the Centre for Misfolding Diseases within it, is that the investigations into the fundamental basis of disease will be carried out in an environment that fosters cross-fertilisation between academic and industrial research efforts, accelerating the road from basic discoveries to effective therapies.
In addition to fundamental science, the new building will house a Chemistry of Health Incubator that will respond to the need for closer integration between the University and industry and aim to increase the rate at which scientific breakthroughs are translated into new therapies. The incubator will provide the resources and complementary know-how required to ensure that fundamental research is ultimately used to develop new treatments for patients in this area where there is a tremendous unmet need.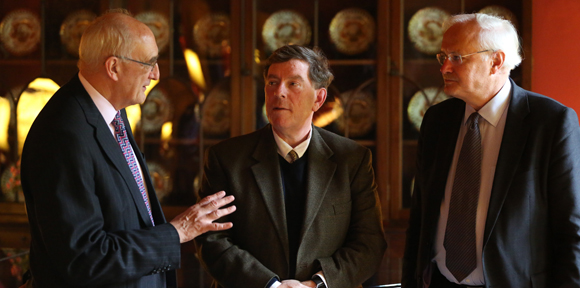 Professor Sir Leszek Borysiewicz, Vice-Chancellor Emeritus; Kelly Martin; and Professor Chris Dobson, Master of St John's College, at a recent event held at St John's to mark the support received for the Centre for Misfolding Diseases.
Professor Dobson said: "The tremendous level of support that we have received has given us the freedom and resources to attract to our Centre the best and brightest students and research fellows from around the world, experts in disciplines ranging from mathematics to medicine. It has enabled us to set up and develop a comprehensive and highly innovative programme of research, that I believe is unique, in an area of scientific endeavour where progress has the potential to change to lives of millions of people around the world who are affected directly or indirectly by the tragedy of neurodegenerative disease."
Speaking about the work of the Centre, Professor Stephen Hawking, who has had motor neurone disease for over 50 years, said: 'I am very pleased to give my strongest support to the activities of this new Centre in its quest to define the molecular origins of these debilitating diseases. I hope the work that is carried out in the Centre will lead to the discovery of novel and effective therapeutic strategies."
Professor Vendruscolo commented: "The failure so far of traditional drug discovery programmes for these diseases provides us with a strong indication that new strategies are needed. By building on our understanding of the fundamental processes underlying neurodegeneration and on the methods that we are developing for characterising them in a highly quantitative manner, we are creating novel routes and opportunities to introduce effective therapies." Professor Knowles added: "We are increasingly accessing a picture of how molecular malfunction can lead to disease, with the aim of working towards intervening where it matters the most."
Stephen Hill, Chairman of Alzheimer's Society, added: "I am delighted to welcome such an important and exciting development in the fight against some of the most damaging and debilitating diseases that we face as a society today. Across the world there are 40 million people who suffer from Alzheimer's – a number projected to rise to 135 million by 2050. It is only through the research efforts of centres of excellence such as this that we can have any hope that these diseases will not blight the lives of so many in the future."
Click  here for more information about the Centre.
---

The text in this work is licensed under a Creative Commons Attribution 4.0 International License. For image use please see separate credits above.
---