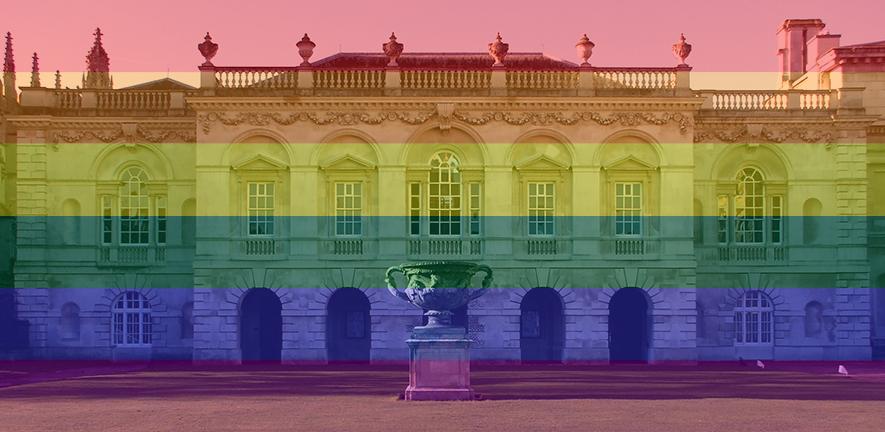 The rainbow flag – the international symbol of the lesbian, gay, bisexual and transgender community – will fly over the Old Schools, at the heart of the University of Cambridge, for the first time on Monday to mark LGBT+ History Month.
We are committed to helping create a society where everyone, regardless of sexual orientation or gender identity, is able to reach their full potential

Stephen J Toope, Vice-Chancellor
Apart from the University flag, no other flag is normally flown over the building, although the flags of the Sovereign or other Heads of State have been raised when they have visited the Old Schools or the Senate-House.
"LGBT+ History Month provides an opportunity not only to remember the struggles faced by LGBT+ communities around the world, both in the past and the present, but also to celebrate the contribution they have made to society," said Vice-Chancellor Professor Stephen J Toope.
"Our university comprises a diverse range of nationalities, religions and opinions. Many of our members come from countries in which to be openly LGBT+ would result in discrimination, violence, imprisonment or even execution.
"I hope that flying the rainbow flag over the Old Schools will send out a message that we are committed to helping create a society where everyone, regardless of sexual orientation or gender identity, is able to reach their full potential."
Professor Toope is a strong advocate for civil and human rights and has been publicly supportive of the LGBT+ community, speaking on the main stage at last year's inaugural Cambridge Pride.
In recent years, an overwhelming majority of colleges, as well as University departments and institutions, including the University Library, have shown their support for LGBT+ History Month – and for their LGBT+ members, their friends and families – by flying the rainbow flag as well as hosting a wide range of events. At Trinity College this year, Professor Dame Sally Davies, the College's first female Master, will raise the rainbow flag to herald the start of the month.
Dr Miriam Lynn, Equality and Diversity Consultant, added: "It's wonderful to see so much support for LGBT+ History Month across the University and its Colleges. This year's nationwide theme is Poetry, Prose and Plays. Cambridge LGBT+ alumni have made a huge contribution in these fields, from playwrights such as Christopher Marlowe and writers including EM Forster and Ali Smith through to acting giants such as Sir Ian McKellen and Miriam Margolyes."
---
This year's LGBT+ History Month events include:
LGBT History Month Lecture: 'Sex, Laws and Violations' – Gay rights from the 1960s to the present day 
5.30-6.30pm, 26 February
Faculty of Law, University Of Cambridge
Martin Bowley, QC, was called to the Bar in 1962 and served as a Recorder from 1979 to 1988, when he had to stand down after being outed by the Sun newspaper. Since then he's been a passionate advocate for gay rights and supported the campaign group Stonewall from its earliest days. In the late 1990s, he served on a government committee which led to the reform of the UK's sexual offences legislation. Martin will be in conversation with Paul Seagrove, Communications Manager and former BBC broadcast journalist.
LGBT+ Staff Network History Month social
6pm, 5 February
Saloon Bar, The Maypole, Portugal Place, Cambridge
Join us for a special History Month staff social - your chance to meet colleagues from across the University, Cambridge Assessment, Cambridge University Press and beyond over a relaxing drink.
Diversity cinema
12:30pm – 1:30pm, 13 February
Norwich Auditorium, University Information Services
Celebrating LGBT+ History Month with a selection of films looking at queer trailblazers from the past.
Bridging Binaries: Thinking Beyond Borders
4-6pm, 18 February
McDonald Institute for Archaeological Research, Downing St, Cambridge, CB2 3ER
The Department of Archaeology's second annual LGBT+ History Month lecture Queer(y)ing the Past, this year delivered by Dan Vo (V&A). All are welcome to attend. Drinks reception to follow the talk. 
Rainbow crossings: safe spaces for LGBT+ at home and abroad
4.00-5.30pm, 19 February, Michaelhouse Cafe, Trinity St., Cambridge CB2 1SU
An enduring search for safe spaces has defined the precarious movement of the LGBTQI+ communities and minorities. Organised by Newnham College, this event seeks to discuss safer spaces within Cambridge. The panel and workshop will bring together activists, artists and academics to create a map of safer routes and spaces for LGBTQI+ people in Cambridge.
LGBTQ+ Engineering Coffee Morning
10:30-11:30am, 24 February, North Room, Department of Engineering Library, Trumpington Street
Join us for a coffee to celebrate LGBT+ History Month. All welcome!
Killing Patient Zero UK Premiere and Q & A
7:30pm – 10pm 28 February 2020
Cripps Court, Magdalene College
The UK premiere of Killing Patient Zero, the new Canadian documentary feature film directed by Laurie Lynd and winner of the Audience Award for Best Documentary Feature at Sydney's Queer Film Fest 2019. The film is based on the award-winning book, Patient Zero and the Making of the AIDS Epidemic, written by Dr Richard A. McKay, a Magdalene College Lecturer and Wellcome Trust Research Fellow in the Department of History and Philosophy of Science. 
Notoriously (and erroneously) known as "patient zero" of the North American AIDS epidemic, Gaétan Dugas has often been portrayed as a psychopath, wilfully infecting other gay men with HIV during the early 1980s. By exploring how Dugas's infamy came about, this powerful documentary challenges that stereotype and paints a portrait of how gay men and women challenged rampant homophobia during the worst years of the epidemic. 
The event is free to attend.
CamQueerHistory
Throughout February, CamQueerHistory – a group of Cambridge undergrads, grads and staff – will be running a series of events on topics including: Queer activism and the rise of the right, Queer Clothes: Sartorial Non-Conformity and Gender Expression, Essentialist Epistemology and the Exclusion of Bisexuality from Islamic Theology of Same-Sex Desires and Acts, and Rebel Dyke Histories.
Bridging Binaries: LGBTQ+ Tours at Cambridge Museums
February – June 2020
From queens, emperors and divine beings, to scientists, artists and global communities, explore the spectrum of identities that exist across time, place and culture in Cambridge collections. How do labels and categories affect the stories we choose to tell, or how we connect with each other? How do they affect our interaction with the natural world, and how we imagine the future?
With tours running across an impressive seven museums, volunteer guides will share their personal selection of fascinating stories about gender and sexual identity through a range of lesbian, gay, bisexual, transgender and queer-related objects.
For the full line-up of events across Cambridgeshire during LGBT+ History Month, visit the Encompass Network website.
---

The text in this work is licensed under a Creative Commons Attribution 4.0 International License. Images, including our videos, are Copyright ©University of Cambridge and licensors/contributors as identified.  All rights reserved. We make our image and video content available in a number of ways – as here, on our main website under its Terms and conditions, and on a range of channels including social media that permit your use and sharing of our content under their respective Terms.
---