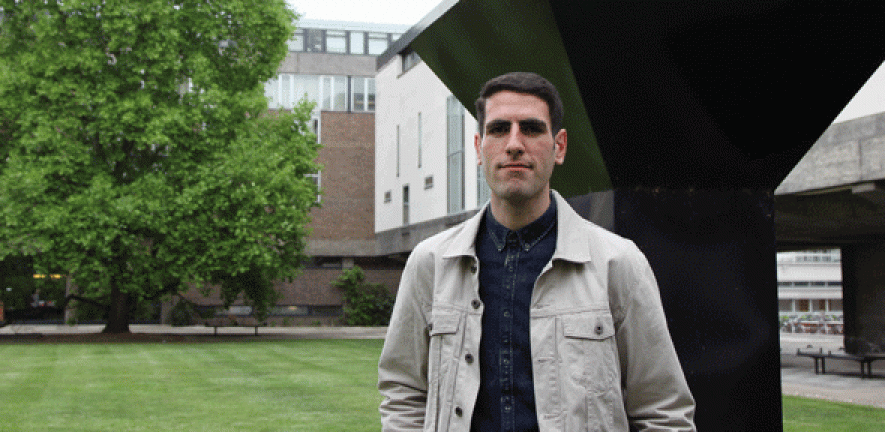 With our Postgraduate Open Day fast-approaching (3 Nov), we introduce five PhD students who are already making waves at Cambridge.
I was asked how long it takes to learn a language and why I don't speak Elvish.

Draško Kašćelan
Third in the series is Draško Kašćelan, a linguistics researcher hoping to help children with language development.
My research sets out to
I'm investigating figurative language understanding in bilingual children. Nowadays, speaking more than one language is becoming a norm worldwide. Similarly, using metaphors in everyday speech is more frequent than one might assume. This frequency of use helps the development of figurative language comprehension but since bilinguals don't have equal exposure to both of their languages as corresponding monolinguals, there is a question of whether this lack of input affects how they understand metaphors. 
I am also looking into the level of autistic traits in children, since these traits are often related to the difficulties in figurative language comprehension. Hopefully, this research will give insight into how language understanding develops in bilinguals, but also offer directions for future investigation of language development in clinical populations. 
Day-to-Day
My work is split between office work and data collection. At the moment, I spend most of the time in my department but I sometimes prepare experimental tasks in a cafe. But when I'm collecting data that involves visiting primary schools outside of Cambridge which gives me a really interesting change of scene. This would typically include a session with a student in which he or she does a series of computer-based cognitive or language tasks designed to look like games. Some of the sessions also include act-out tasks with toys, which makes the whole data collection quite fun.
My best days
The most interesting day I've had so far was during the pilot of my study when I got to talk to several children about the work that I do. Explaining to primary school kids what linguistics actually is ended up being quite a challenge, especially when I was asked how long it takes to learn a language and why I don't speak Elvish.
I hope my work will lead to
The improvement of support that bilingual children get when it comes to maintaining the use of their languages. Together with other experimental work in the field, I expect to make an impact on educational policies regarding foreign language learning, which is currently far from optimal in the UK. I also hope that the findings of my investigation will offer directions for future research of language development in both typically and atypically developing individuals.
It had to be Cambridge because
Apart from academic and financial support that Cambridge offers, one of the most valuable parts of this experience is the student community. Specifically, the college system offers opportunities to socialise with people from other academic fields and from various backgrounds. This is quite different from my undergraduate experience outside of Cambridge where I would mostly only interact mostly with people from my field, which sometimes makes engaging with other areas of interest harder.
---
For more information about the University's Postgraduate Open Day on 3rd November 2017 and to book to attend, please click here.
---

The text in this work is licensed under a Creative Commons Attribution 4.0 International License. For image use please see separate credits above.
---