An ambitious programme, celebrating the birth of poet and playwright Christopher Marlowe 450 years ago, will begin later this month with a rare performance of his early work Dido, Queen of Carthage from 12 to 16 November. A final gala performance will take place in the Senate House.
In his unique - and at times idiosyncratic style -Marlowe's passionate and visceral play highlights the destructive nature of obsessive love

Michael Oakley
Christopher Marlowe – brilliant playwright and exact contemporary of William Shakespeare – was born in Canterbury early in 1564. The son of a shoe maker, he gained a place at King's School Canterbury from where he won a Parker scholarship to Corpus Christi College, Cambridge. While a student he translated Ovid's love poems and is thought to have written his first play.  Before he was 30, Marlowe was dead, murdered in a row about a bill in a lodging house in Deptford.
To celebrate the 450th anniversary of Marlowe's birth, the University of Cambridge Marlowe Society is organising a year-long programme of events, giving audiences the chance to engage with his life and work. The programme will include performances of the five plays that Marlowe wrote in the space of just six years as well as readings of some of his poetry, setting them into the context of poets with whom Marlowe's work was in dialogue – among them Spenser, Milton and Donne.
The Festival will launch later this month with a rare performance of Dido, Queen of Carthage, the play he wrote as a Cambridge student, possibly with contributions from fellow student Thomas Nashe. With a complex narrative constructed around the fanatical love of Dido, the founder and first Queen of Carthage, for Aeneas, a Trojan hero, it explores themes of obsession, betrayal and despair.
A showing of Dido, Queen of Carthage in the chapel at Emmanuel College (12 to 15 November) will be followed by a black tie gala performance at the Senate House (16 November).  The play will be directed by Michael Oakley, an award-winning director dedicated to unlocking classic texts for modern audiences. "Michael will make use of the striking late 17th and early 18th century architecture of these two venues to convey the grandeur and majesty of Dido's court in this exciting and immersive site specific production," said Festival organiser, Lily Staff.
Oakley will highlight the way in which the play is not just a story of individuals but also portrays a clash of cultures and world views. Dido's world is one of baroque splendour whereas Aeneas and his followers will wear army fatigues and be depicted as intruders exploring the very relevant concept of differences in culture.  Costumes from the Royal Shakespeare Company store, chosen by professional designer Mark Friend, will emphasise these differences. 
"Marlowe almost certainly wrote Dido, Queen of Carthage for a company of young players while he was an undergraduate at Cambridge, so it's incredibly exciting for me to direct this brilliant play over 400 years later with another young company at Cambridge," said Oakley. "In his unique - and at times idiosyncratic style -Marlowe's passionate and visceral play highlights the destructive nature of obsessive love."
A performance of Marlowe's best-known play Doctor Faustus is planned for early next year, when it will be staged at the Cambridge Arts  with a professional director. In a retelling of an existing story, through some of the greatest poetry ever written for the stage, Faustus sells his soul to the devil in return for power and knowledge in a dangerous deal with the dark side. A line in the play, spoken by Faustus to Helen, has entered the English language: 'Was this the face that launch'd a thousand ships, And burnt the topless towers of Ilium-- Sweet Helen, make me immortal with a kiss.'
The Marlowe Society was formed in 1907 when its first production was of Doctor Faustus at the ADC Theatre.  The audiences at the time were well aware of how radically it departed from what they were used to seeing.  The older dons hated it and wrote to complain.  But a young don at King's, Edward Dent, just returned to Cambridge from Scarlatti research in Germany and later to become Professor of Music, thought otherwise. He wrote: "I soon became aware that a new spirit was making itself felt.  The first notable result of it was the performance of Marlowe's Faustus by a number of men who afterwards constituted the Marlowe Dramatic Society."
Also to be shown as part of the Festival programme are The Massacre at Paris, Edward II, The Jew of Malta and Tamburlaine, Part 1 and Part 2. Readings of Marlowe's poetry – by students as well as Anthony Bowen, the former Orator to the University - are to staged at the masters lodges of Colleges with links to Marlowe. "The opportunity to see all of Marlowe's works is a very rare one indeed, apart from Faustus Marlowe's plays are seldom staged," said Lily Staff, who is producing the plays. "In fact Dido, Queen of Carthage has never been staged by the RSC and so these events are exciting both for the Marlowe Society and for the city as a whole."
Marlowe lived at an age defined by a flowering of the performing arts and as a student he was part of a boisterous, creative milieu.  It is almost certain that Marlowe, a scholar and playwright, and Shakespeare, an actor and playwright would have met. Both were active in London during the 1590s. In As You Like It Shakespeare quotes from Marlowe's poem Hero and Leander and also seemingly makes reference to Marlow's murder in a dispute about a reckoning (bill).
A brilliant intellect and talented linguist (but signally lacking in funds) in an era marked by religious and social turmoil, Marlowe's activities famously extended to forgery and spying as well as literature. The first clues to his probable role as a spy in the service of Queen Elizabeth I were his lengthy absences from Corpus Christi, where his name periodically disappears from surviving college records.  It's been argued that Marlowe was almost certainly homosexual and, despite his effete appearance from a portrait discovered at Corpus in the 1950s, may have been addicted to violence.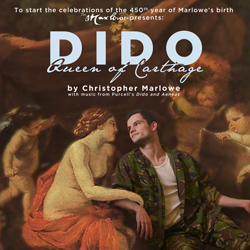 His chief legacy is work which continues more than four centuries after it was written to resound with its powerful exploration of some of the big themes that humanity still struggles to resolve.
To find out more about Christopher Marlowe and for information about how to book for all events taking place during the Festival to commemorate his birth in 1564 go to http://marlowe.soc.srcf.net/?page_id=330
Tickets for Dido, Queen of Carthage are now on sale at www.adcticketing.com, 01223 300085. The performances of Dido will raise money for the rest of the Festival.
For more information about this story, contact Alex Buxton, Office of Communications, University of Cambridge, amb206@admin.cam.ac.uk 01223 761673.
Inset images from top: Michael Oakley, Corpus Christi College, Marlowe Society
---
This work is licensed under a Creative Commons Licence. If you use this content on your site please link back to this page.
---