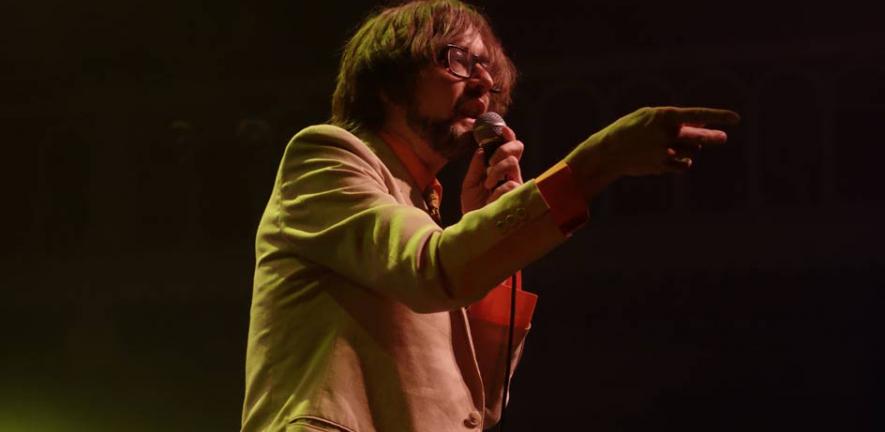 A series of recitals organised by poet John Kinsella looks at the relationship between song lyrics and poetry, inviting renowned musicians to perform their poetry and lyrics without instruments at Cambridge University. Continuing tomorrow with Jarvis Cocker, the events are free and open to all.
Poetry - it can feel a bit distant sometimes in 2012, all quills and parchment, out of place with daily life in the digital age. In actual fact, it's absolutely everywhere. The Keats and Byrons of our time pump poetry of love, fury, fear and victory into our brains every day through iPods, radios and TVs the world over - it just tends to be accompanied by music.
John Kinsella, poet and Judith E. Wilson Poetry Fellow at the Faculty of English, has organised a recital series that explores the cross-over between song lyrics and poetry - by inviting some of the best known musicians of the day to give readings of their poetry and song lyrics at the University.
Thurston Moore from Sonic Youth kicked of the series at the end of last year, and tomorrow sees Jarvis Cocker, Pulp frontman and national icon, coming to Cambridge to give readings of his song lyrics - starting at 7pm on Wednesday 22 February at the Lady Mitchell Hall, on the University's Sidgwick site. This event, as with the rest of the series, is free and open to all. No tickets required, just turn up at the door.
During late April and May, the series continues with Blixa Bargeld - best known for his work with Nick Cave in the Bad Seeds and the Birthday Party - and Lee Ranaldo, the other guitarist from Sonic Youth, and an accomplished poet in his own right. Dates will be confirmed nearer the time.
"I've always felt that poetry lives in many spaces and I'm not that interested in boundaries other than crossing them," says Kinsella. "Right from my childhood, musicians have always affected my thinking about poetry - music and poetry are inseparable for me - so I thought it would be a great opportunity to allow people to investigate these connections."
The first event drew a big crowd and was very warmly received, with Sonic Youth's Thurston Moore not just reading his poetry but talking extensively about the band's creative process during the public question and answer session, which will be a feature of all the events.
"The Q and A was fantastic, Thurston talked about approaches to song writing - how the poems helped songs to form and songs helped poems," says Kinsella.
"I aim for an informal, friendly format - the idea is to make people feel part of an almost café-like environment where they can talk and ask questions. These artists are ideas people, and the university is one big ideas generator - so it makes sense to invite them here to share their work."
The success of the first event and the prominence of Jarvis Cocker has led to an increase in venue size for this week's reading, and Kinsella hopes that it will attract people from the local area as well as members of the University.
"The series is for everyone - everyone is interested in ideas if you give them access to it," says Kinsella. "Cambridge is often called the best university in the world - for me, being the best at something means trying your best and being generous with it. This is another way of sharing the bounty of ideas and culture and the whole artistic experience."
"Town and gown divides don't exist for me. I mean, I'm a vegan anarchist pacifist from the bush of West Australia! I believe it's all porous. Universities require the poets, artists, painters and so on - why not have them here doing things as well - I just don't think these things are separable - walls are nice but it's nicer climbing over the top of them!"
While many of the musicians taking part in the series also write poetry, Jarvis Cocker is different in the sense that he doesn't consider himself a poet but a lyricist - despite Kinsella's attempts to convince him otherwise: "I first met Jarvis when I was on a BBC radio programme with him. During our discussion I insisted he was a poet and he strongly insisted he's a lyricist and not a poet - but I do believe he's a poet and I think he writes very fine poetry. We got a discussion going and I said well I'm doing this series, would you come to Cambridge and he said he'd be happy to."
The potential for the series has Kinsella very excited, and ideas for future events have got his brain whirring. If these early recitals prove a success, he believes the series could even run for a few years. "These artists can appeal to the top end academic investigation and analysis - they're all making contributions that are extremely important ideas-wise and so on - AND they are speaking to people operating in many different realms of life," says Kinsella.
"I've always believed that ideas are not owned - the guy sitting in his basement listening to Sonic Youth is having as many ideas as the professor sitting in his office in the English Faculty or wherever - my ideas are no better than theirs and vice versa - I firmly believe this, it's the cornerstone of my politics."
---
This work is licensed under a Creative Commons Licence. If you use this content on your site please link back to this page.
---