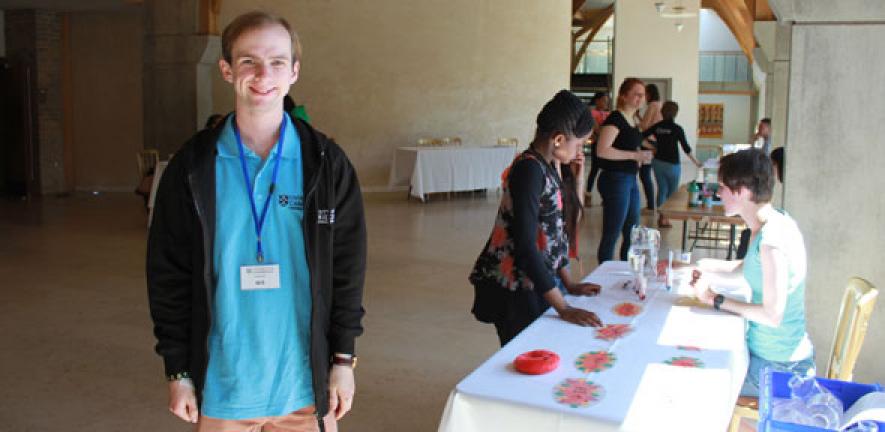 A Cambridge undergraduate who grew up in care is inspiring others to aim high and realise their potential.
My foster parents said I should take a photo of Cambridge and pin it on my bedroom wall as something to aim for. I did and with lots of support from them, and hard work, I got my place.

Will Lyon Tupman
Will Lyon Tupman, a first-year theology and religious studies student at Girton college, is just over half way through his exams and is feeling quietly confident about those he still has to sit. Taking a day off from his revision, Will has joined a team of student ambassadors involved in Realise, a University of Cambridge Widening Participation programme which encourages young people in care to consider higher education.
As a teenager, Will attended two Realise events himself, travelling from his home in North Yorkshire to discover what university could offer him. As Will recalls, those visits left a big impression
"My foster parents said I should take a photo of Cambridge and pin it on my bedroom wall as something to aim for. I did and with lots of support from them, and hard work, I got my place. I'm very happy to be here. Everyone has been so welcoming and I've made so many great friends."
Will speaks passionately about his course, his Christian faith and his extra-curricular activities which include singing in the college choir, cross-country running and photography. This is the third Realise event that Will has helped run and he is determined to carry on.
"It's just very rewarding to know that you've played a positive part in someone's life", he says.
In the morning, Will leads a group of 11-14 year-olds from Hackney, Manchester and Suffolk on a trivia trail around Cambridge. "Above the Great Gate of Trinity College, what is Henry VIII holding in his right hand?" he asks. A table leg, it turns out. "What sports are being played on Jesus Green?" Rowing, tennis, Frisbee, football and … Quidditch, everyone observes in amazement. Cambridge, it appears, is a place full of unusual opportunities.
After a tour of the fittingly Hogwartsian Magdalene (est.1428) and a much-needed lunch break, everyone heads to Cripps Court, home to the college's 21st Century undergraduate accommodation and conference facilities.
Will gets things underway with a fifteen minute talk offering his personal perspective on making the journey from care to university. Everyone in the audience is given post-it notes so they can write down their questions and have them answered anonymously.
Will says "The young people usually ask me about what life is like here, what lectures are like, whether we have to cook for ourselves and whether it's hard living away from home. Their guardians are very keen to know exactly what support, emotional and financial, is available, both from the University and local authorities. There is a really strong network of support here which includes bursaries, college and student-led welfare systems, counselling services and academic support."
After Will's talk, everyone heads upstairs to explore the Science Carousel, six interactive demonstrations overseen by expert volunteers, most of whom are Cambridge PhD students. One table brims with animal skeletons which Laura, a PhD criminologist and biology enthusiast, uses to discuss evolution, habitat and animal behaviour. Opposite, Surangi from the Physiology department, is setting off mini-explosions using lemon juice and sodium bicarbonate to discuss chemical reactions. Nearby, Sarah from Physiology, Development & Neuroscience, is using food colouring to explain interactions between different blood types. Meanwhile, Holly, a post-grad chemist, is unravelling the mysteries of fluorescence using a UV light, highlighter pens, sun tan lotion, a £5 note and a bottle of tonic water.
At the end of an action-packed day, Will joins project coordinator, Claire Gardner, in a wrapping-up session and encourages everyone to stay in touch.
Realise events run throughout the year and the University's Widening Participation team is always available to offer advice and support to care leavers interested in applying to Cambridge, as well as their teachers, support workers, carers or guardians.
To find out more visit www.cam.ac.uk/care-events
---

The text in this work is licensed under a Creative Commons Attribution 4.0 International License. For image use please see separate credits above.
---