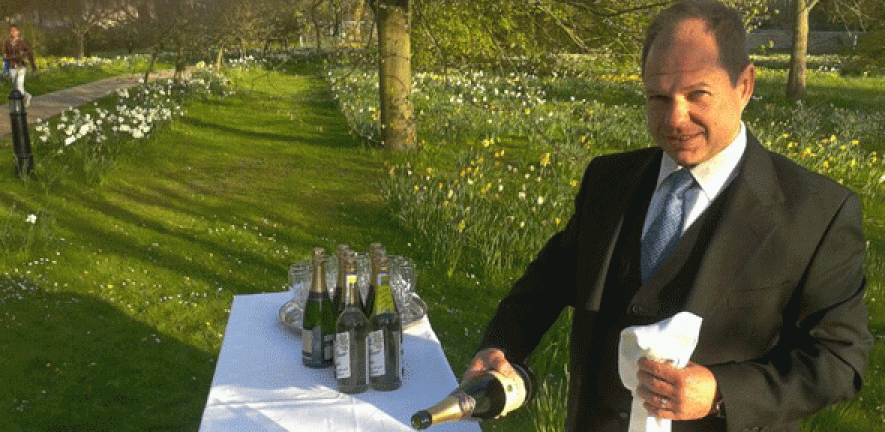 Butlers working for Cambridge Colleges play an important role in maintaining traditions and upholding standards. But what's it like being a butler?  Richard Hein, butler at Peterhouse, will talk about his job as part of Open Cambridge (13-15 September).
It's quite amazing to think that your workplace is somewhere that was a place of scholarship before Christopher Columbus discovered America

Richard Hein, Head Butler at Peterhouse
What do the following have in common: Aloysius Parker, Charles Carson, Baldrick, Passepartout, Nestor, Riff-Raff and Winston Smith?  They are all butlers, valets or manservants.  Can you name their various bosses?  (Answers at the end).
Butlers are not simply fictional. The role of ensuring the smooth running of a large household continues to be one vital to many contemporary institutions, including many of the older Cambridge Colleges which are, in many respects, based on large family houses in the modes of operation.
Richard Hein is Head Butler of Peterhouse, the oldest of all the Cambridge Colleges, where he supervises three other butlers. Together, they work on a shift basis to be 'front of house' in terms of making sure that all meals go smoothly, that feasts uphold traditions that date back hundreds of years, and that the rooms used by the Master, Fellows and Guests are kept to a high standard.
In a talk on 14 September as part of Open Cambridge, Mr Hein will talk about his role, what it involves, and why he enjoys working as part of the staff at Peterhouse.  The talk is fully booked with a waiting list in operation – but some other booking-only events are still available and there are plenty of drop-in events too.
Two and a half years into his job, Mr Hein describes himself as still new to his post. "It's quite amazing to think that your workplace is somewhere that was a place of scholarship before Christopher Columbus discovered America – it certainly adds a historic perspective," he says. "And when you are overseeing a dinner in the candlelit hall, you are taken back hundreds of years in time."
After taking a degree in hospitality management at Florida International University, Mr Hein worked in the hospitality and catering sector, first for a major hotel group and later for a well-known airline. Before taking up his present role, he worked for Homerton College, Cambridge, as assistant catering manager. "I was thrilled to get my job at Peterhouse which is a perfect fit – I feel really at home here," he says.
What are the attributes of a good butler?  "You have to be discreet," he says. "In your public role, you must remain unflustered and maintain a sense of dignity. It's all about looking after other people and their comfort. Behind the scenes you must be firm that standards are upheld and tasks done properly. That side of the job is all about leadership. What unites both aspects of the job is attention to detail."
While most butlers have just a single boss, or a single family to look after, Mr Hein has many bosses to consider.  "I work for the Master and Fellows of Peterhouse. This means that I need to be aware of all their needs and preferences – such as their individual dietary requirements. It's a matter of building up lots of information and retaining it."
When formal halls and college feats take place, Mr Hein and his team are responsible for the smooth running for the event – from the greeting of guests as they arrive to the putting away of the silverware as the evening ends.  He says: "The tables must look perfect and the silver has to be polished."
Peterhouse was the second building, after the Palace of Westminster, to install electric lighting. It was installed in 1884 by Lord Kelvin (William Thomson), who studied at the college (then known as St Peter's) and went on to be a Fellow. His name is immortalised by the kelvin, the unit used as a measurement of temperature.
"Many famous well-known have people studied at Peterhouse over the centuries – and many famous people come to the college as guests today. It's one of the many exciting aspects of a job that offers huge variety," says Mr Hein.
(Answers: Aloysius Parker works for Lady Penelope Creighton-Ward in Thunderbirds; Charles Carson is the butler in Downton Abbey; Baldrick is valet and sidekick of Edmund Blackadder; Passepartout is valet to Phileas Fogg; Nestor is butler to Captain Haddock in the Tintin books; Riff Raff is a character in the Rocky Horror Picture Show; Winston Smith is the manservant of Lara Croft in Tomb Raiders.)
For more information about this story, contact Alex Buxton, Office of Communications, University of Cambridge, amb206@admin.cam.ac.uk 01223 761673
---
This work is licensed under a Creative Commons Licence. If you use this content on your site please link back to this page.
---