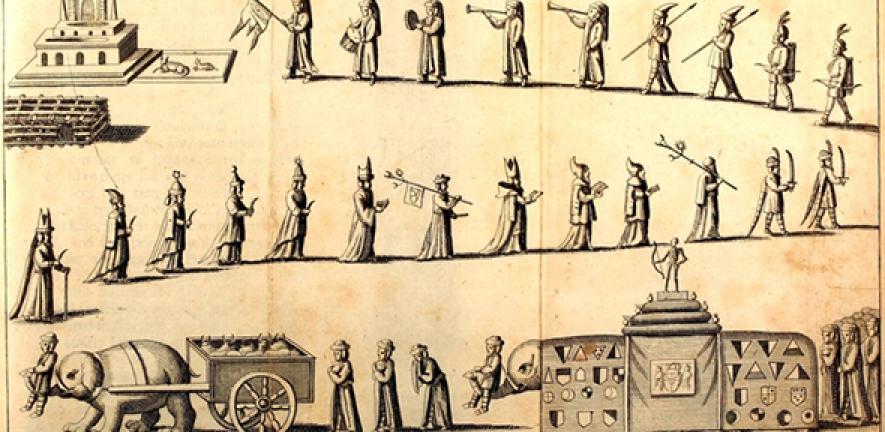 First edition of George Psalmanazar's fictitious History of Formosa, which fooled London society for years with claims of cannibalism and child sacrifice, goes on show for Cambridge Science Festival
His tales, imaginative as they are, fit into a wider genre featuring grotesque creatures, sea monsters and alien, exotic peoples, images that enthralled audiences who had never left their home country

Mark Nicholls
The fictitious adventures of a 17th century con artist, who fooled London society for years with his made-up travellers' tales, are being put on public display at St John's College, Cambridge for the first time as part of the Cambridge Science Festival.
The 1704 work, The History of Formosa, describes in great detail the culture, language and customs of the island nation of Formosa, modern-day Taiwan. The book was supposedly written by a native of Formosa who was brought to Europe by Jesuit missionaries, but all is not as it seems.
The catch is that the author, who called himself 'George Psalmanazar', was actually a white, blond-haired Frenchman who had never left Europe. Every detail of Formosan life that the book describes is completely made up. Psalmanazar was a fantasist who, like an early Walter Mitty, spent his life in a world of his own imagination. His hoax was so successful that to this day, we still don't know his real name.
The exhibition – much of which can also be seen online – places Psalmanazar's fantasies in the context of the real history of exploration, map-making and travel; not because anything he wrote was true, but because he provides an insight into the early modern European craze for discovering new places, people and cultures.
Even today, we still know very little about who Psalmanazar really was, because his posthumously-published autobiography deliberately obscures the details. He was probably born in Languedoc or Provence somewhere between 1679 and 1684 and educated in a Jesuit academy. Psalmanazar describes himself as a child genius with a gift for languages, who had no need of formal education.
His career of forging identities and crafting fantastic tales began when he was a young man. With the aid of a pilgrim's staff and cloak stolen from the reliquary of a local church, he set off on a walking tour of Europe, claiming to be an Irish Catholic pilgrim. This story soon fell apart as many people he met knew Ireland well and could easily see through his lies. Psalmanazar then shifted his imaginary origins to somewhere more remote: first Japan and then Formosa.
To give his story more credibility, he began to follow a 'pagan' calendar, eat raw meat and even speak a language of his own creation. His suspiciously French accent, he explained, was simply due to the way he had been taught to speak French and English by the Jesuit missionaries who had brought him to Europe.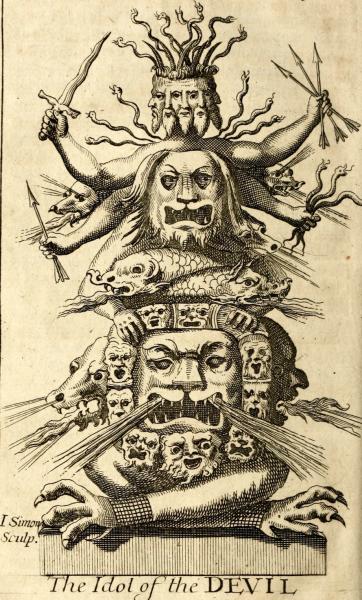 When Psalmanazar reached England, news of this strange foreign traveller spread quickly and he soon became a favourite of London society. It was at this time he wrote his completely fictitious History of Formosa. Psalmanazar's version of Formosa is a sensationalist fantasy where the nobility live in underground palaces and dine on vipers' blood for breakfast, while criminals are killed and eaten, and priests sacrifice thousands of children a year to bloodthirsty horned gods.
To modern readers, Psalmanazar's stories seem far-fetched but they successfully fooled an English audience with little or no experience of other cultures and a view of the world that saw foreign people as primitive and savage. Psalmanazar's book was an unqualified success. It was published in two English editions, the first of which will be on show at St John's College. French and German editions also swiftly followed. After its publication, Psalmanazar was invited to lecture upon Formosan culture before several learned societies, and it was even proposed that he teach his invented language to students at Oxford University.
Psalmanazar was frequently challenged by sceptics, but for the most part he managed to deflect criticism of his main claims. He explained, for instance, that his pale skin was due to the upper classes of Formosa living underground and never seeing the sun. Jesuit missionaries who had actually been to Formosa and who contradicted Psalmanazar's claims were not believed due to the general anti-Jesuit attitudes prevalent at the time.
Psalmanazar's Walter Mitty-style fantasies became increasingly unbelievable and were ultimately discredited as British explorers actually began to travel to Formosa (sometimes equipped with a dictionary of Psalmanazar's 'Formosan' language) and found it was not as he described at all. Jonathan Swift, author of his own fantastic tale Gulliver's Travels, satirised Psalmanazar's graphic descriptions of cannibalism in his Modest Proposal of 1729.
Psalmanazar eventually grew tired of his forged life, and assumed a quiet existence in London as a clerk and writer of theological pamphlets. In his final years, he wrote a frank confession with instructions in his will for it to be published after his death in 1763. This account, entitled Memoirs of XXX, Commonly known by the name of George Psalmanazar, a reputed native of Formosa, is also amongst the items on display in the St John's exhibition.
Dr Mark Nicholls, Librarian at St John's College, said: "Psalmanazar's fraudulent description of Formosa was so successful because it first appeared at a time when interest in exploration and strange new lands was at its height across European society. His tales, imaginative as they are, fit into a wider genre alongside travellers' accounts and maps featuring grotesque creatures, sea monsters and alien, exotic peoples, images that enthralled audiences who had never left their home country."
"Other items on display represent the adventures and work of real-life explorers such as James Cook, Marco Polo and James Clark Ross. These intrepid travellers increased the sum of human knowledge immensely, and the College is delighted that such items will be on display for all to see as part of the Cambridge Science Festival."
The exhibition, World of Wonders, is to be held in the 17th century Old Library at St John's College, Cambridge and will be open to the public on Saturday 15 March from 10:00-16:00. Entry is free and there is no need to pre-book. There will also be a digital gallery on the College website featuring images of the exhibition, available here: http://www.joh.cam.ac.uk/science-festival-exhibition-2014
Visit the College website www.joh.cam.ac.uk or the Science Festival website www.cam.ac.uk/sciencefestival for more details.
For more information about this story, please contact Ryan Cronin, St John's College, University of Cambridge. Tel: +44 (0)1223 338711, Email: rcc40@cam.ac.uk
---
This work is licensed under a Creative Commons Licence. If you use this content on your site please link back to this page.
---