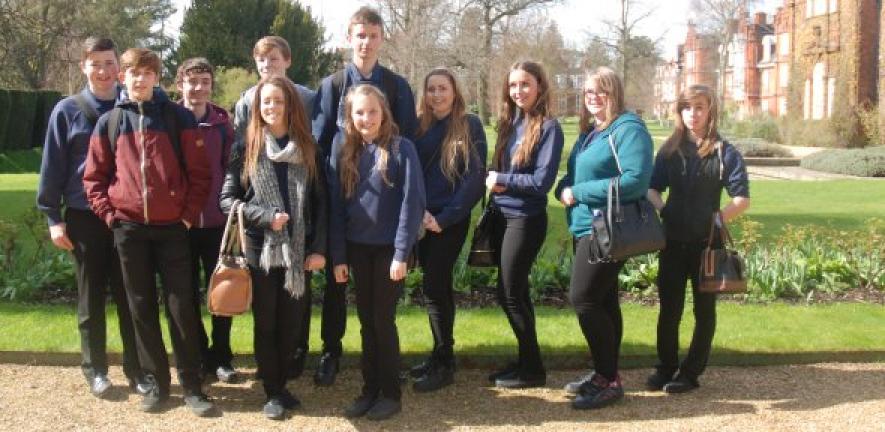 Two teams from Ernulf Academy's Year 10 were given the task of discovering what life is like for students at Anglia Ruskin and Cambridge University.
Everybody has their own opinion about university – this trip has helped us go in and get our own opinions.

Robert Willard, Ernulf Academy student.
The Day in the Life challenge is one of the ways the HE Partnership programme is working with Cambridgeshire and Peterborough schools to break down barriers about going to university.
The St Neots-based students visited both universities, met and interviewed current undergraduates, and kept a photo diary to record their findings. Matt Diston from the University of Cambridge, and Rachael Cole from Anglia Ruskin, were on hand to answer questions and guide the explorers.
Later in the term the students will present their "Day in The Life" report to the Academy's Year 9 in a special assembly.
Connor Post, Project Manager for the team which explored studying and learning, said "I'll be telling Year 9 about the difference between learning in a school environment and learning in a university environment.
"My sister was confident about going to uni but she didn't know what to expect in her classes, so I'm going to explain about that.
"She studies sports science, she's going to the Alps as part of her course and she's got the RAF and the Army inviting her to work for them as a PT instructor.  She wouldn't have done that if she hadn't gone to university.

"As far as I'm concerned, there's no disadvantage in going to uni. It's a great opportunity.  I can't wait," he added.
Robert Willard was also on the Studying and Learning team. "Trips are the best way to learn about things," Robert said. "You experience it for yourself rather than hearing about it from someone else.
"Everybody has their own opinion about university – this trip has helped us go in and get our own opinions."
For Jemma Hunt, the day exploring undergraduate accommodation and social life was her first experience of university.
"I haven't decided yet whether I want to go to university or get a job," Jemma said. "I would be worried about not knowing anyone, or feeling on my own, but the students have told us about Freshers' Week and how that helps you meet people and make friends."
Beth Williamson, Assistant Director of Key Stage 3, said "We've been working with Matt for about a year now. The HE Partnership programme helps us to open our students' minds and raise their aspirations. They are all clever enough to go to university.
"Working with each other and with Matt and Rachel on The Day in the Life project has been a great confidence booster for these students, and has developed their understanding about university.
Alicia Presland was in charge of evaluation. She interviewed her colleagues to find out whether the day had changed anyone's mind about university.
"We learnt that university is about your own independence," she said. "Other people don't tell you when to do your work – you do it when you feel it is right. We also found out a lot about where students live, and the different types of studying and learning at university.
"The day at the universities made us all think deeply about the experience of going," Alicia concluded.
"The day has changed the way we look at university to a more positive approach. Over 80% of both groups came back knowing that they definitely want to go to university."
HE Partnership was established in 2012 in order to continue some of the most effective work that had previously been delivered through Aimhigher. The initiative aims to raise aspirations amongst students in schools across Cambridgeshire and Peterborough.   The Partnership itself is between the University of Cambridge, other higher education institutions (from both within and outside the region), and Cambridgeshire and Peterborough schools.
---
This work is licensed under a Creative Commons Licence. If you use this content on your site please link back to this page.
---