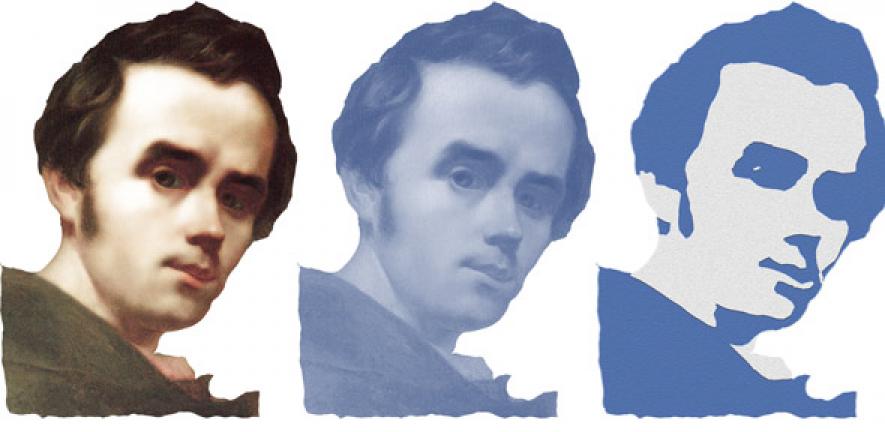 An unveiling of a special commemorative pavement marker takes place today  on the Sidgwick Site at 12 noon to commemorate the Bicentenary of the birth of a painter and poet known widely as Ukraine's "cultural godfather".
Taras Shevchenko (1814-1861) deserves his own Hollywood blockbuster. Ukraine's cultural godfather was an orphaned serf who became a painter; a painter who became a fearless poet; and a poet who endured imprisonment and exile to become the voice of a people.
His work led to the emergence of a country that is now the largest within Europe.
Over the course of the coming year, the University of Cambridge will be joining the world in celebrating the 200th anniversary of Shevchenko's birth.
Today, the University is announcing that it has named a central avenue on the Sidgwick Site 'Taras Shevchenko Way' (Вулиця Тараса Шевченка) for the duration of the bicentennial.
This symbolic, temporary naming of a well-travelled passage running east to west on the Sidgwick Site is a first for Cambridge.
Its location - at the intersection of the Faculties of Law, History, Divinity and Modern and Medieval Languages - was selected to speak to the poet's enduring legacy.
"Taras Shevchenko's work shatters barriers between 'east' and 'west'," explains Dr Rory Finnin, University Senior Lecturer in Ukrainian Studies.
"With a singular passion he appealed for justice for all oppressed peoples, drew important moral lessons from the past, and interrogated the relationship between the human and the divine in a broken world.
"His is one of the most uncompromising and unique voices in modern European culture.'
This voice is becoming increasingly better known in Great Britain. Since 2008, Taras Shevchenko's poetry has been studied in the Ukrainian original by Cambridge students in the MML Faculty. Since 2011, prints of his paintings have hung in seminar rooms in the Raised Faculty Building.
"For too long, Taras Shevchenko has been placed on a granite pedestal and primarily considered a Ukrainian national poet," says Finnin. "At Cambridge we read him as a poet of global stature and significance who happens to be Ukrainian. In his innovative use of a vernacular, he can be as powerful as Burns. In his confessional lyricism, he can be as intimate as Rilke. In his mysticism, he can be as evocative as Blake. And in his humanism, he can be as strident as Tagore. This complexity can be intimidating, but our students relish the challenge."
Cambridge Ukrainian Studies, a programme of the Department of Slavonic Studies, plans to use 'Taras Shevchenko Way' for impromptu literary readings and musical performances over the course of the bicentennial.
Today's unveiling is connected with this week's Days of Ukraine festival in London (17-19 October), which is showcasing the best of contemporary Ukraine's literature, music, fashion, and visual art.
Cambridge Ukrainian Studies, a programme of the Department of Slavonic Studies, was launched in 2008 with the generous financial support of Dmitry and Lada Firtash, who are also underwriting the Days of Ukraine initiative.
Cambridge Ukrainian Studies has worked to deepen public understanding of Ukraine and to advance fresh, innovative approaches to research on the country, which is a critical crossroads between 'East' and 'West' with a rich historical, linguistic, and cultural inheritance.
For more information, please visit www.CambridgeUkrainianStudies.org or www.facebook.com/pages/Cambridge-Ukrainian-Studies/49933117303
---
This work is licensed under a Creative Commons Licence. If you use this content on your site please link back to this page.
---