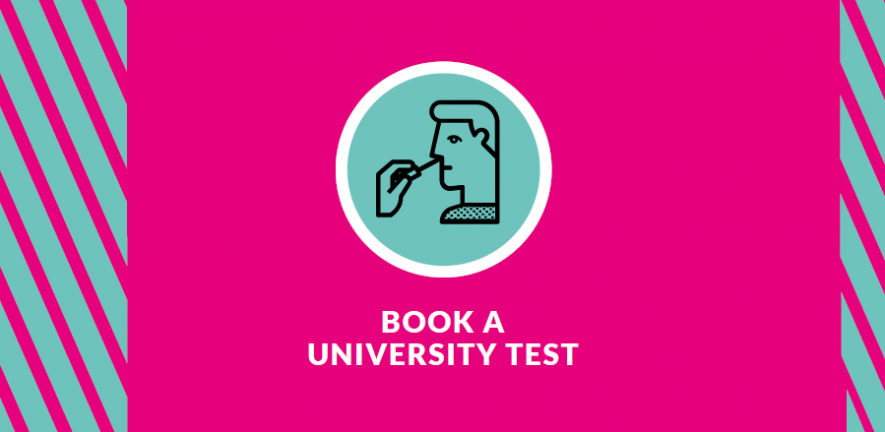 You can book a test via the NHS or you can take a University test. University tests typically take 24 hours to get results. The benefit to the University of you taking your tests with us is that the data collected can be used in our research into COVID-19. All tests booked via the University or through the NHS are free of charge. All tracing of contacts will be conducted by either the University or the NHS Test and Trace system and this is also conducted free of charge.
University tests
The University offers swab tests to College and University staff and students who meet one or more of the criteria for possible COVID-19. It also offers tests to staff and students (and their household members) who are asked to take a test because they are close contacts of somebody with confirmed COVID-19. 
You can book your test online via the web portal. If you develop symptoms out of hours, please request a test using the NHS website.
Self-isolate (if you meet one or more of criteria 1 to 3) until you receive further instructions from the Addenbrooke's Hospital Occupational Health or Infectious Diseases teams, in accordance with Public Health England (PHE) guidance.
Swab tests are available for students, University and College staff, certain defined affiliates, and symptomatic individuals who live in a household with University or College staff or students, but who are not themselves staff or students. This enhanced testing is subject to capacity, and will be available for as long as we are able to deliver it. 
Where can you get tested?
You will be offered a choice between tests at one of two locations: 
S2 Testing Pods, Addenbrooke's Hospital – 8.30am to 5pm, Monday to Friday. These pods are only accessible by car, or bike while wearing a mask. If you are already on the Biomedical Campus, you can access the pods on foot while wearing a mask. Map and access information for Addenbrooke's S2 Testing Pods location (PDF)
University Testing Pod, Fen Causeway (Please do not go to the Engineering Department main entrance on Trumpington St) – 8.30am to 2.45pm, Monday to Friday. Accessible by bike or foot while wearing a mask. Access by car is possible but very limited.  Map and access information for University Testing Pod on Fen Causeway (PDF) 
If you develop symptoms 1 to 3 after the closure of the Pod on Friday, or any time on Saturday or Sunday, or cannot access either of these two locations, you can arrange a test at an alternative location using the NHS website.
Getting your test: what to expect
This video walks you through one of Cambridge's COVID-19 testing sites so you know what expect:
Getting your results
Your test results will be available within 24 hours via 'MyChart', a web-based application that enables access to results from your Addenbrooke's electronic record. If your test is positive, you will be called by the Addenbrooke's Hospital Occupational Health and you must continue to self-isolate in your accommodation for 10 days from the date upon which you first experienced symptoms. Everyone else in your household group will be required to self-isolate for 10 days from that same date. You should continue to self-isolate until you receive your result but you can come out of isolation if your test is negative, as can other members of your household. 
If you receive a positive test result, you must update the COVID monitoring form and follow the instructions. This will help your College provide you with support and also allows us to fulfil our obligations to local public health authorities. 
Further advice will be given on receipt of positive and negative testing results. Your College, along with any nominated self-isolation supporters you already named, will offer support to you during this time. Refer to your College website for FAQs on this and related matters. If you are a member of staff, you should not enter the workplace under any circumstances, and ensure that you keep your line manager up to date. 
Ensure you are familiar with government advice on when to self-isolate or household isolate.
PCR Tests for symptomatic staff and students are now being performed at the Public Health England laboratory in Cambridge University Hospitals. Please note that due to the confirmatory test required in lab, it is possible that additional respiratory infections may be detected if you test positive for SARS-CoV-2.