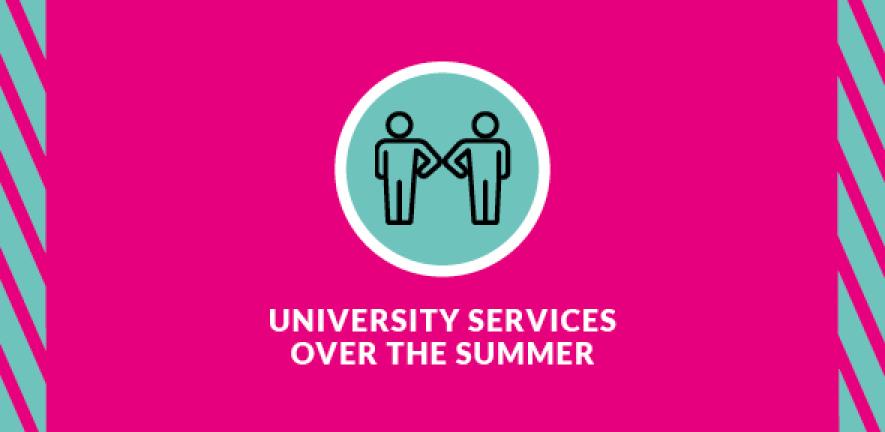 This information was archived in Michaelmas Term 2021.
***
Over the summer vacation period, a range of University services will be available to our students both in Cambridge and across the world. For College services, please check with your College.  
Library
The University Library will open Monday to Saturday over the summer, offering bookable in-person services including study spaces and the opportunity to consult material and browse, borrow and read. Zero-contact services Scan & Deliver, Click & Collect and Ask a Curator remain available. Find details on the library webpage. Libraries in Faculties, Departments and Colleges will provide a mix of services and you can find details of the libraries you use often via the Libraries Directory.  
The libraries are open online at all times. We are grateful to receive returned books from all library users, and especially those who are graduating.   
Careers Service
The Careers Service will be operating remotely throughout the summer. You can access resources via Handshake: you can use it to explore career options, book an appointment, find jobs and internships, connect with employers, and enhance your network. You can contact us for advice and one-to-one guidance consultations: please use our enquiry form or message us on Facebook.  
We will also be holding a Finalist Focus week for graduating students, commencing Monday 28 June. Each day will have a different career related session and Q&A and all 1:1 appointments will be exclusive to finalists this week. You can meet employers on Tuesday 29 June at our Summer Fair to discuss what's next, including graduate schemes and internships, and there'll be on-demand content including YouTube videos and blogs from recent graduates. You can click 'going' on the Facebook event to receive notifications about what's happening, or you can keep an eye on Handshake or your Cambridge email. 
Counselling Service
The Counselling Service will be providing ongoing support throughout the summer for online and telephone appointments. You can find out about all the services we offer on the Counselling Service website, including how to request an appointment. In order to cover our staff members' annual leave we have put in place a rota of locum counsellors to ensure support is available over the summer. Our sexual assault and harassment advisor will be available unless she is on annual leave: in this instance a member of the team will assist anyone requiring this support.   
Togetherall is a 24/7 online global community providing free online support wherever you are, that is available to Cambridge students. The Togetherall webpage gives more information, including details on how to sign up. If you don't know where to turn in an emergency or out of hours, see this page for a number of options.  
Disability Resource Centre
The DRC will be continuing to work remotely. You can access resources and appointments via the DRC website. Appointments can be arranged with Disability Advisers by emailing disability@admin.cam.ac.uk. Short, drop-in meetings are available with Assistant Disability Advisers and can be booked via the Moodle Booking system or by emailing drc.ada@admin.cam.ac.uk to arrange. NMH support (non-medical help, such as specialist mentoring and study skills) will continue for postgraduate research students who are working throughout the vacation, and in exceptional cases it will be available to some undergraduate and postgraduate students on taught courses.  
Funding
The Student Funding Team will continue to offer support to students in receipt of funding from the schemes we administer (e.g. Cambridge Bursary Scheme, US and UK government loans, AHRC/ESRC and other studentships). We will also offer a second round of applications for the UKRI Covid-19 Phase 2 Doctoral extensions scheme: the deadline to apply is 30 June. We will also offer an extra University hardship application round during the vacation for postgraduate students: the deadline to apply is 10 August. 
Student Advice Service
The Student Advice Service will be available as normal throughout the summer months. 
Cambridge Students' Union
Cambridge Students' Union will be open and the sabbatical team will be available to contact during the summer.