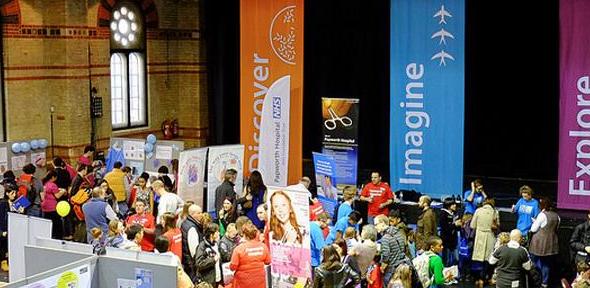 Cambridge Science Festival is preparing for another jam-packed two days this coming weekend (22-23 March) as it once again presents hundreds of scientific events on Saturday on the West Cambridge Site and Sunday on the Cambridge Biomedical Campus.
Last weekend, saw a world record set with the largest balloon pyramid being built at the Grafton Centre and thousands of people attending the hundreds of talks, debates, exhibitions and hands-on demonstrations held at venues throughout the city centre, including the Corn Exchange and the Guildhall. This weekend promises much the same.
The second Saturday shifts its focus to the West Cambridge site, where visitors will be able to enjoy a day bursting with events, including magnificent manufacturing, phenomenal physics, marvellous maths and more.
If the weather is as good as it was last weekend, the Institute of Astronomy will be opening its doors for a spot of evening star gazing between 7-9pm. They will also be hosting their annual open afternoon, from 2.30-6.30pm, with talks, displays, demonstrations and hands-on activities for everyone to learn more about astronomy and the kind of research they do. Visitors might also be lucky enough to spot an alien or two.
Over at the Hauser Forum, the ever-popular Schools Zone returns. Teams of students from schools and sixth form colleges from across the region will be the experts as they showcase what is happening in schools either as part of their curriculum or in after-school clubs. These are always exciting demonstrations from the next generation of scientists, engineers and mathematicians as they bring interactive fun to the Festival.
At the Centre for Mathematical Sciences, visitors will be able to get hands-on at the maths fair. Famously, GH Hardy described mathematicians, like poets and painters, as makers of patterns, and mathematics as a creative art. Visitors to the maths fair will be able to explore their creative thinking and critical reasoning, with hands-on activities, games and problem solving challenges for all ages. From prime number hopscotch to origami, it's maths but not as you may know it.
For anyone who missed CHaOS (Cambridge Hands-On Science) – the student group based in Cambridge – last weekend, they will once again bring their wide range of hands-on physics experiments to the Cavendish Laboratory, revealing the beauty and surprise of scientific understanding and relevance to everyday life. There will also be a series of talks, Physics IS fun; Dr Lisa Jardine-Wright will be revealing the physics in toys and Dave Ansell will be tripping the light fantastic in his talk of the same name and again in his demonstration featuring vacuum bazookas and custard fireballs.
The Institute for Manufacturing will be offering up an array of highly interactive activities, including laser bunny hop, laser rocket racing and visitors will have the opportunity to try out some of the latest science based products from local companies and win a prize for thinking of the best ways to use them.
For science enthusiasts wishing to remain closer to the city centre, there will be a range of tours and talks taking place. The Botanic Garden will be holding a chemical trail around the Cambridge University Botanic Garden, and the University Museums will be showcasing a range of science-based events and tours. At the Mill Lane Lecture Rooms, Dr David Coomes will be revealing how and why the world's forests are changing and how he uses his research to inform conservation policy.
In the evening at the Cambridge Junction, Tangram Theatre Company will be performing Albert Einstein: relativitively speaking, a lecture like none most people well have ever attended. The eccentric theoretical physicist is accompanied by his two wives and mum on the piano, and by guest rapper MC Squared, as he quantum leaps us through two world wars, two theories of relativity, and the deployment of two very big bombs. Warning: features the wurst sausage joke ever.
The second Science on Sunday, held at the Cambridge Biomedical Campus at Addenbrookes, will offer visitors the opportunity to explore some of the life-changing medical research conducted here in Cambridge.  Alongside a range of demonstrations, exhibitions and workshops, highlights include a talk by Professor Dame Sally Davies, Chief Medical Officer, who will discuss the consequences of our long-term abuse of antibiotics, and the team who cracked the often life-threatening problem of peanut allergy, which was in the news recently, will be giving the first public talk about their work.
There will also be a wide range of exhibitions and hands-on activities, including the opportunity to be a cancer researcher for the day, discover better ways to be healthy, and a heart surgery theatre simulation.
Dr Lucinda Spokes, Science Festival Co-ordinator and Co-ordinator of the events at the Cambridge Biomedical Campus, said: "Last weekend we had 1,500 visitors during the first two hours at the Corn Exchange on Sunday morning, and we're expecting it to be as busy this weekend. Every year, the Science Festival just gets bigger and better.
"This year, we are absolutely delighted to be partnering with the Cambridge Biomedical Campus to demystify much of what goes on in terms of health research. The events have been planned to offer an opportunity for everyone to learn more about the many health issues that somehow affect us all."
For more information about the Cambridge Science Festival or to book tickets for any of these events, please visit: www.cam.ac.uk/science-festival
Further news stories about the Cambridge Science Festival can be viewed here:  www.cam.ac.uk/science-festival/news
To see a range of Q&As with key speakers, please visit: www.cam.ac.uk/science-festival/speaker-spotlights
You can also follow us on Facebook: www.facebook.com/Cambridgesciencefestival
and Twitter: https://twitter.com/camscience #csf2014
To download the Festival app, please visit: www.cam.ac.uk/csf/app
Ends
About Cambridge Science Festival
Now in its 20th year, the Cambridge Science Festival gives the public the opportunity to explore Cambridge science. Thanks to the support of the University, our sponsors and partners, most of the events are free.
The Science Festival aims to provide the public with opportunities to explore and discuss issues of scientific interest and concern and to raise aspirations and career awareness in the areas of science, technology, engineering or mathematics.
Patrons of the Science Festival are: Professor Simon Baron-Cohen, Professor John Barrow, Dr Claire Cockcroft, Dr Henry Gee, Lord Rees of Ludlow, Professor Malcolm Longair, Mr Tim Radford, Professor Barbara Sahakian, Professor Jeremy Sanders, Dr Andrew Sugden, Ms Carol Vorderman, Professor Jim Secord, Mr Ian Harvey, Professor Andrea Brand, Professor Ron Laskey, Professor Bill Sutherland, Professor John Naughton, Professor Alan Barrell.
The Cambridge Science Festival is sponsored by Cambridge University Press, the Medical Research Council, Anglia Ruskin University, AstraZeneca, MedImmune, Royal Society of Chemistry, AAAS Science International Inc., TTP Group plc., BlueBridgeEducation, Linguamatics, Abcam plc., RAND Europe, Society of Biology, The Babraham Institute, British Association for Psychopharmacology , the Pye Foundation, Walters Kundert Charitable Trust, and Cambridge City Council. Other Festival partners are Cambridge University Hospitals, the Cambridge Science Centre, Hills Road Sixth Form College and National Science and Engineering Week. The Festival's media partner is BBC Radio Cambridgeshire.
---

This work is licensed under a Creative Commons Licence. If you use this content on your site please link back to this page.
---