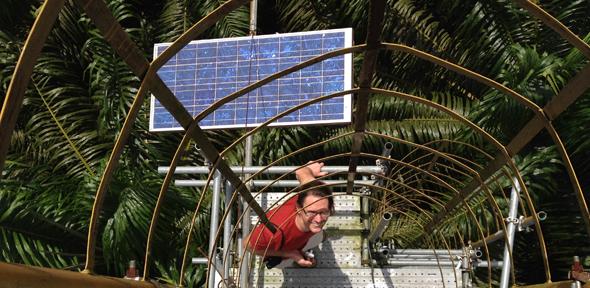 A new programme offered by the Institute of Continuing Education will give participants a rare insight into the challenges involved in pushing back the frontiers of science.  Given by five specialists in different fields, 'Cambridge science: behind the scenes' starts in January 2014.
We are aiming to get behind the headlines, and to discover the challenges, the practicalities and the excitement of carrying out research and acting upon your results.

Erica Bithell
Sitting in his room high up in one of the University of Cambridge's zoology buildings, Dr Ed Turner holds a small bottle up to the light. Inside, preserved in alcohol, are insects collected in the rainforest of Sumatra nine months ago as one strand of a project to map the biodiversity of the region.
"In this one bottle are around 150 beetles from 15 different families," says Dr Turner. "They are just a tiny fraction of the insects gathered over 12 months from more than 50 traps placed at our field sites in Sumatra.  Once we've recorded and analysed the data these specimens represent, we will have a better understanding of how tropical ecosystems work and how variable tropical agriculture can be. That information will help agronomists in Indonesia to manage their plantations more sustainably with biodiversity in mind."
Dr Turner, an ecologist whose specialism lies in the forest environments of the South East Asia, is one of five tutors who will be contributing to a pioneering science outreach course offered by the University of Cambridge Institute of Continuing Education at Madingley Hall, in January and February 2014.
Called 'Cambridge science: behind the scenes', the programme will introduce participants to five contrasting areas of the scientific research happening across the University of Cambridge. Each session will be given by a different expert and will explore the challenges faced by today's researchers – from the study of genetic mapping to research into the development of the next generation of nanoscale structures.
Course leader for the 'Cambridge Science: behind the scenes' programme is Dr Erica Bithell, whose research in crystallography contributes to understanding how the properties of functional materials are related to their atomic scale structures. These are materials which have particular and often useful technological properties, such as magnetism or piezoelectricity. During her session, she will explore the development of a metal-organic framework material from a laboratory bench to published results and onwards.
She said: "These materials combine metals and small organic components so as to build quite open structures – a bit like a nano-climbing frame! They have a wide range of potential properties, from magnetism to gas storage and catalysis. In this session we will trace the story of one member of this fascinating and beautiful family of structures, seeing how different groups of scientists have worked together in Cambridge and further afield to understand how this material works.
"We are aiming to get behind the headlines, and to discover the challenges, the practicalities and the excitement of carrying out research and acting upon your results. You'll be able to ask questions and take part in lively discussions both with your fellow students and with the Cambridge scientist leading each session. "
The remaining three tutors will give snapshots of their highly diverse fields. Dr Maya Goussani is a researcher into genetic mapping of common cancers, who will talk about the major discoveries that have arisen from the Human Genome Project, and current and future application of genomics. Dr Rachel Oliver is a materials scientist whose work focuses on the development and use of nanoscale structures; she will describe how scientists at Cambridge University are working to make LED light bulbs even more efficient, cheaper and more attractive. Professor Chris Abell will share his experiences of setting up a spin-out enterprise, and is well known both for his research as a biological chemist and as founder, with Sir Tom Blundell and Harren Jhoti, of Astex Therapeutics, a leading company in oncology drug discovery.
Dr Bithell said: "Everyone joining this course will have the opportunity to learn how each of these projects was started, how it aims to answer novel questions, what the exciting new discoveries are, and in what directions each project is going to be developed in the future. The course is a rare chance for anyone interested in science and the people who are pushing the frontiers forward to get an insight into what Cambridge University's scientists actually get up to on a day-by- day basis."
The course reflects a growing determination on the part of scientists to engage in a lively and direct dialogue with the world beyond the laboratory.
Dr Turner said: "As someone working within the field of conservation in South East Asia, I believe that communicating my work to the general public is vital to sharing the message that we need to work with these economies to find ways of interweaving biodiversity conservation into the increasingly vast acreages of land devoted to crop production. The world has over 7 billion people to feed and the most diverse ecosystems are also among the most threatened. In the case of the Biodiversity and Ecosystem Function in Tropical Agriculture Project, of which I am a member, this involves working with the big companies that produce palm oil to help them manage their habitats more sustainably.
"Sometimes television documentaries create a misleading picture of zoologists crashing through the rainforest and stumbling across rare species. On the other hand, scientists working in labs are portrayed as people in white coats with pebble glasses who don't care about the real world. We want to show what's really  involved in research – the meticulous planning that goes into projects and the level of detail recorded and analysed – and that scientists need a whole range of skills including being a good team player and maintaining their enthusiasm." 
For more information about Cambridge Science: behind the scenes, including dates and fees, go to http://www.ice.cam.ac.uk/component/courses/?view=course&cid=10342
---

This work is licensed under a Creative Commons Licence. If you use this content on your site please link back to this page.
---