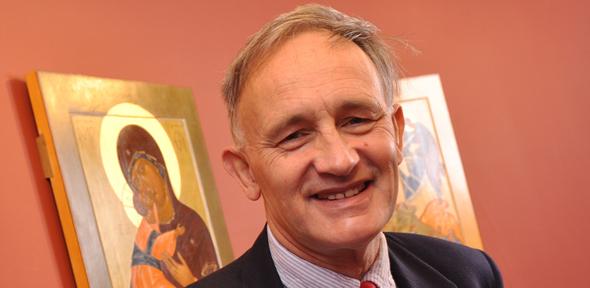 Minister for Universities and Science, David Willetts, has bestowed an honorary OBE (Officer of the Order of the British Empire) on Professor David Ford, Regius Professor of Divinity at Cambridge University.
Professor Ford, an Irish citizen, received the honour for his significant contribution to theological scholarship and to inter-faith relations.
An internationally recognised academic figure, he has written and edited numerous books, including The Modern Theologians and Theology: A Very Short Introduction which are considered leading textbooks in the field.
Professor Ford is one of the founders of Scriptural Reasoning - the practice of Christians, Muslims and Jews reading their scriptures together. He also founded the Cambridge Inter-Faith Programme which is dedicated to learning about, learning from, and learning between religions as they interact within a secular and religious world.
At Cambridge University he has helped to raise over £25million for various projects - including £8million for a new faculty building which was opened in 2000 by the Queen.
Speaking at the event, Mr Willetts said:
"I'm delighted to present this award to Professor Ford who has made an outstanding contribution to theological scholarship and inter-faith relations.
"His energy, entrepreneurship, theological and practical work for inter-faith understanding all stand out. His many achievements have had considerable contemporary resonance and are of great significance in the search for peace and global cohesion."
The ceremony was conducted on Tuesday 20 May at the Department for Business, Innovation and Skills.
---
The text in this work is licensed under a Creative Commons Licence. If you use this content on your site please link back to this page. For image rights, please see the credits associated with each individual image.

---