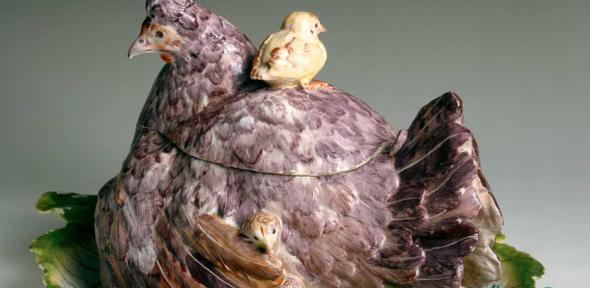 This rare tureen from the Fitzwilliam Museum was made in the mid-18th century by the famous Chelsea porcelain manufactory.
A motherly fowl shelters several of her young ones under a protective wing while a bold chick stands on her back.
What is it?
As Easter approaches, with the promise of chocolate eggs, this stunning tureen in the shape of a hen and her chicks is particularly delightful in its celebration of new life.  A motherly fowl shelters several of her young ones under a protective wing while a bold chick stands on her back.  It is just one of many items on display in the European & Japanese Porcelain Gallery at the Fitzwilliam Museum and it can be found in a cabinet of objects made by the Chelsea porcelain manufactory, established in the mid-18th century and famous for its figures. Other charming and playful items in the same cabinet feature rabbits, birds and fish: look out for tiny details such as a snail on a leaf or a clutch of eggs hidden in some foliage.
What's the story?
A tureen is an item of tableware with a removable lid; they were made to hold soup or casseroles. The highly decorative nature of many tureens, including this one, meant that they were often centre pieces rather than functional containers.  The rare example shown here (dated 1755-56) would have looked splendid on a dining table or sideboard in a large house at a period when tableware was an indication of taste and social status. It was one a several items given to the Fitzwilliam Museum in 1957 by Dick Gelston in memory of his brother Robert Gelston, a civil engineer.
The material used is soft-paste porcelain, a type of ceramic developed in England to emulate the ceramics produced in China which were highly fashionable and commanded impressive prices. The Chelsea porcelain manufactory, which was directed by the silversmith Nicholas Sprimont in its early years, was the first significant maker of soft paste porcelain in England. In 1769 the Chelsea workshop was purchased by William Duesbury of Derby, another of the names synonymous with the production of English porcelain.
Can we see it?
The Fitzwilliam Museum is open Tuesday–Saturday 10am to 5pm, Sunday and Bank Holiday Mondays 12 noon to 5pm. Closed: Mondays, Good Friday. Entrance to the museum is free of charge.
Find out more
Look out for our Easter special starting tomorrow on this website. The Eggs Cetera series will celebrate the role of eggs in research at Cambridge in half a dozen stories that range from the use of egg white in the making of artistic masterpieces to the scope for new engineering materials based on the structure of eggshell.
---

This work is licensed under a Creative Commons Licence. If you use this content on your site please link back to this page.
---