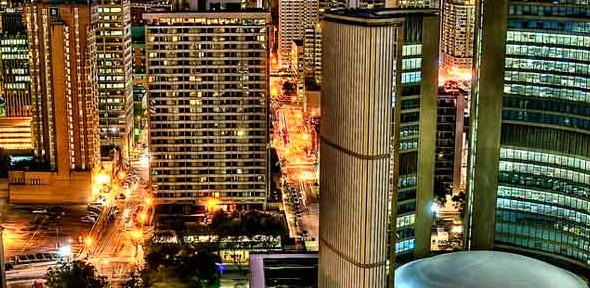 A multidisciplinary initiative is focusing on the complex energy requirements of cities and how they can be reshaped.
Cities are complex systems. Devising practical and realistic proposals for how cities can be reshaped can only be achieved through a holistic, cross-disciplinary approach.

Professor Ian Leslie
Today, more than half of the world's population, over 3.3 billion people, live in urban areas; a figure that, according to current predictions, may rise to 5 billion by 2030. Economic growth goes hand-in-hand with urbanisation, but this leads to an increasing demand for energy and a rising environmental impact. Taking the UK as an example, the buildings and ground transportation in urban areas (in which 80% of the population currently lives) account for approximately two-thirds of the country's current total energy demands. Clearly, large benefits are to be gained from addressing the challenge of improved energy efficiency in towns and cities.
Cambridge's Energy Efficient Cities initiative (EECi) is working towards this vision – aiming to strengthen the UK's capacity to address energy demand reduction and environmental impact in cities through cross-disciplinary research that embraces building and transport technologies, district power systems and urban planning.
The five-year interdisciplinary collaboration is being funded by £2.9 million from the Engineering and Physical Sciences Research Council (EPSRC) under a Science & Innovation Award. This joint effort brings together over 30 researchers (see panel) under the leadership of Professor Ian Leslie (Principal Investigator and Pro-Vice-Chancellor for Research), Professor Dame Ann Dowling and Professor Robert Mair at the Department of Engineering, and Professor Marcial Echenique and Professor Koen Steemers at the Department of Architecture.
A complex system
Cities can be thought of as integrated systems composed of numerous components with interconnecting links. Into the complex equation of analysing energy efficiency in cities must be factored variables such as the density, layout and types of buildings, the transport requirements, the location of green spaces and the proximity of local forms of power generation.
'Cities are complex systems,' explained Professor Leslie. 'Even individual issues such as environmental impact, transport, quality of life and economic growth are themselves complex, let alone their interaction. Devising practical and realistic proposals for how cities can be reshaped can only be achieved through a holistic, cross-disciplinary approach.'
To achieve this, EECi has devised a systems-level approach that brings together technologies and design (of buildings, transport and energy), impacts and assessment (of the environment, and of society and the economy) and city-level integration of planning and design. Three new lecturers appointed through the EPSRC award are leading the research modules: Dr Ruchi Choudhary and Dr Steven Barrett from the Department of Engineering and Dr Ying Jin from the Department of Architecture.
Technologies and design
A distinctive feature of research on the technologies and design of buildings will be the development of feasibility metrics for implementing suitable technologies that improve the environmental conditions and lower the operating utility costs of buildings, both domestic and commercial. This will require an expanded representation of geographical, physical and behavioural inputs in building energy models. The scope of the work will span urban design strategies for reducing energy use and carbon emissions in cities, as well as more-detailed investigations of enabling technologies.
A very significant proportion of the built environment is influenced by the need for mobility. Currently, vehicle performance, in terms of acceleration, top speed, size and weight, far exceeds that needed in an urban environment – a situation that has been driven partly by customer preference and partly by crash-worthiness. Research on transport will consider the options for innovations: could, for instance, the transition to electric cars improve air quality and lead to more 'open' city centres with improved public places and natural ventilation within large office and commercial buildings? Would there be climate change trade-offs in doing this? And what would be the impact of 'smart charging' of electric cars on overall energy consumption and building design?
The UK Government's new Low Carbon Transition Plan has reinforced its commitment to increase its renewable energy capacity to cover 30% of energy consumption by 2020. Research in the Energy module of EECi will assess the feasibility and environmental benefits of district power systems and alternative energy supply technologies on different building configurations and geographical scales. 'We know that the feasibility of using energy supply systems is in principle influenced by physical and geographical characteristics of the context in which they're used,' explained Dr Choudhary. 'Imbalances between total supply and demand, and variations in the building's heat capacity and demand variability resulting from seasonal cycles, can be critical.'
Impacts and assessment
Designing the most efficient and sustainable cities must be balanced with economic and social impacts: after all, cities need to be comfortable and cost-effective to live in. 'We need to quantify the impacts of technology and policy measures upon society and the economy for a variety of settlement designs,' said Dr Jin. 'Only then can we hope to work out realistically how good they are.'
Similarly, assessments of environmental impact are crucial: 'It's no good designing energy-efficient approaches that have a net negative impact on global climate, or that result in poor air quality,' explained
Dr Barrett. 'Monitoring the impact of the urban microclimate and translating this into public health and environmental effects is fundamental to assessing which technological scenarios will work.'
City-level integration
To solve the challenges posed by integrated systems that have the complexity and scale of cities, a systems-level approach must combine economic, technical and design ideas with macro-economic trends, demographic projections and environmental data.
The intention of EECi is to combine these criteria into a coherent computer model calibrated on real data. Not only does this enable a more robust scaling up of the impact of technological innovations at the city level, but it also allows the assessment of different trade-offs between the environmental, societal and economic impacts. This helps to inform regulators and policymakers. How, for instance, can the planning of land use in city regions be coordinated with significant land requirements for generating renewable energy? What alternatives are there in building forms and density that reduce the impact on energy use for travel and activities within an urban environment?
The EECi models will represent not only geographical patterns of land use and physical built forms, but also business and household activities and their responses to policy and technological change. The models will cover both new development and the retrofit of existing urban areas, and will therefore be relevant to a much wider technology and policy context than it has been possible to envisage previously.
The goal is to use insights gained from urban models to inspire new technological, planning and design solutions, both in cities of the developed world, where the bulk of the building stock is already complete, and in cities of the developing world, where some cities may double or triple in size in the next 30 years.
For more information, please contact Dr Steven Barrett (steven.barrett@eng.cam.ac.uk) and Dr Ruchi Choudhary (r.choudhary@eng.cam.ac.uk) at the Department of Engineering, and Dr Ying Jin (yj242@cam.ac.uk) at the Department of Architecture, or visit www.eeci.cam.ac.uk/
---
Collaborators in the EECi
Department of Engineering: Professor Dame Ann Dowling, Professor Robert Mair, Dr Ruchi Choudhary, Dr Steven Barrett, Professor Nick Collings, Professor Randall Thomas, Professor Peter Guthrie, Dr Heather Cruickshank, Dr Alan McRobie, Dr Mauro Overend, Professor John Young, Professor Simone Hochgreb, Professor Epaminondas Mastorakos, Dr Alex White, Dr Stuart Scott, Dr Matthew Juniper, Dr Holger Babinsky, Professor Gehan Amaratunga, Dr Richard McMahon, Dr Patrick Palmer, Dr Claire Barlow
Department of Architecture: Professor Marcial Echenique, Professor Koen Steemers, Dr Ying Jin, Professor Alan Short, Michael Ramage, Dr Torwong Chenvidyakarn, Dr Minna Sunikka
Department of Chemical Engineering and Biotechnology: Dr John Dennis
Computer Laboratory: Professor Andy Hopper, Professor Ian Leslie, Dr Andy Rice, Professor Jean Bacon
BP Institute: Professor Andy Woods, Dr Shaun Fitzgerald
Department of Materials Science and Metallurgy: Professor Colin Humphreys
Judge Business School: Dr Bill Nuttall, Cambridge Centre for Energy Studies, Dr Theo Hacking
Plus over 15 external collaborating companies
---

This work is licensed under a Creative Commons Licence. If you use this content on your site please link back to this page.
---