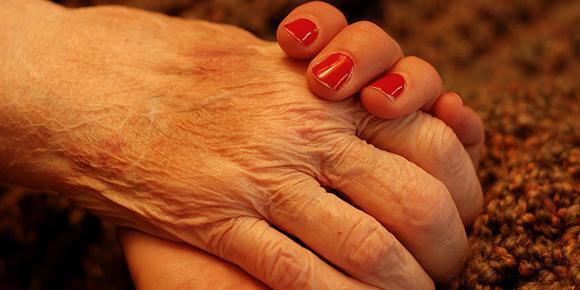 A remarkable new project that looks at brain donor's involvement in brain research and the search for cures for dementia will be presented at this year's Cambridge Science Festival on Friday 21 March.
All of this was only possible because of the willingness of all parties to cross the boundaries of their usual practice and our shared belief in the importance of bringing the subject of dementia to the forefront of public awareness.

Ania Dabrowska, artist
Mind over matter showcases 12 of Britain's oldest brain donors who agreed to be photographed and interviewed. Presented by artist Ania Dabrowska and Professor Bronwyn Parry, King's College London, the event also includes a panel discussion chaired by Carol Brayne, Professor of Public Health Medicine in the Department of Public Health and Primary Care at the University of Cambridge.
Speaking about her involvement in this event, artist Ania Dabrowska said: "The Mind over matter project came out of my longstanding artistic interest in questions of memory, Professor Bronwyn Parry's research on brain banks and body organ donation, and our mutual desire to create work that not only demystifies what happens behind the doors of brain banks to the audiences but also celebrates the role that brain donors play in the search for the cure for dementia. 
"The project, funded by Wellcome Trust People Award, proved to be ground-breaking because of the ethical issues it raises about creating art work about people who might be affected by dementia, access to brain banks and unveiling of brain donors' identity, something that was apparently unprecedented.  It offered me as an artist rare access to private lives and archives of the donors we worked with as well as an opportunity to learn about the incredible research that goes on in brain banks around the world. 
"I believe that the relationship between art and science can be beneficial for both disciplines and for the public, but it is a challenging one as they are routed in disparate traditions, come with sets of conflicting expectations and are governed by different rules of conduct. 
"Thanks to the trust between Professor Parry, the donors, their families and myself, our collaborators at Cambridge University Hospital's Brain Bank and Wellcome Trust support, we succeeded in overcoming these challenges, producing a book and a multi-sensory exhibition that gave due space to both of these worlds in an emotionally charged, curatorially experimental, intellectually challenging and scientifically accurate outputs.  All of this was only possible because of the willingness of all parties to cross the boundaries of their usual practice and our shared belief in the importance of bringing the subject of dementia to the forefront of public awareness."
A further event covering the subject of dementia will be held on Sunday 23 March. Dementia: what's needed now? will investigate the state of research into dementia and the commitment of G8 countries to trying to find a cure by 2025. This will be discussed by leading dementia researcher, Professor Carol Brayne with the agency responsible for dementia policy in the UK, Public Health England.
Professor Brayne said: "Dementia continues to hit the press almost if not every day. It is one of the major topics of our time and has attracted policy makers' attention round the world. The announcement of a Dementia Envoy for the recent G8 is a completely new development to assist the international efforts to meet the aspirations set up at this highly successful international forum in December last year. These two events, focused on this topic, cover very different angles of science. The first is an arts and science collaboration to celebrate brain donation, which was built upon long standing studies in Cambridge and participants and their families. The second will be a reflection on the G8, its outcomes and the way in which our institutional structures are responding to policy developments and how science informs this process."
The event, Become a Dementia Friend, which is also on Sunday 23 March, will highlight the need for a helping hand for those suffering with dementia to go about their daily lives and feel included in their local community. Dementia Friends gives people an idea of the small things they can do to make a difference to people living with dementia.
Lucy Lloyd from the Institute of Public Health, University of Cambridge, said: "670,000 people across England are living with dementia. Many people (one in four) with dementia say that shopping and going out can be very stressful and many have given up since being diagnosed.  Drop in to one of our Become a Dementia Friend information sessions to learn how to offer a helping hand. By becoming a Dementia Friend you will be able to support people in your community, help shift misconceptions, and help make your local area a more dementia aware community."
For more information about the Cambridge Science Festival or to book tickets for any of these events, please visit: www.cam.ac.uk/science-festival
Further news stories about the Cambridge Science Festival can be viewed here:  www.cam.ac.uk/science-festival/news
You can also follow us on:
Facebook: www.facebook.com/Cambridgesciencefestival Twitter: https://twitter.com/camscience
To download the Festival app, please visit: www.cam.ac.uk/csf/app
---

This work is licensed under a Creative Commons Licence. If you use this content on your site please link back to this page.
---