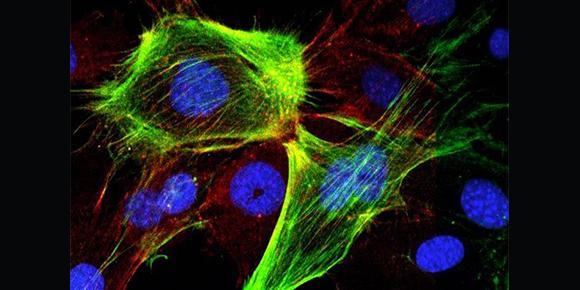 Cancer will affect one in three of us at some point in our lives, so research into this disease is vital. Most cancer patients will see their doctor when the disease is already advanced and harder to treat, according to Professor Ashok Venkitaraman, Director of the Medical Research Council (MRC) Cancer Unit in Cambridge.
Professor Venkitaraman's Unit will be opening its doors on Sunday 23 March for the event Behind the scenes of cancer research. Visitors will be able to join scientists from the MRC Cancer Unit and the Hutchison/MRC Research Centre to find out more about how they are trying to improve the detection and treatment of cancer. They will also be able to take a look at DNA mutations and unusual chromosomes, and have a go at some of the experiments the researchers do in the lab every day.
Professor Venkitaraman said: "Research at the MRC Cancer Unit focuses on understanding the earliest stages in the development of cancer, and using this new knowledge to find better ways of detecting and treating the disease before it advances. My colleagues and I believe that research on early cancer progression, detection and treatment has tremendous potential to improve the survival rates of cancer patients.
"The Cambridge Science Festival is an excellent opportunity for us to speak to the public about our science, and our hopes for the future of cancer detection, treatment and prevention. We also hope our event will give visitors a small insight into what goes on in some of our labs, and perhaps even inspire the next generation of cancer researchers."
Speaking about some of the latest research, Dr Ireena Dutta, Scientific Communications Manager at the MRC Cancer Unit said: "One area in which we're making significant strides is the screening and monitoring of patients at risk of developing oesophageal cancer (cancer in the gullet). Research undertaken by Professor Rebecca Fitzgerald has developed a new device called the Cytosponge, which can be used to collect cell samples from patients, and is much less invasive (and cheaper) than traditional monitoring methods such as endoscopies.  This makes it suitable for use in a screening programme, and it is currently being assessed in a large-scale clinical trial. Visitors can find out more about this and other research we are currently doing on the day."
On the same day, there will be another similar event, Be a cancer research scientist for a day, which is being run by the Cancer Research UK (CRUK) Cambridge Institute. They are inviting visitors to don a lab coat and be a scientist for a day. Visitors will be able to enter their mini science lab, run a DNA gel, stain tissue sections and look at them down a microscope, and try out virtual reality radiotherapy with CRUK's clinical cancer colleagues.
Drug development is a major part of cancer research and visitors to the Cambridge Biomedical Campus will be able to discover more about this aspect of medical research with two further events also being held on Sunday 23 March.
During the first event, Making medicines from A to Z, visitors will be able to learn how AstraZeneca scientists discover and develop new medicines. In this interactive experience, they will be able to explore how chemistry and 3D modelling are used in the design and build of new drugs and then explore how these drugs, alone or in combination, are tested in humans to treat diseases such as cancer. This event will also take place on Sunday 16 March at the Cambridge Corn Exchange.
The second event is Developing new drugs: have a go at pharmacokinetic sampling! The National Institute for Health Research (NIHR) Clinical Investigation Ward is involved in many research studies working towards the development of new treatments for cancer. During the development of new drugs detailed studies are undertaken to establish how quickly the body absorbs the drug and how long it stays in the body. Visitors will able to find out more about this aspect of medical research and have a go at 'pharmacokinetic' sampling.
Other talks, debates and demonstrations relating to cancer research include:
Saturday 15 March, as part of ThinkCon 2014, Kat Arney will be talking about the Evolution of Cancer.
Tuesday 18 March, Transmissible cancers in dogs and Tasmanian devils. Andrea Strakova  will reveal unexpected findings about two unique cancers that have adapted to transfer by the means of living cancer cells between their hosts – Tasmanian devils and domestic dogs. We will explore how a cancer can become transmissible, despite the fact that it is usually considered to be a malignant transformation of cells of your own body.
For more information about the Cambridge Science Festival or to book tickets for any of these events, please visit: www.cam.ac.uk/science-festival
Further news stories about the Cambridge Science Festival can be viewed here:  www.cam.ac.uk/science-festival/news
You can also follow us on:
Facebook: www.facebook.com/Cambridgesciencefestival Twitter: https://twitter.com/camscience
To download the Festival app, please visit: www.cam.ac.uk/csf/app
Ends
About Cambridge Science Festival
Now in its 20th year, the Cambridge Science Festival gives the public the opportunity to explore Cambridge science. Thanks to the support of the University, our sponsors and partners, most of the events are free.
The Science Festival aims to provide the public with opportunities to explore and discuss issues of scientific interest and concern and to raise aspirations and career awareness in the areas of science, technology, engineering or mathematics.
Patrons of the Science Festival are: Professor Simon Baron-Cohen, Professor John Barrow, Dr Claire Cockcroft, Dr Henry Gee, Lord Rees of Ludlow, Professor Malcolm Longair, Mr Tim Radford, Professor Barbara Sahakian, Professor Jeremy Sanders, Dr Andrew Sugden, Ms Carol Vorderman, Professor Jim Secord, Mr Ian Harvey, Professor Andrea Brand, Professor Ron Laskey, Professor Bill Sutherland, Professor John Naughton, Professor Alan Barrell.
The Cambridge Science Festival is sponsored by Cambridge University Press, the Medical Research Council, Anglia Ruskin University, AstraZeneca, MedImmune, Royal Society of Chemistry, AAAS Science International Inc., TTP Group plc., BlueBridgeEducation, Linguamatics, Abcam plc., RAND Europe, Society of Biology, The Babraham Institute, British Association for Psychopharmacology , the Pye Foundation, Walters Kundert Charitable Trust, and Cambridge City Council. Other Festival partners are Cambridge University Hospitals, the Cambridge Science Centre, Hills Road Sixth Form College and National Science and Engineering Week. The Festival's media partner is BBC Radio Cambridgeshire.
---

This work is licensed under a Creative Commons Licence. If you use this content on your site please link back to this page.
---