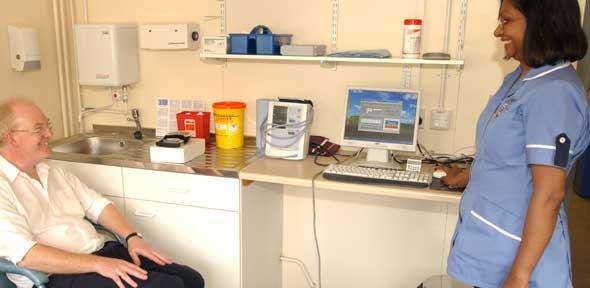 A landmark longitudinal study of health in the community will celebrate its 20th anniversary in Norwich tomorrow (10 October). The research, which adds significantly to our knowledge of public health, relies on volunteers who consistently give their time to science.
 
The generosity of our participants is tremendous – their input makes the research possible.

Shabina Hayat
Participants in the EPIC-Norfolk Study will be meeting in Norwich tomorrow to celebrate a project that is making substantial contributions to our understanding of the role of lifestyle, in particular, diet and physical activity, and biological factors in health and disease.
The research, which has helped us understand what we can do to maintain health in later life and has important implications for policy-makers, is sponsored by the University of Cambridge. It is currently led by principal investigators Professor Kay-Tee Khaw and Professor Nick Wareham.
Continuing support from thousands of participants living in Norwich and the surrounding area is at the heart of the success of this study which relies on people giving up their time on a voluntary basis to contribute to the research.
Around 25,000 men and women living in Norfolk agreed to take part at the start of the study in 1993 and have been followed up to the present.  Today the oldest participant is more than 90.  All receive regular communications supplying them with updates on the research findings.  
EPIC-Norfolk is part of one of the world's biggest population studies with components in ten countries across Europe. When the programme was launched in the early 1990s, the people recruited were aged between 40 and 79.
The research has led to a succession of papers which have added to knowledge about key aspects of health including common conditions such as heart disease and cancer, obesity, diabetes, eye health, and cognitive skills, and how these might be linked to lifestyle and genetic factors. Quality of life is an important strand of the research.
"We're holding our Public Meeting event at St Andrews Hall, in Norwich as a way of thanking all the thousands of people who have helped us over the years – and will, we hope, continue to help us as we move into the next stage of the study," said EPIC-Norfolk research co-ordinator, Shabina Hayat. "The generosity of our participants is tremendous – their input makes the research possible."
Though the original focus was on diet and cancer, from the outset of the study, the scope was widened to look at major causes of disability and loss of quality of life – including cardiovascular disease, osteoporosis and fractures, musculo-skeletal conditions such as arthritis, and more recently, memory loss, physical function, and eye diseases.
"Essentially data from the study represents a hugely valuable resource that can be used by our research partners and will eventually be used to inform future health policies and interventions to improve health," said Ms Hayat.
The EPIC-Norfolk study is unique in the detail with which it has examined diet, collecting data on 200 nutrients and more than 1,200 food groups. Food diaries were at the core of this strand of the work, enabling researchers to see patterns in food consumption. It was shown, for example, that just as alcohol consumption gets higher towards the end of the week and on Saturday, so does that of cakes and pies.
Key findings have included: the effects of ageing are highly variable with some older people having better physical and cognitive function than those 30 years younger; red and processed meat is associated with greater colorectal cancer risk, especially in individuals with low fibre consumption; and participants reporting higher television viewing (long periods of inactivity) have a particular risk of cardiovascular disease.
The study has shown that people following four health behaviours (not smoking, being physically active, moderate alcohol intake and intake of five or more vegetables per day) can expect, on average, to live 14 years longer than those who don't.  Another finding is that it is better to eat a large breakfast and a small evening meal in terms of minimising weight gain.
The current phase of the study is focusing on physical activity and body composition. When people put on weight, they collect fat in different areas of their body: some take on a pear shape and others an apple shape. Current research suggests that those with an apple shape (fat around the waist) have an increased risk of developing health-related problems such as diabetes.
By scanning participants to reveal distribution of fat around the body, EPIC-Norfolk aims to throw further light on this finding.
---

This work is licensed under a Creative Commons Licence. If you use this content on your site please link back to this page.
---