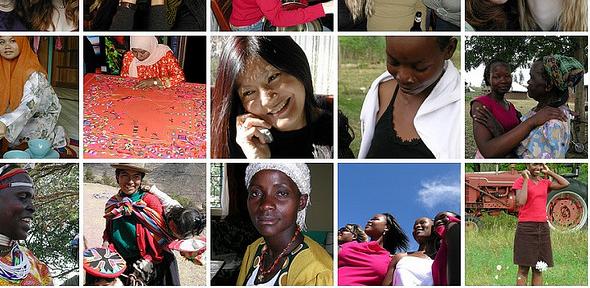 The urgent need to champion the rights of women around the world is the central theme of a series of lectures to be delivered in Cambridge next week by Melanne Verveer, who was the first US Ambassador for Global Women's Issues. 
Verveer will look in particular at the role of women in peace negotiations, the protection of women from violence and post-conflict reconstruction.
The last century has seen women make huge strides in overcoming gender discrimination. But progress has been patchy.  All too often women remain marginalised and their voices go unheard or they are barred, through the culturally-embedded barriers of the glass ceiling, from the highest levels of decision-making.  In the UK, just 22 per cent of MPs, 16 per cent of high court judges and 12 per cent of council leaders are women. Only 5 per cent of editors of national papers are female.
A key figure in the struggle for women's rights as a global challenge requiring urgent attention will be at Cambridge University next week to give a series of public talks addressing gender issues. Melanne Verveer, who will be at the University as Humanitas Visiting Professor in Women's Rights, has just stepped down as the first US Ambassador for Global Women's Issues, an appointment created by President Obama in 2009 to advance women's progress around the globe through US foreign policy.
She will give lectures on a range of gender-related topics on 4 March, 6 March and 7 March. The series will conclude with a symposium on 11 March. All events are free and open to the public. Attendance at the symposium is limited and requires advance registration.
As former director of the US Department of State's new office on Global Women's Issues, Verveer co-ordinated foreign policy issues and activities relating to the political, economic and social advancement of women around the world. Her job was hugely demanding and ambitious. The team she led mobilises support for women's rights and political and economic empowerment through initiatives and programmes designed to increase women's and girls' access to education and health care, to combat violence against women and girls in all its forms and to ensure that women's rights are fully integrated with human rights in the development of US foreign policy.
She is now director of the newly-created Institute on Women, Peace and Security at Georgetown University, Washington, DC.
Eight years ago Hillary Clinton, then First Lady of the United States, gave a landmark speech at Fourth United Nations World Conference on Women in Beijing, China. Her presentation touched on the many roles that women play, and the obstacles that face them whether in their homes, neighbourhoods or workplaces.  It contained the words that have been since been quoted over and over again: "If there is one message that echoes forth from this conference, let it be that human rights are women's rights and women's rights are human rights once and for all."
In the first of her lectures next week Verveer will offer her personal reflections on this seminal speech and the platform for action that it launched, including measures to improve women's access to health and education, remove barriers to full economic and political participation and promote freedom from violence. The perspective she will offer is one of a close colleague and confidante of Hillary Clinton, whom she was serving as chief assistant at the time of the Beijing speech. Both committed to human rights and to empowering marginalised groups, the two women have encouraged and supported each other as leaders.
In her second lecture Verveer will look at the contribution of women as entrepreneurs and employees, focusing on the need for the need to support small and medium-sized enterprises to generate economic growth in both developed and developing countries. She will draw on her experience as co-founder and former chair and co-CEO of Vital Voices Global Partnership, an international NGO. Vital Voices invests in emerging women leaders and works to expand women's roles in creating economic opportunity, promoting political participation and safeguarding human rights.
Verveer's third lecture will focus on the benefits of women's political participation – an area in which there remains a significant gender gap. She will look in particular at the role of women in peace negotiations, the protection of women from violence and post-conflict reconstruction with references to the lessons learned around the world – from Northern Ireland to Liberia – and will consider questions such as: what difference do women make in elective office; why does women's political empowerment lag behind almost everywhere; and are quotas the remedy?
At the concluding session, Verveer will lead a symposium where a panel of women speakers will put forward their views on gender equality. Contributors will include: the well-known psychotherapist and writer Susie Orbach, who made her name in the late 1970s with her book Fat is a Feminist Issue and continues to spark debate; Professor Heidi Mirza from the University of London whose research brings together ethnicity, gender and identity; and Dr Nina Power of Roehampton, a philosopher who looks at protest and policing, feminism and queer theory.
For more details on the lectures being given at Cambridge University on 4, 6 and 7 March by Melanne Verveer as Humanitas Visiting Professor in Women's Rights go to http://www.crassh.cam.ac.uk/events/2285/ . The lectures will take place in the Mill Lane Lecture Rooms and are free and open to the public with no need to book. The closing symposium on 11 March will be held in the Beves Room, King's College. It is open to the public but advance registration is essential.
---

This work is licensed under a Creative Commons Licence. If you use this content on your site please link back to this page.
---