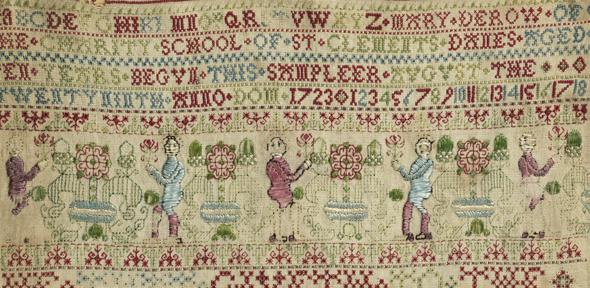 An online exhibition at the Fitzwilliam Museum explores the narratives contained in eight samplers made by school girls from poor backgrounds in the 18th and 19th centuries.
[Samplers] made by girls at charity schools would have a more practical function, demonstrating to potential employers their ability to sew, mark and mend personal and household linen

Leena Rana
A black-and-white photograph, taken in 1905, shows rows of small girls wearing identical dark dresses and white pinafores. All have the same pudding-bowl haircut; each child holds a needle, thread and square of cloth. The setting for this poignant image is one of the Bristol Orphan Houses, where girls as young as six began sewing lessons and in their teens produced samplers as examples of their needlework skills.
An online exhibition, 'Stories behind the Stitches: Schoolgirl Samplers of the 18th and 19th Centuries', unpicks what is known about eight girls who were taught to sew at some of the hundreds schools set up by churches and individual benefactors to educate the children of the poor.  Samplers by some of these girls, completed when they were aged between ten and 17, are now part of the extensive collection held by the Fitzwilliam Museum.
Among them is Mary Ann Tipper, born into a working class family in 1852. At the age of ten, having lost both her parents and with no-one willing or able to offer her a home, Mary Ann was presented to the care and trust of George Müller, who ran a number of orphan houses in Bristol.  Her admittance records show that she was orphan number 1395 to enter the institution and lived at house No 3, Ashley Down.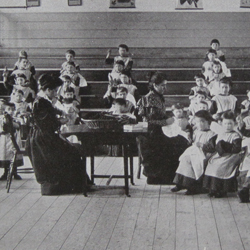 Mary Ann's sampler, which was made when she was 16, survives in the 400-strong collection of samplers at the Fitzwilliam. The collection, which boasts examples dating from the late 16th century right up to the 20th century, is particularly rich in 17th century samplers.
The online exhibition, which went live at the end of September, was curated by Leena Rana, one of six recent graduates awarded internships in 2012-2013 to work on individual projects across University of Cambridge Museums.
Rana saw the Fitzwilliam's schoolgirl samplers as an opportunity to explore a small number of individual stories and, in doing so, unlock the role that sewing played in the lives of countless other girls from modest and poor backgrounds. "I was drawn to these school objects as they incorporate personal data about the maker, including her name and the year in which the sampler was stitched," she said.
"This information alone isn't enough to if you want to discover more about the embroiderer. The objects I chose to focus on, however, give the name of the school in which they made. This allowed me to research more about the girls, the schools they attended, and the role of needlework in educational institutions."
The word sampler comes from the Latin exemplum (an example for imitation). As specimens of needlework stitched onto a piece of fabric, they allowed makers to demonstrate their skills. Coptic pattern samplers, dating around AD 400-500, have been found in Egyptian tombs. In Europe, there is evidence for sampler making in the early years of the 16th century.
Samplers were made by girls from all backgrounds and were seen as an education tool. "Samplers made by a girl from a well-off family were displayed in the home as evidence of her skill in needlework, her good upbringing and refined domesticity. Those made by girls at charity schools would have a more practical function, demonstrating to potential employers their ability to sew, mark and mend personal and household linen," said Rana.
"Many of the thousands of girls brought up in charity schools and orphanages went into service. The records of the George Müller Charitable Trust in Bristol show that Mary Ann Tipper left the institution aged 18 and went to work as a housemaid for a Mrs Peters in Croydon. After that Mary Ann disappears from the historical record."
Samplers were used as an opportunity to instil morals as well as skills and were used as a means of teaching the alphabet and numbers. The decorative sampler made by Mary Ann demonstrates her ability to stitch several rows of alphabets and numerals in a number of styles and scripts as well as to embroider images. The verse she chose, or was instructed, to transcribe in neat cross- and four-sided cross-stitch reflects the strong Christian ethos of most orphanages.
In his lifetime George Müller cared for more than 10,000 orphans at a time when illegitimacy was a disgrace, there was no welfare system as safety net, and poverty carried a profound stigma. Muller was criticised for giving the children in his care a varied education of a high standard but ignored comments that he was educating them above their station.
He faced formidable opposition in the shape of prevailing social attitudes. "Children of the poor should not be educated in such manner as to set them above the occupations of humble life, or so as to make them uncomfortable among their equals," wrote Sarah Trimmer in Reflections upon the Education of Children in Charity Schools; with the Outlines of a Plan of Appropriate Instruction for the Children of the Poor (1792).
The earliest sampler in the online exhibition was made by Mary Derow in 1723, when she was just ten. She was a pupil at St Clement Danes School in Drury Lane, London, one of more than 60 schools set up the by Society for the Promotion of Christian Knowledge. Children entering the care of the school were provided with clothing and shoes and given quills and inkpots for writing. The beautifully executed figures in Mary's design show pupils wearing the blue school uniform. Girls were taught to knit as well as sew and had instruction in reading and singing.
Although they reveal little flashes of individuality from their young makers, samplers were primarily a means of demonstrating proficiency and diligence rather than artistic flair. Designs were faithfully copied from examples provided by instructors and older pupils, or taken from books illustrating techniques and motifs.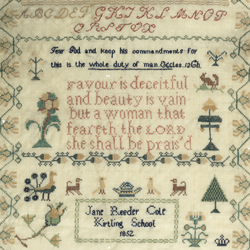 The Fitzwilliam has samplers by mother and daughter, Mary Reeder and Jane Reeder Cole, both of whom went to school in the East Cambridgeshire village of Kirtling in the 19th century. The similarity of some of the details, including their portrayal of a bounding dog with a curly tail, suggests that Jane might have modelled elements of her sampler, dated 1852, on her mother Mary's, which is dated 1826. Both samplers were given to the Fitzwilliam in 1943 by Sarah Cole, who was Mary's daughter and Jane's younger sister.
Apart from its immediate visual appeal, the exhibition is an opportunity to reflect on the ever-shifting relationship between women and needlework – and the changing status of handicrafts as mechanisation progressively took over the production of textiles and clothing. 
"For some people, needlework represents the oppression and exploitation of women, particularly seamstresses of 19th-century London who were grossly underpaid, sometimes abused and over-worked," says Rana. "It has to be remembered, however, that before the introduction of embroidery and sewing machines, knowing how to stitch was an essential skill."
To see 'Stories behind the Stitches: Schoolgirl Samplers of the 18th and 19th Centuries' go to http://www.fitzmuseum.cam.ac.uk/gallery/samplers/
For more information about this story contact Alex Buxton, Communications Office, University of Cambridge, amb206@admin.cam.ac.uk 01223 761673
Inset images from top: Infant Orphan Girls Learning to Sew in One of the Bristol Orphan Houses, c. 1905; Mary Ann Tipper, Bristol Orphan House, 1868; Jane Reeder Cole, Kirtling School, 1852. First image taken from Centenary Memorial 1805-1905 (Bristol: J.Wright and Co., 1905), copyright, and reproduced by permission, of the Bristol Central Library. Second and third image credited to Fitzwilliam Museum, Cambridge.
---

This work is licensed under a Creative Commons Licence. If you use this content on your site please link back to this page.
---