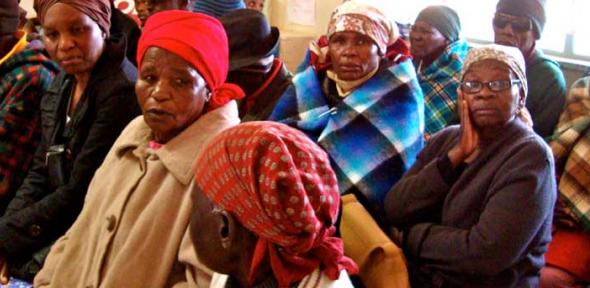 Towards the end of their training, student doctors have the chance to spend an elective spell working overseas, often in developing countries. Cambridge University medics, Daniel Jackson and Mohammad Razai spent two months in Botswana working in the eye clinics of government hospitals.
I was astonished to find the waiting room full at 7am, with some patients having travelled overnight to get there.

Daniel Jackson
Daniel Jackson worked in Gaborone, the capital of Botswana.
I was based mainly at the main tertiary referral hospital, Princess Marina Hospital. Located in the heart of Gaborone, it is Botswana's oldest hospital, consisting of modern tower blocks erected next to older tin-roofed buildings. In many ways it was very western, but there was also a distinct feeling of rural Africa about it. The endless crowds in the corridors and queues for parking spaces became a familiar sight on my morning walk to work.
A typical day at Princess Marina would begin with an early-morning clinic. On my first day I was astonished to find the waiting room full at 7am, with some patients having travelled overnight to get there. Many of the people waiting wouldn't be able to see the specialist due to understaffing. The task of informing them that the ophthalmologist had time only to see 20 people was incredibly difficult. The remainder waiting would have to settle with seeing an ophthalmic nurse or simply being given repeat prescriptions and an appointment in several months.
I spent some of my time speaking to patients who couldn't see the specialist and addressing some of their misconceptions about glaucoma. Many were frustrated that the expensive medications they had to take weren't improving their vision, when really all they are able to do is prevent further vision loss. Explaining the realities of their disease was not easy: some of the younger patients found it especially difficult to come to terms with losing their sight.
There were sometimes significant barriers in communication, as many of the older generations speak only Setswana, which was challenging as I had to rely on nurses to interpret or attempt to communicate through other means. Many of the doctors aren't from Botswana and therefore don't speak Setswana. A lot of the time, they address patients without the help of an interpreter and I began to wonder just how much the patients understood of these encounters.
One of the most enlightening parts of my elective was to work with five medical students from the University of Botswana. The medical school is the only one in the country and was established quite recently. While there is much on-going research into HIV/AIDS and tuberculosis, some departments have just started, so our project was fairly new to the students and the eye clinics we were attending. We were able to learn a lot from each other.
Botswana relies on overseas specialists to provide many of its medical services and previously also sponsored its own people to complete medical training abroad. However, this approach led to either doctors returning to their home countries or simply not coming back after completion of training. The Ministry of Health now recognises Botswana's need to train its own doctors all the way from student up to specialist level. Several of the students we met were passionate about improving things in Botswana and in them you could see a glimmer of hope for the future of its medical services.
Mohammad Razai worked in Serowe in the north of the country.
The locals call it Tokaleya Tonga: the cloud that thunders. To most people it is known as the Victoria Falls, a breathtaking scenic view on the Zambezi River between Zambia and Zimbabwe. The roaring river fall is elemental yet spectacular and in so many ways symbolizes Africa itself. Like the impetuous Dr Livingstone who had 'discovered' the natural wonder, it was my insatiable urge for discovery and adventure that brought me to Africa. But after eight weeks I came back with something different altogether much more valuable.
Legend has it that the ancient Greek physician Hippocrates taught his pupils under a plane tree. There is something truly amazing about their alfresco education and the story also shows early doctors as wanderers. It was in this peripatetic spirit that I decided to travel to Botswana for my elective, to experience first-hand the country's health care system, and to carry out research into glaucoma – a debilitating eye condition with a high prevalence in that part of the world.
Botswana has a small and sparse population, about two million, in a vast land known for its pristine natural beauty, dazzlingly wondrous birds and savannahs. As the country gears up to meet its target of eradicating preventable blindness by the year 2020, I travelled the length and breadth of it, evaluating eye care facilities as well as studying glaucoma patients.
On my first day, I was woken by a farmyard cockerel crowing incessantly. Feeling displaced and irritated, I got up. It was seven, I opened the window: a cold morning wind seeped into the room and under a turquoise sky two birds, lilac-breasted rollers, were fighting for my attention; inviting me to experience the riveting sights and sounds of Africa.
After breakfast and a short walk down the dusty track I arrived at the Serowe Hospital. A swish and modern building, the entrance looks something like the concourse of King's Cross Station. Outside the clinic waiting area, a smiling nurse greeted me with: "Good day!" as we both approached the door. The crowded room burst into a chorus of laughter. I didn't know what it was all about but I joined in anyway – it was hard to resist their mood of hilarity. I was soon to encounter more of this characteristic trait of the people of Botswana in finding humour in the commonplace and the ordinary.
For me, the days were anything but ordinary. Patient after patient would fascinate me with their life stories, each reinforcing my imaginative imagery of Africa: a land of intrigue and mystery. It was during one of these days that I met Ofentse, a hale and hearty 82-year-old, who had walked for an hour to the clinic. He beguiled me with his stories of hunting and adventure and told me how he used to 'run like a springbok', but now found it difficult to look after his cattle. He could no longer see. Farming and animal husbandry is an integral part of a villager's life in Botswana, they often talk fondly about their animals and environment. Not just an intimacy with nature but feeling at one with it.
When one looks beyond the obvious differences, such as language and food, the homogeneity of the world we inhabit is truly remarkable: we do indeed live in a global village. Nonetheless, the subtleties and nuances of attitude and outlook were delightful reminders of a diversity to be cherished. My patient Ofentse thought that the real seat of health is not the body or the eye but the mind and he was what the great Russian writer Dostoevsky calls a positively good man. He lived cheerfully in the moment, simply and uninhibited.
At the end of my visit I realised that my journey was not an experiential pursuit but rather a spiritual homecoming. A time to pause and reflect about health, illness and where they fit in the great scheme of life and what role will I play, if any, as a young doctor in that grand scheme.
---

This work is licensed under a Creative Commons Licence. If you use this content on your site please link back to this page.
---