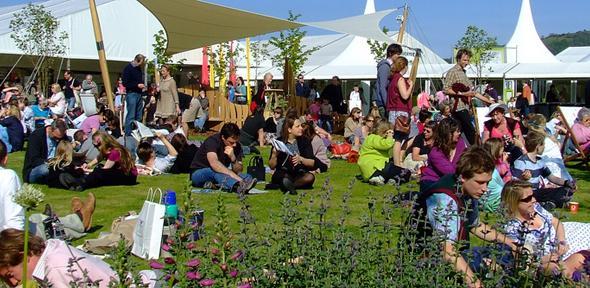 The Hay Festival is one of the most prestigious cultural and literary events in the world. For the last nine years the University of Cambridge has been partnering with the Festival to deliver The Cambridge Series which gives a taste of the research being conducted at the University. The Series is part of the University's public engagement work and draws on the University's two flagship public engagement events, the Cambridge Science Festival and the Cambridge Festival of Ideas. The Hay Festival runs from 25th May to 4th June 2017.
The force is not with you: Why risk information doesn't change our unhealthy behaviour
Professor Theresa Marteau, Director of the Behaviour and Health Research Unit
27th May, 11.30am
Many of us would like to lead healthier lives so what stops us? asks Professor Theresa Marteau.
The building blocks of the universe
David Tong, Professor of Theoretical Physics
27th May, 4pm
According to our best theories of physics, the fundamental building blocks of matter are not particles, but continuous fluid-like substances known as 'quantum fields'. David Tong will explain what we know about these fields, and how they fit into our understanding of the Universe.
Could, and should, robots feel pain?
Dr Beth Singler, Research Associate on the Human Identity in an age of Nearly-Human Machines project at the  Faraday Institute for Science and Religion
28th May, 1pm
Recent developments in Artificial Intelligence and robotics demonstrate that we are aiming towards creating something that is 'human-like' in various ways. What sort of experiences should these beings have? And what does the answer to that question tell us about ourselves? Anthropologist Dr Beth Singler will expand on the role of 'Pain in the Machine' in our understanding of the robotic and the human through examples from her research and a short documentary.
The Moor's Last Stand
Dr Elizabeth Drayson, Lorna Close Fellow in Spanish at Murray Edwards College
28th May, 2.30pm
Dr Elizabeth Drayson on how seven centuries of Muslim rule in Spain came to an end.
How do drugs, alcohol and obesity affect people's ability to work?
Dame Carol Black, Principal of Newnham College, in conversation with journalist Rosie Boycott on addiction, obesity and employment
29th May, 1pm
Carol Black's independent review for government on employment outcomes for those with drug or alcohol addiction or obesity was published in December 2016.   These three conditions impose great costs on individuals and society.   The review examines the challenges and the data and makes recommendations that could improve the lives of those affected. She will be in conversation with Rosie Boycott.
The start of life – how far should science go?
Magdalena Zernicka-Goetz, Professor of Mammalian Development and Stem Cell Biology
29th May, 2.30pm
Magdalena Zernicka-Goetz is a Professor of Mammalian Development and Stem Cell Biology at the University of Cambridge. Her passion lies in understanding how cells decide their fate for the very first time and how embryos build their architecture. This passion allowed her and her team to reveal the remarkable self-organising properties of human embryos, pioneering the way for future studies of human and mouse embryogenesis. Her talk will describe that work and the ethical issues it raises about embryo research.
The body, brain and behaviour
The Reverend Alasdair Coles, Professor of Neuroimmunology
30th May, 11.30am
Once considered separate and independent, it is now clear that the there is an intimate, two-way, connection between the two most complex body systems: the immune system and the brain. So, our behaviour can affect inflammation in the body, and immune cells can alter our behaviour.  What are the implications, asks Reverend Professor Alasdair Coles?
The future of organ transplantation
Dr Kourosh Saeb Parsy, Lecturer at the Department of Surgery, University of Cambridge and a Consultant Transplant Surgeon at Cambridge University Hospitals NHS Trust
31st May, 11.30am
Dr Kourosh Saeb Parsy reviews how organ transplantation is being transformed by innovations in organ donation, stem cell technology, bio-engineered tissues, machine perfusion of organs and other biomedical advances, including a discussion of the ensuing ethical and legal dilemmas.
How gender stereotypes damage innovation
Athene Donald, Professor of Experimental Physics and Master of Churchill College
1st June, 11.30am
Children as young as six have already developed ideas about what boys and girls can 'do'. As they progress through school further cultural messages fix attitudes and are one part of why we have so few women engineers and male vets. Innovation, which thrives on diverse perspectives, is handicapped by the effects of such stereotyping. Our society needs to do better.
Me, You and the EU
Catherine Barnard, Professor of European Union Law and the Jean Monnet Chair of EU Law in the Faculty of Law
1st June, 10am
EU legal expert Professor Catherine Barnard explains the complexity of the Brexit negotiations.
Our sustainable industrial future
Professor Steve Evans, Director of Research in Industrial Sustainability
2nd June, 11.30am
Factories that forage, X-ray glasses that can see energy, why price is not value, and lots of stupid stuff as well. We will explore how the industrial system is (slowly) changing and why free energy is ignored. Professor Steve Evans explains how to be an environmental optimist and love factories.
Refreezing the Arctic
Hugh Hunt, Reader in the Department of Engineering
3rd June, 11.30am
We may want to cool the planet if (when) we fail to meet our CO2 emissions targets.  There are technologies out there almost ready to go and some sound quite scary.  Is it safe to meddle with the climate when we only have one Earth, asks Dr Hugh Hunt?
The car of the future - with head-up technology
Professor Daping Chu, Director of Centre for Photonic Devices and Sensors and Director of the Centre for Advanced Photonics and Electronics (CAPE)
3rd June, 4pm
Professor Daping Chu outlines his work on the car of the future and the use of Head-Up Display technology together with his JLR collaborators.
We that are young: Imagining King Lear in India
Dr Preti Taneja, Fellow Commoner at Jesus College and a BBC/AHRC New Generation Thinker
3rd June, 4pm
Preti Taneja's debut novel We That Are Young sets Shakespeare's King Lear in contemporary India, where the clash of youth and age, the rise of the religious right wing, the repression of free speech and civil conflict in Kashmir are ongoing. Preti will discuss the hidden history, politics and urgent contemporary relevance of Shakespeare's plays in India, one of the world's fastest growing  economies and will read from her forthcoming book. Dr Taneja is also chairing a session with the writer Paul Beatty at 5.30pm.
Peter Pan and the Mind of J M Barrie
Dr Rosalind Ridley, Senior Member of Newnham College and former Head of the UK Medical Research Council's Comparative Cognition Research Team in the Department of Psychology
4th June, 10am
Rosalind Ridley views the Peter Pan stories through the eyes of a neuroscientist and explores J M Barrie's interest in cognition, theory of mind and the nature of consciousness. Barrie's stories are rich in post-Darwinian questions about the origins of human nature and the mental abilities of animals, children and adults.
Inspiration from Nature to re-think engineering
Dr Michelle Oyen, Reader in Bioengineering
4th June, 2.30pm
Dr Michelle Oyen will discuss the carbon footprint of popular building materials like steel and concrete and approaches for substituting new bio-inspired materials instead.

Other University of Cambridge academics speaking at the Hay Festival include Professor Richard Evans, Lord Martin Rees, Professor Simon Baron Cohen, Professor Paul Cartledge, Hannah Critchlow, Finbarr Livesey and Professor Barbara Sahakian. For more information and tickets, contact www.hayfestival.org.