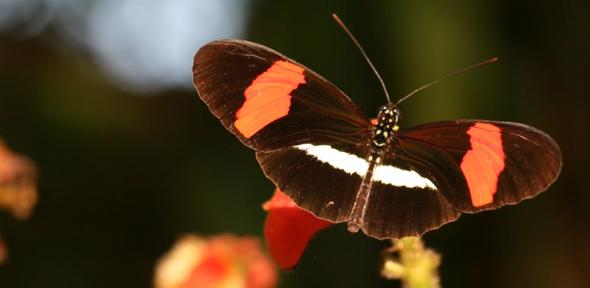 From butterflies and tropical storms to stars in our milky way: Cambridge scientists at the 2014 Royal Society Summer Science Exhibition
 
Cambridge scientists will be taking visitors to the prestigious Royal Society Summer Science Exhibition on a journey from the jungle through our atmosphere to the Milky Way to highlight some of the world-leading research conducted here at the University. Running from Tuesday 1 July to Sunday 6 July at the Royal Society in London, the Exhibition is an annual display of the most exciting new science and technology research from leading UK universities. This year, three of the 22 exhibits will be led by University of Cambridge research groups.
Events throughout the week include talks, workshops and performances, starting the night before the Exhibition opens with Twilight Science on Monday 30 June, 6pm - 10pm, with a focus on events for children and families at the weekend. Apart from the price of a ticket to London, it's free!
The three exhibits led by University of Cambridge research teams explore butterfly evolution, the Gaia satellite and tropical storms.
Linking back to the pioneering work that began with Henry Walter Bates' travels down the Amazon over 150 years ago, Dr Chris Jiggins, Dr John Davey and colleagues use beautifully intricate Heliconius butterfly wing patterns and genome sequencing techniques to explore and explain the genetic basis of mimicry, where different species evolve similar wing patterns to deter predators. Their exhibit features live butterflies from Central and South America and gives visitors the opportunity to find out how scientists studied butterflies in Darwin's time and how they study them today.
Launched in December 2013, the Gaia satellite is now in operation measuring the positions and motions of the one billion stars in our Milky Way. Combined with spectra from dedicated surveys, this data will allow Professor Gerry Gilmore FRS and colleagues to answer fundamental questions on the origins of the stars, planets, chemical elements and map the mysterious dark matter that holds galaxies together. Visitors can be part of Gaia science by controlling a real scientific telescope and spotting new astronomical events.
Huge storms in the equatorial West Pacific play a critical role in our global climate system, affecting our atmosphere from the troposphere up into the stratosphere. Dr Neil Harris and colleagues conduct experiments using atmospheric research aircraft and unmanned drones operating out of the remote tropical island of Guam to help understand climate critical water vapour patterns and ozone levels. Using a mock-up of one of their aircraft, this exhibit shows visitors the realities and excitement experienced by scientists during a field measurement campaign.
Expect to see these exhibits at the Cambridge Science Festival in 2015, but before then, meet the researchers and hear about their stories at the Royal Society Summer Science Exhibition 1 July - 6 July, at Carlton House Terrace, London, SW1Y 5AG. For more information visit: sse.royalsociety.org/2014.
---
The text in this work is licensed under a Creative Commons Licence. If you use this content on your site please link back to this page. For image rights, please see the credits associated with each individual image.

---