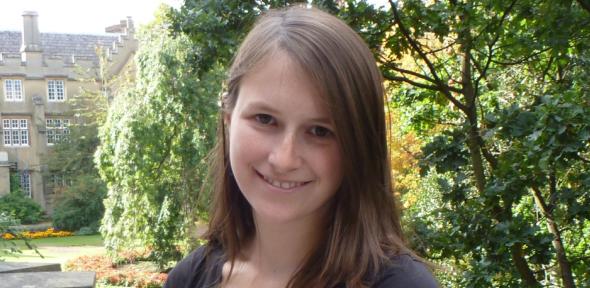 Twenty-one disabled students have volunteered to share their stories in a new set of films designed to challenge the barriers which can deter disabled young people from aiming high in their university ambitions.
In the series of six films, the students share their experiences of applying to and studying at the University of Cambridge. The films have been produced by the University's Disability Resource Centre (DRC) and the Cambridge Admissions Office (CAO). They were funded by the University's Widening Participation Project Fund, which supports innovative work with under-represented groups.
Alison Madgwick is one of 18 students featured in "Meet Disabled Students," a film showing the diversity of students at Cambridge, and also shares her story in more depth in a film about her experience as a Natural Sciences student with Asperger Syndrome.
"I took part because I wanted to raise awareness of the issues facing disabled students at university," Alison explained.
"I also wanted to reassure prospective disabled students that there are disabled students at Cambridge and that there is support available for them here.
"Before I started my course, I was worried that the tutors wouldn't understand my differing needs from other members of the course. This turned out not to be a problem and I was able to get all the extra support and equipment that I needed by explaining my situation to the Disability Resource Centre."
The Disability Resource Centre exists to provide a confidential, professional, and accessible service to support the needs of disabled students. The DRC offers advice throughout the admissions process, aiding liaison between an applicant, their chosen college, and their chosen faculty. The DRC can also assist with meeting support needs at interview.
John Harding, Head of the DRC, said "By producing these films we hope that we have not only provided accurate and positive information about the range of material, human and financial support available for disabled students, but also shared the positive experiences of disabled students already at Cambridge.
"Disabled students can face considerable barriers both in accessing and participating in higher education. Our student volunteers have helped us to show that Cambridge can be an excellent choice for disabled students.
"We also want to encourage potential applicants to disclose their disability at an early stage in their application. This is separate from any academic assessment but means that support requirements can be understood at an early stage and adjustments put into place as soon as a disabled student starts term."
Jon Beard, Director of Undergraduate Recruitment for the University of Cambridge, said "Video and film play an increasingly important role in our communications with prospective students.
"They allow potential applicants to engage with the experiences of current Cambridge undergraduates, and to gain an insight into the decisions they need to make and the opportunities available to them once they are here.
"CAO was delighted to work with DRC on this new film series. We hope that through the stories of those who are succeeding at Cambridge, other disabled students with the academic potential to do well here will feel more confident about making an application."
Meet Disabled Students: the films can be viewed here.
Information and guidance for disabled students thinking about applying to Cambridge can be found on the Disability Resource Centre's website at http://www.cam.ac.uk/disability/ and on the Cambridge Admissions Office website here.
---

This work is licensed under a Creative Commons Licence. If you use this content on your site please link back to this page.
---