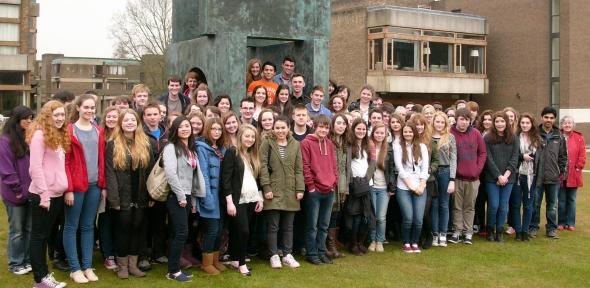 Churchill College welcomed almost eighty Year 12 students from South Wales for a three-day residential organised as part of the Swansea HE+ project.
In school, you're learning for the exam. In HE+, you're learning because you love the subject.

Will Parry
HE+ aims to encourage and prepare talented students to apply for places at top universities.
The Swansea HE+ consortium, which is made up of Gower College Swansea and the City and County's seven maintained schools with sixth forms, launched in October 2012. 
This was the consortium's first visit to Cambridge. Students enjoyed college tours, museum visits, subject talks, and free time in Churchill and Fitzwilliam Colleges.
"The chance to talk to the Directors of Studies was great", said Ysgol Gyfun Gŵyr student Nia Thomas, who hopes to study Chemistry.  "It's been good to get an experience of what a Cambridge supervision would be like."
Gowerton Comprehensive School student Elaine Tucker, who is considering Anthropology as one of her university options, enjoyed the insight into student life and the chance to check out the facilities available to Cambridge students. "It feels friendly here," she commented.
For English Literature hopeful Joseph Lumber, currently studying at Ysgol Gyfun Gymraeg Bryn Tawe, highlights of the visit included exploring the University's libraries and museums.  "We've walked our feet off exploring Cambridge," he said. "I've seen countless libraries and the Quentin Blake exhibition at the Fitzwilliam Museum. It's been good to find out what the place is like."
History enthusiast Katie Barrowman, currently studying at Gower College Swansea, found inspiration in the College libraries and in Cambridge's 800-year heritage. "Parts of some colleges are 14th, 15th century. This would be a really great place to study History," she said.
There's more to HE+ than a visit to Cambridge. Cambridge academics also travel to consortia around the UK to help deliver extension activities and masterclasses in the different subject streams.
"It was really good when the lecturers came to us," Katie said. "We looked at History in a different way, comparing the original sources to the articles historians write and thinking about the reasons why they were different."
Olchfa Comprehensive School student Will Parry finds that the HE+ extension classes are helping him prepare for his AS exams. He's aiming to study Computer Science at university.  "The HE+ classes have shown me ways to think differently, to think in a more logical way," he said. "In school, you're learning for the exam. In HE+, you're learning because you love the subject."
Joseph also enjoys the way in which HE+ classes go beyond the core curriculum. "In school we're reading 19th century literature, like Wuthering Heights or Frankenstein. In HE+ we've looked at Chaucer and Shakespeare, and The Mabinogion."
Students start on the HE+ programme at the beginning of Year 12 to give them a head start in thinking about university options and developing subject skills. "It's good to have this extra help and feedback about applying." explained Elaine.
Sam Cooper tutors English Literature to HE+ students and came to help with the residential. "HE+ provides a really important opportunity for students to get together with others of like minds, creating a community of people who can help each other to achieve their aspirations," she said.
"The residential visit is great because students can stand in a college and really picture themselves here. It's really important to be physically present."
Felicity Padley, Gower College Swansea Oxbridge Tutor and Swansea HE+ Consortium Co-ordinator, added: "This residential has been an important intervention at an important time.  We hope it's inspired all the participants to believe they can apply to a top university, whether Cambridge or otherwise, and that they'll now drive forward to do really well in their AS-Level exams."
---

This work is licensed under a Creative Commons Licence. If you use this content on your site please link back to this page.
---