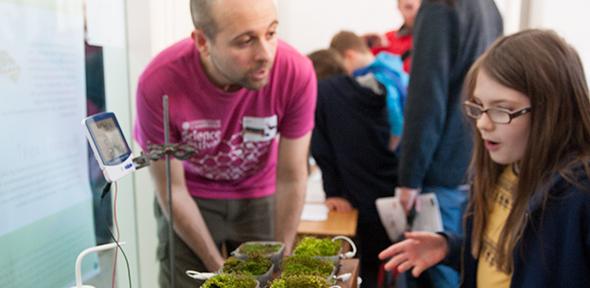 The inaugural Impact and Public Engagement with Research Awards took place yesterday, recognising staff whose research goes beyond the academic setting. 
11 Prizes of £1,000 were awarded to individuals and groups by the Vice Chancellor at a ceremony in the Old Schools.

Five prizes were presented to staff whose research has led to considerable impact beyond academia. The winners, listed below, were selected by senior academics in their Schools. Of the winners, Nita Forouhi and Fumiaki Imamura from the School of Clinical Medicine were selected for an overall 'Best Impact Award', receiving an additional prize of £1,000.
Based in the MRC Epidemiology Unit, their work looks at the relationship between nutrition and the risk of diabetes, obesity and related disorders. They have influenced policy and guidance bodies on a range of topics, including the impact of sugary drinks on health and the link between processed meats and diabetes. Dr Forouhi was also part of a consultation group that contributed to revising the '5-A-Day' message, an internationally recognised set of guidelines for healthy eating.
A further six prizes were awarded to staff who have demonstrated high-quality public engagement with their research. Among the winners was Dr Paolo Bombelli, pictured, whose work focuses on harnessing electrical energy from plants. He has engaged audiences at more than 40 public events, including science festivals and design fairs, reaching thousands of people in seven countries.
Collaborating with Professor Christopher Howe in the Department of Biochemistry, Dr Bombelli has demonstrated his findings by creating a prototype 'green bus shelter' with lighting that is powered by solar panels and energy produced by plants through photosynthesis. He often demonstrates his work at public events using a moss-powered clock, and is currently developing a toolkit to engage school students on advances in plant-powered technology.
Commenting on the importance of yesterday's awards, Stephanie Swain, University Impact Officer, said: "It is essential that we recognise the impact of research that takes place at Cambridge. The award winners demonstrate some excellent ways of achieving this, although they make up a small proportion of the University's overall output. Impact is vital as it makes up part of the evidence base for the University's submission to the Research Excellence Framework and leads to further funding."
A full list of winners can be found below. Guidance on planning for impact, and instructions on how to share examples of successful impact can be found on the Research Strategy Office website. Information on engaging the public with research is available here.
---
Impact awards
| | |
| --- | --- |
| Name | Department |
| Dr Mari Jones | Faculty of Modern and Medieval Languages |
| Dr Gilly Carr | Department of Archaeology and Anthropology |
| Professor Stephen Philip Jackson | Wellcome Trust/ Cancer Research UK Gurdon Institute |
| Dr Nita Forouhi and Dr Fumiaki Imamura | MRC Epidemiology Unit |
| Professor John Clarkson and Dr Nathan Crilly | Department of Engineering |
Public Engagement with Research awards
| | |
| --- | --- |
| Name | Department |
| Dr Ruth Armstrong and Dr Amy Ludlow | Institute of Criminology and Faculty of Law |
| Dr Hazel Wilkinson | Faculty of English |
| Dr Becky Inkster | Department of Psychiatry |
| Dr Paul Coxon | Department of Materials Science and Metallurgy |
| Dr Paolo Bombelli | Department of Biochemistry |
| Mr Ian Hosking and Mr Bill Nicholl | Faculty of Engineering and Faculty of Education |
---

The text in this work is licensed under a Creative Commons Attribution 4.0 International License. For image use please see separate credits above.
---