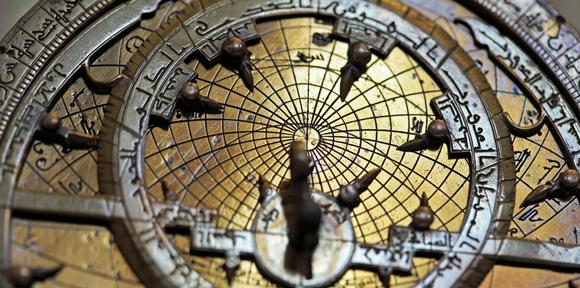 The fascinating history of science in the medieval Islamic world will be unveiled in a one-day only public exhibition and activity day during the Cambridge Festival of Ideas 2013.
The Golden Age of Islamic science has been described as a period of outstanding intellectual activity in numerous fields: science, technology and literature. During this time, Indian, Asyriac, Iranian and especially Greek texts were translated into Arabic. These translations became a wellspring for scientific advances that spread throughout the Islamic civilization, Europe and beyond, greatly influencing scientific practice and education.
'Incredible inventions and extraordinary experiments: inside Islamic scientific manuscripts' will take place on Saturday 26 October: 2:00pm - 5:00pm. During the day, illustrated manuscripts will be brought to life with hands-on activities and model devices. From anatomy to siege weapons, visitors will be able to discover the scientific heritage and the major contributions made by Islamic scientists that went on to shape our world, including medicine, physics, education and mathematics.
The exhibition and activity day has been organised entirely by undergraduates and graduates from the Department of Middle Eastern Studies. Based on illustrated scientific manuscripts from the Golden Age of Islamic science, it will offer a range of activities for children of all ages and their parents.
Visitors will be able to do battle with model siege weapons as shown in medieval war manuals, make their own bodies based on the first anatomical diagrams in the history of Islamic medicine, play games with animal illustrations from a 16th century zoological text, and more. There will be plenty of information on the history of the manuscripts used and on Islamic science in general, and student volunteers will be available to answer any questions. For very young children, there will be puzzles and colouring-in to keep them busy.
The event organiser is Cambridge graduate, Elspeth Carruthers, who graduated from the University of Cambridge last year with a BA in Arabic, and is now studying for an MA in Arabic Literature at SOAS, University of London.
Elspeth said: "This event has been great fun to put together and I'm excited about sharing the manuscripts with visitors. Looking at Islamic history via its science and technology gives us a fresh and fascinating perspective – you can really see what a big contribution was made, and yet it's a scientific tradition that's not so familiar to us in the West. For example, it's surprising how recognisable and yet different medieval Islamic anatomy is.
"I hope that visitors will be really engaged and inspired by this mixture of the surprising and the familiar! It's also going to be really good fun – we'll have games, craft activities, and the opportunity to fling things into the air using medieval siege weapons. What more could you want out of a Saturday afternoon? I'm looking forward to the event and hope lots of people can join us!"

Now in its sixth year, the Cambridge Festival of Ideas, which celebrates the rich contribution the arts, humanities and social sciences make to our culture and understanding of the world, encourages visitors to explore the world around them on a local and global scale. Subjects range from the economy to international development and smart drugs to conspiracy theories, presented by an eclectic mix of speakers including researchers, journalists, politicians, philosophers, poets and artists.  
The theme this year is 'Frontiers', which explores how borders, boundaries and margins are being either challenged or reinforced around the world with a programme of events to suit people of all tastes and ages.
Some of those taking part include Rowan Williams, the former Archbishop of Canterbury; artist Quentin Blake; writer and broadcaster Melvyn Bragg; George the poet; leading academics ranging from David Reynolds and Noreena Hertz to Mary Beard, Anthony Giddens and Richard Evans; journalist Michael White; author MJ Hyland; columnist Owen Jones; teen writer Anthony McGowan; and Paralympian Claire Harvey.
The University of Cambridge Festival of Ideas is sponsored by Barclays, Cambridge University Press and Anglia Ruskin University, who also organise events during the Festival. Event partners include Heffers Classics Festival, University of Cambridge Museums, RAND Europe, the Goethe-Institut London and the Junction. The Festival's media partner is BBC Radio Cambridgeshire and its hospitality partner is Cambridge City Hotel.
To keep up to date with Festival news, you can also follow us on:
Twitter: www.twitter.com/camideasfest  #cfi2013
Facebook: www.facebook.com/cambridgefestivalofideas
To download the Festival app, please visit: www.cam.ac.uk/foi/app
---

This work is licensed under a Creative Commons Licence. If you use this content on your site please link back to this page.
---