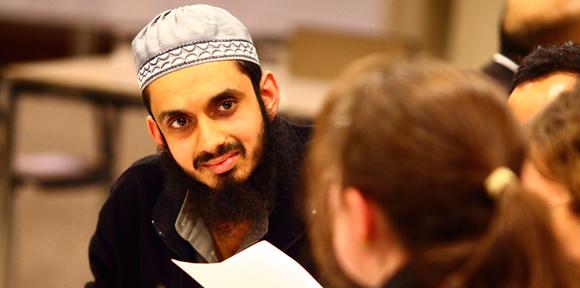 Why do women convert to Islam? How important for our sense of Britishness are religion and beliefs? Can interfaith initiatives counter Islamophobia and what are the issues facing women leaders in religion?
Issues of identity and politics will form part of a panoply of debates and talks on religious themes at this year's Cambridge Festival of Ideas. Those taking part include Dr Rowan Williams, former Archbishop of Canterbury and now master of Magdalene College, Lord Richard Harries, former Bishop of Oxford, Professor Yasir Suleiman, director of the Centre of Islamic Studies at the University of Cambridge, and Julie Siddiqi, executive director of the Islamic Society of Britain.
On 24th October, in a debate entitled 'From the margins to the mainstream: religion and beliefs in narratives of Britishness', a panel including Lord Harries, Rabbi Jonathan Wittenberg of the New North London Synagogue and Maleiha Malik, professor of law at King's College, London, will explore ideas of religious and national identity in the popular imagination.
On 27th October, Professor Suleiman will give a talk, 'Narratives of conversion to Islam in Britain: female perspectives', on a recently published report by the Centre of Islamic Studies on female converts to Islam in Britain.
On 28th October, Dr Williams will be in conversation with Sheikh Abdul Hakim (Tim Winter), Director of Studies at Wolfson College, at the world premiere of A Common Word. The film is a documentary about an extraordinary inter-faith initiative prompted by Pope Benedict's unfavourable remarks about Islam in 2006, which prompted Muslim leaders to write an open letter to address misunderstandings about their religion. This has resulted in a world interfaith harmony week and other initiatives including one between the Bishop of London and the Mufti of Egypt.
'Feminine frontiers of faith', an inspirational session with women of faith in leadership positions, featuring Laura Janner-Klausner, Rabbi to the Movement for Reform Judaism, and Julie Siddiqi, executive director of the Islamic Society of Britain, takes place on 30th October
This year's Cambridge Festival of Ideas is bursting with over 200 events for people of all ages. Those taking part include artist Quentin Blake, author MJ Hyland, George the Poet, teen writer Anthony McGowan, writer Owen Jones, comedian James Mullinger and academics ranging from David Reynolds, Richard Evans and Noreena Hertz to Mary Beard and Anthony Giddens.
The Festival, which runs from 23rd October to 3rd November, was the first public engagement initiative by a UK university to bring together an extensive programme of public events exploring the arts, humanities and social sciences. Events are held in lecture halls, theatres, museums and galleries around Cambridge and entry to most is free.
Other debates and talks on religion at the Festival include:
Science and its proper boundaries: the legacy of CS Lewis - November marks the 50th anniversary of the death of Cambridge University professor C.S. Lewis. Best known for his children's stories and works of Christian apologetics, Lewis also was a trenchant critic in his books and essays of 'scientism', the effort to apply science outside its proper boundaries. In this session, writers James LeFanu and John West will explore the relevance of Lewis's critique of scientism for our own day. 31st October, 7.30-9pm, Round Church
Life without religion. What are the consequences of living life without religion? And does this affect the behaviour and aspirations of individual members of that society? 2nd November, 4-6pm, Friends Meeting House, Jesus Lane
Hinduism and the Western Enlightenment, with Jay Lakhani of the Hindu Academy. 23rd October,6.30-7.30pm, Sidgwick Hall, Newnham College
Seasons of the Spirit - Poets Grahame Davies and Malcolm Guite explore sources of vision in this and other worlds, showing how dream, myth, ritual, and the rhythm of the seasons can be doorways to inspiration. 24th October, 7-8pm, Anglia Ruskin University
Pentecostalism: frontiers of world Christianity - talk about the history of this tradition and its contemporary expression in Cambridge. 24th October, 5.45-7pm, Michaelhouse Centre Cafe
Soul Food - Readings from the world's religions, from poets and thinkers - ancient, modern and indigenous, with musical interludes. 26th October, 4-5pm, Clare College
Festival Choral Evensong - traditional evensong celebration. 27th October, 6.30-7.30pm, Great St Mary's University Church
The frontiers of now: a Buddhist approach. A talk and practical exploration of the centrality and power of awareness of the present moment, led by Rachael Harris, the University Buddhist Chaplin. 28th October, 7.30pm–9pm, Clare College
Open Scriptural Reasoning - a panel of Jewish, Christian and Muslim scholars study their sacred texts together in a practice called 'Scriptural Reasoning'. 30th October, 7.30-9.30pm, Michaelhouse Centre
Frontiers in a changing world; global challenges, inner transformations with Ismael Velasco. 2nd November, 3-4pm, Clare College
Reflections on the life of the spirit. A talk on insights from Baha'i writings about how conceptions of what is beyond death shape our day-to-day actions. 3rd November, 3pm–4pm, Clare College.
Malavika Anderson, the Festival of Ideas Coordinator, said: "The Festival of Ideas has grown significantly over the last few years, in terms of both the number as well as the diversity of events on offer. We were delighted to have hosted over 14,000 visitors at the festival in 2012 and look forward to welcoming even more over 12 days this autumn. The theme this year – 'Frontiers' – explores how borders, boundaries and margins are being either challenged or reinforced around the world – has inspired the development of some truly exciting events."
The University of Cambridge Festival of Ideas is sponsored by Barclays, Cambridge University Press and Anglia Ruskin University, who also organise some of the events during the Festival. Event partners include Heffers Classics Festival, University of Cambridge Museums RAND Europe, the Goethe-Institut London and the Junction. The Festival's media partner is BBC Radio Cambridgeshire and its hospitality partner is Cambridge City Hotel.
For more information, please follow us on:
Twitter: www.twitter.com/camideasfest  #cfi2013
Facebook: www.facebook.com/cambridgefestivalofideas
To download the Festival app, please visit: www.cam.ac.uk/foi/app
 
---

This work is licensed under a Creative Commons Licence. If you use this content on your site please link back to this page.
---